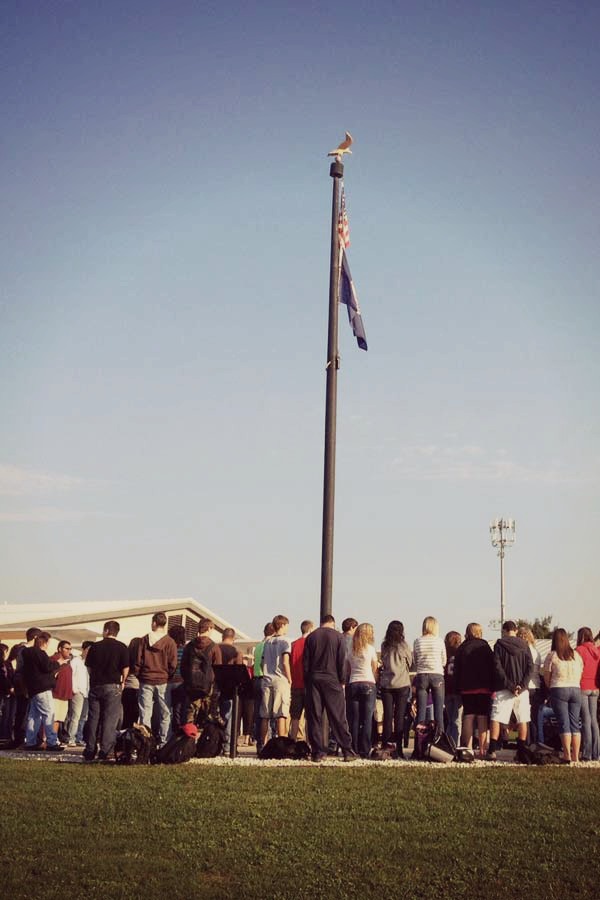 You are beautiful in the early morning sunlight, and the sight of you all there, circling around the flagpole makes me want to cry in the best way possible.
Your backpacks are slung in the dew-tinged grass. Your hair hangs long down your backs. You are in sweatshirts. Blue jeans. Boots and gym shoes and all manner of accessories. You are young and beautiful, and you are gathered here, praying.
I want to write a story for this photo. In it, you are strangers, taking each other in. The fiction I am writing for you has to do with community and kindness, with the crossing-over of lunch-table lines for good and taking care of one another. It's a love story, a comedy, a sappy Kirk Cameron movie with a happy ending – I know – but I want this to be about more than one day, one moment, one brave prayer in the front of your school.
I can't help it: I think my heart is still half-hoping for the things it wanted 15 years ago when I stood there at the pole myself, waiting.
*
Let me tell you something: you are brave.
You came to the flagpole for a number of reasons, but somewhere in that mix of motives, there's a part of you that believes that prayer matters. That standing here in the morning light might mean something for your school.
But the thing about bravery – real bravery – is that it's not a one-day-a-year kind of thing. It's less often about standing up for your faith than it is about sitting down. It's about sitting next to the kid on the bus that no one talks to, to the girl you don't know, to the person who looks like she's had a rough day.
It's about sitting down not to be some kind of hero or to prove something. It's sitting down because each person matters deeply to God, and it is brave to let them matter to you too.
The swirly feelings you had yesterday morning, if they were there at all, will fade fast. And even though I'd write you a Hallmark-movie if I could, the truth is, this is all hard. Junior high. High school. These are the years when you're trying to figure out who you are, and everyone else seems like they already know. You are an odd-shaped puzzle piece, lost in the mix. You're not sure where you fit in the whole scheme of things; you're not even sure what picture it is that you're supposed to be part of.
If I could give you a benediction as you walk away from the flagpole this year, I would tell you this: you are enough.
I'd tell you that being a Christian is not about wearing a t-shirt or standing in the right spot on the right day of the year. It's about believing this small truth: that God's love makes you enough. It means that no matter how you fit or don't fit, no matter what you look like or wear or where you sit on the bus or at lunch or who your family is – you are enough. Your worth cannot be calculated in Facebook friends or text messages or party invitations or silence. You matter infinitely, completely, unfailingly.
And I want to tell you that standing up for your faith matters, but that, most of the time, it's not about standing apart from other people. It's about standing next to them, with them, arm in arm.
I spent so much time in junior high and high school standing up, talking loud, trying to explain why I believed in God that I never took the time to sit down and listen. I mustered up the courage to defend Creation and to condemn abortion, but I never could summon the strength to sit down at a different lunch table. To introduce myself or to ask questions or to really listen.
I never let my brave Hello preach the beautiful message that we are, all of us, Beloved. That Love makes us enough. And I think it's because I never really understood it myself.
*
Listen, you are already brave. The pictures you post make me weepy every year, even though I have mixed feelings about my own See You at the Pole memories. You are brave to have a conversation with God in the front of your school on an early September morning.
What I hope for you is the courage to be braver still. To have conversations not just with God, but with people.
I'm not talking about witnessing here. I'm not suggesting tracts or simplified salvation plans. I'm talking about the bravery of everyday love. I'm thinking of small acts of kindness and understanding and moments of seeing others that roll like snowballs into something bigger and wilder and earth-shatteringly beautiful.
I want you to know that you are enough. I hope you walk through your school not with the sure step of the Right Answers but in the courage of Great Love.
As you go through the halls, go through your day, move through these hard, beautiful years, I pray that you will go in peace.