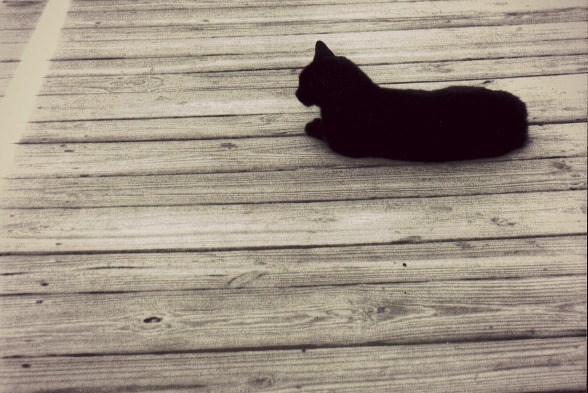 A woman drives by our house on a Sunday morning and drops off a flier with a photo of her lost cat. My four-year-old boy carries it around all day long.
He brings it with him in the car to church and it's the first thing he tells the greeters at the door when they say "Hello," to our ragged family. "The lady lost her cat," he says. "Oh…no…" they say, unsure, and they look at us for an explanation.
He tells the kids in his class, and he tells his babysitters, who he finds in the foyer after service. He talks about the cat between bites of his cookie, as he carefully holds his plastic cup of lemonade.
After church, on the 45-minute drive to his Grandparents' house, he stares at the picture of the cat. "We gotta find that cat, Mom," he says. "That lady will be sad if she can't find her cat."
Andrew and I exchange looks. The likelihood of us finding that cat is so slim that it might as well be nonexistent, and we don't know how to explain this to the boy in the backseat. "Buddy," we say. "We'll look for the cat, but we might not find it. Lots of people will be looking. Maybe someone else will find it."
"Yeah," he says. "Someone will find it." But he keeps looking at the picture of the cat until he drifts off to sleep.
*
I learned about Syria at a nail salon in Chicago on the day before my best friend's wedding.
A thirteen-year-old girl was doing my manicure – her summer job at her family's salon – brushing a barely-there shade of pink on my chewed-up, Mama fingernails. She was telling me about going out for volleyball and about her favorite subjects. Above us, headlines flashed along the bottom of a muted TV while the most terrible footage of small, stilled bodies scrolled on a loop.
In that moment, I couldn't understand what was happening, but I felt it pierce through me like a needle, puncturing the soft bubble of wedding spirit and champagne.
Weeks later, I still don't really understand the political landscape of the Syrian civil war, except that it's dire. "The killing will continue, probably for years," the news article says. "There's no one to sign a peace treaty on the rebel side, even if the regime side were interested, and there's no foreseeable victory for either."
I've never been very good at looking for the miracle. At allowing myself to really hope for it. Every morning, I receive a prayer for Syria in my email inbox, and I add my voices to the chorus of pleas.
I say I believe, and I want to believe…but in the end, my cynic heart just doesn't. Not really. Though I breathe desperate prayers in the searching, the biggest part of me struggles to believe that the lost country will ever be put back together or that the runaway cat will ever be found.
*
It's almost lunchtime on Labor Day Monday when I hear my kid yelling from the garage. He's outside with his brother, riding bikes in the driveway with Dad while I sort through old bins of clothes for a garage sale. I come up huffing, "Why are you screaming," I ask. "What do you need?!"
But he needs nothing. He's wide-grinned-glowing, jumping up and down and pointing to the tucked in corner of the garage next to the recycling bin.
"I FOUND THE CAT, MOM!" He says, and the big pile of black fur raises its head and lets out a pathetic little meow. "I knew I would find you!" he says, and his Dad and I look at each other, speechless.
It's been over 24 hours, and the missing cat has somehow made his way into the garage of the little boy who wanted to find him the most.
Dane sits on the garage step and talks softly to the visitor, and it feels like a holy moment, a parable come to life. I let out a breath of laughter and amazement, and I feel God there. It's like he's saying, Listen, love. There's something here for you too.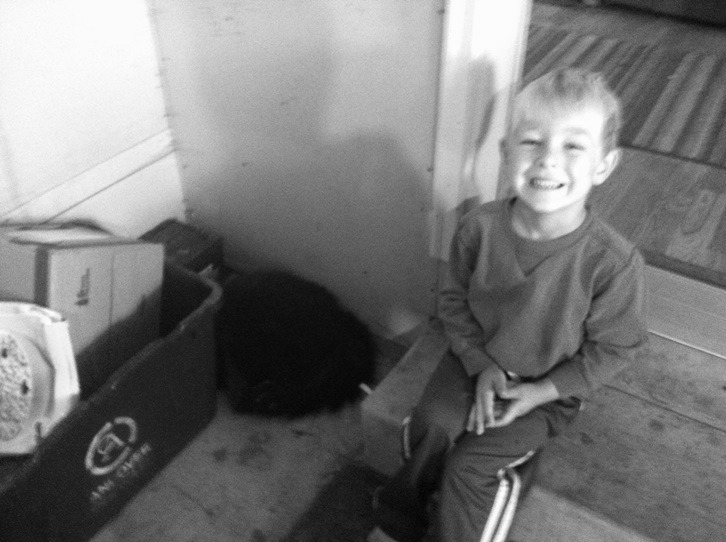 I received an email from reader and blogger friend Marilyn Gardner earlier this week. Her husband is in Syria, working with relief teams. She forwarded a bit of his email to me. "The medıcal needs here are overwhelmıng," he writes. "Hygıene kıts and baby kıts are vıtal vıtal vıtal."
She asked me to make you aware of this simple way to help: putting together kits through CWS, an organization that works with partners to eradicate hunger and poverty and to promote peace and justice around the world.
The kits are simple and basic. For the Hygiene Kit: a towel, a washcloth, a bar of soap. Comb. Toothbrush. Band-aids. Clippers. The Baby Kit is simple too – a basic collection of baby clothes, cloth diapers and a couple of washcloths wrapped up in a blanket and sealed with a couple of diaper pins.
And here's the thing: I started the One Small Change series because my tendency is to let my exhaustion and my own feelings of powerlessness keep me from even trying to make a difference in the world.
For too long, I was told to change the world in some epic way, and when I discovered that I couldn't, I completely retreated. I stopped trying. I stopped knowing how to try.
I hold Peace in Syria with the same callous hands that I held that flier of the lost cat. We'll keep an eye out, I think, but we'll never see a thing.
But then – washcloths. I can do washcloths. I can do baby blankets and diaper pins. I can hold the photo of those Syrian refuges in my heart, and I can assemble these little grace gifts, and it won't fix the giant rift between the government and the rebels. It probably won't sway the political landscape one tiny bit…but it will go to someone. It might be the found treasure they've been waiting for.
And what I'm trying to tell you is that Jesus said, "The kingdom of God belongs to the little children," and my kid is sitting in the garage next to a found neighborhood cat.
He is looking at it with victorious love. He is teaching me how to change the world.
To learn more about CWS Kits and how you can get involved, click here.