Amanda Williams has such a kind, generous spirit, and I've never met her per se, but I can tell from her writing and from her beautiful blog Life. Edited. I'm so thankful to know her on the Internet and for the small, lovely, completely doable change she's introducing here.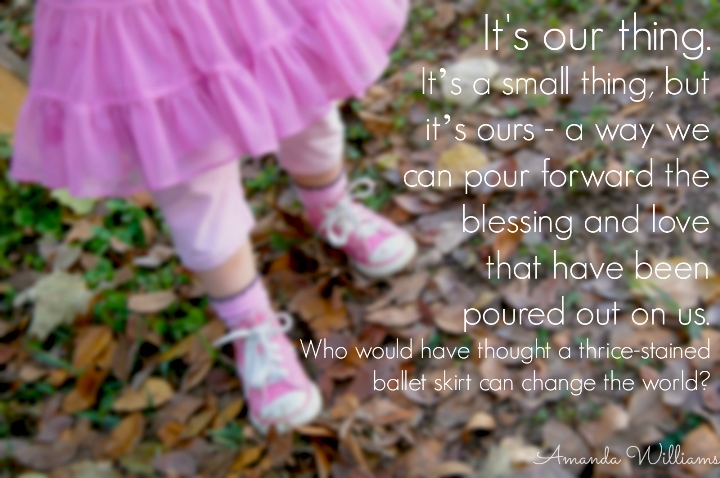 It's become something of a love language for me. Grocery bags and garbage bags full of children's clothing, sorted by size and season. There's a stack now by the basement door, divided and ready to be put away until needed. I can see a purple plastic bin in the corner of the dining room, lid thrown off by toddlers when I wasn't looking, a pink winter coat and hat and one tiny rogue flip flop thrown there on top. The sight of them prompts a flashback and I indulge the memory.
It is three years ago in my mind, a three-year-old in a knit hat – the one her godfather gave her – making snowballs in the front yard, smile drawn ear to ear, that same laugh warming the winter air. Remembering her that small makes me close my eyes and breathe in deep.
This is the To Be Sorted spot of the house, the place where we stack bags and bins that have been returned, contents ready to be splayed out on the dining room table, Post-It notes with kids' names and sizes written in Sharpie to help me remember who needs what and what goes where. It's from here that I text my mom-friends and sister-in-law to get updates when the seasons change, to find out who's graduated from their 12-month stash and who's holding steady in a 2T.
I think it all began when we were pregnant with the twins. We had one child then, an almost-2-year-old girl, and with a surprise pregnancy and the shocking news of twins – boys, no less! – we were a bit freaked out. Our friends must have been freaked out, too, because news spread quickly and all things baby boy started showing up at our door. Used pack-n-plays, exersaucers, baby bottles and clothes. Bags and bags of little blue clothes appeared from thin air, and we kept them. We kept them all. How many onesies do baby boys need? How many onesies do two baby boys at the same time need? We didn't know, but we opted for better safe than sorry and prepped for Spit-Upageddon.
Two boys do not require quadruple the clothes of one boy, it turns out, and as the seasons changed and the months went by, we quickly got to work divvying out the goods. After all, this outpouring of things, this overflow of stuff? It blessed our socks off, pardon the pun. These garbage bags full of clothes quite literally changed our lives. They were manna from heaven, just like the orange government vouchers that gave us formula to feed our babies and the tireless arms of family and friends who helped us hold them when they cried. The hundreds of dollars we saved on baby clothes and bibs paid for other important things, like the mortgage and the water bill.
And so a tradition began. Sure, we'd shared our daughter's clothes with her cousin who came along soon after her, but now it's become so much more. We are a well-oiled machine. When clothes come back from the cousins, they go out to a friend or five or six. Well-oiled may be an overstatement since the process takes me several weeks at best, and the bags and bins are an unfortunate and familiar fixture in our dining room. Even still, it's what we do. It's our thing. It's a small thing, but it's ours – a way we can pour forward the blessing and love that have been poured out on us. Who would have thought a thrice-stained ballet skirt can change the world?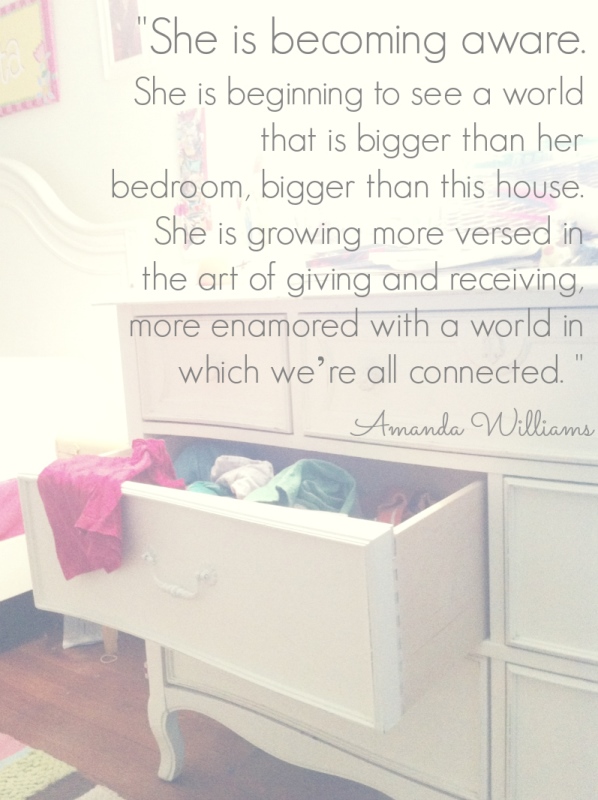 We still come home to bags of clothes on the porch and I give an audible sigh knowing I'll be staring at them for weeks to come. But then our now-6-year-old brings me a nightgown she's outgrown – it's too tight around the arms, she says – and I remember why it matters. "Give this to Charli, Mama," she says, and skips back to her room. This happens often; she'll bring me this or that, something that's too small or a toy she's too big for, and we'll wonder aloud, Who might need it next?
I can see a change in the way she talks about it lately, these small bits of her world that she is choosing to pass on. It was subtle at first, but then it clicked and I knew. She is becoming aware. She is beginning to see a world that is bigger than her bedroom, bigger than this house, a world that spans wider than our extended family and even beyond our friends. She is growing more versed in the art of giving and receiving, more enamored with a world in which we're all connected. She is finding joy in handing down her very favorites, and she gets as excited about bag of pre-loved clothes on the porch as she does the dress rack at Target.
It is a regular cycle now. We rarely shell out dollars to purchase new clothing for the kids  but make do with what is handed down from others, which is hardly "making do" at all. It is a form of tangible grace, all these hand-me-down shirts and pants and skirts and shoes our little ones wear, and I can't help but think it is shaping their hearts. I know it's shaping mine.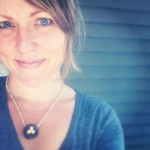 Amanda Williams tells stories of imperfect faith, motherhood and writing on her blog, Life. Edited.. She is a writer and editor for the online devotional community SheReadsTruth, a stay-at-home-mom, an avid coffee drinker and a professional porch sitter. Amanda lives in East Nashville, Tennessee, with her husband and their three young children.