When he says "Walmart" it sounds like "varmint," and I can't entirely disagree. But we go there anyway to buy a lunchbox because he is Going to School this year for the first time.
I registered my firstborn in a simple, non-threatening 2 ½ hour preschool class: just two days a week to ease the two of us into this school business. But in a series of strange, last-minute events, he ended up in the Tuesday/Thursday Extended Day class, which means five hours of preschool at a pop…and lunch away from his Mama.
Dane wanders the aisle, eyeing the colorful array, the cacophony of characters – Superman and Spiderman and Buzz Lightyear and Barbie. He settles, finally, on a generic car lunchbox that lights up when you shake it.
When we walk toward the cash register, he holds his choice proudly and shouts, "Hey anyone! I got my lunchbox! I'm goin' to preschool!"
*
During my senior year of high school, I had a somber, brilliant Literature teacher. Her no-nonsense approach and her deeply-rooted frown lines made me nervous in those first days of class, but she had a way of knocking the old, dusty classics free and making them feel relevant to the lives we were leading. She soon became my favorite teacher.
She took us through Hamlet the spring of that year. The air was thick with expectation as prom and graduation approached and life as we knew it sped to an end. She read Hamlet's line, "Readiness is all" with slow deliberation and let it hang in the air.
It was her last year before retirement, our last days of high school. It was more powerful than any sermon, the way she spoke the words into that room. Change comes. All you can do is be ready.
*
I know this week. It comes every year – one last gasp of soggy, unbearable heat – and then autumn. I feel change coming deep in my bones.
I have a hundred thousand emails to return. Posts and articles to write and projects to finish and a second book to write. But it keeps running through my mind Readiness is all. So instead, I assemble a new shelf for Dane's closet and we spend the afternoon organizing. I label his dresser drawers with pictures of clothing and we work on putting everything away in the right spot.
I buy him school supplies. I purge the toys that we're too old for now and label them for a garage sale. We talk about preschool and decide what we'll pack in his lunchbox.
When Liam goes down for his nap, I lie on the living room couch while Dane circulates between play and television-watching. Every few minutes, he wedges himself next to me and kisses my nose. "I love you my beautiful Mommy princess," he says, and I don't really know what any of this is supposed to look like. I don't know the best way to get us ready for this new stage of our relationship, of his life.
But I think it involves these tender moments of snuggle time. The careful organization of his bedroom. The cleaning. The purging. Letting go of some things. Getting ourselves excited about others.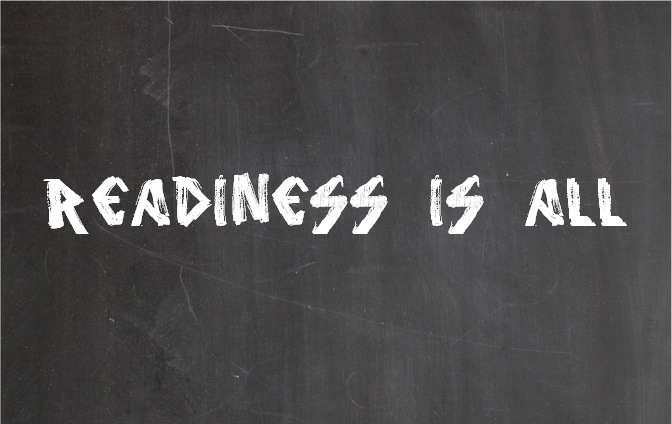 During college, I had a kind, brilliant writing teacher. She was the first to connect faith and writing for me – to point to the powerful ties between the written word and the Spirit. She taught me the holiness of noticing…and I think it goes hand-in-hand. Readiness and noticing. I think the two are essential to one another – two sides of the same moment.
I ran into her a few months ago at an event and she took me aside. She wanted to know about the book coming out. She wanted to know if I was ready, and I couldn't really articulate the intensity of my conflicting emotions. My excitement. My fear. The way I feel so exposed, having my secrets out in the world for people to judge as they may. The frenzied pressure I feel about producing another book in just one year – something that I'm proud of. Something that's beautiful. So instead, I just burst into tears.
She encouraged me to notice the things that I was feeling. To pay attention. To surround myself with a few kind, honest voices who could speak Truth to my soul during this time.
And I know enough to know that having a book published won't change my life. At least not the most important ways. My people will still love me exactly the same.
But it will make my insides visible in a new, vulnerable way. It will leave my heart exposed and my past displayed and my language up for theological debate. And I don't know how to be ready for that.
*
In the mornings, the sun is rising later and later, the darkness hanging lazily over the pond until after six. Change is coming. Readiness is all.
Today, we'll organize the playroom and look for a toddler bed for Liam at a garage sale. I'll get the school supplies ready and fill out the paperwork. I'll snuggle with my nearly-preschool-aged boy. I'll say I love you so many times that he'll sigh, I KNOW Mom.
I'll blanch more tomatoes from the garden and get them ready for canning. I'll think about how soft and exposed they are without their skin – but also, about how this is what allows them to last. To stand up over time. To be preserved for the long winter.
We'll hang a hook for Dane's backpack. We'll mop the floor. I'll pack up a few more advanced review copies of my memoir and take them to the gas station/post office. I'll breathe a quiet prayer as I stand there at the counter, noticing all the feelings washing over me. I'll notice the way the postal clerk smiles. The smell of coffee and donuts and gasoline and stamps. The way my kids almost break all the toys at the end of the aisle.
I'll let the books disappear into the Out-bin, into the world, and then I'll scoop up my growing-up-kids and go home.