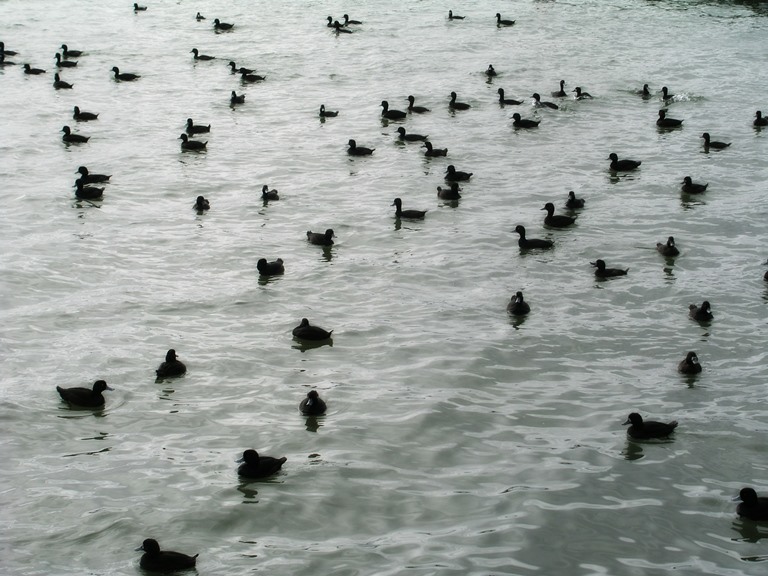 It is August, the quiet middle of the year. There seem to be more and more ducks every morning. When I come down the stairs into our quiet kitchen, I can see them, diving and flapping in the morning mist. Their sleek bodies are dark silhouettes against our pond.
They'll start coming in droves as fall creeps nearer and that fine-tuned instinct kicks in: Get ready. Cold is coming. They'll stay here because Dane helps our neighbor spread corn feed on the lawn every evening at dusk. Because in these pre-winter months, this is a place of plenty. A place of safety. They will stay until ice closes over the lake, and then in one quiet moment, they'll disappear.
*
In January, I chose my One Word for 2013. Ask.
In the white-washed newness of the year's clean slate, I felt motivated and inspired and ready to tackle my issues with prayer head on. I ordered books online, and I imagined that I'd read them all in a row, filling my heart with good, true words.
I wasn't looking for a formula exactly. But I wanted to figure out what prayer might look like for me now. I wanted to know what it meant and what it was about and what I could expect of God in those moments of quiet intimacy. I was all kinds of motivated, like you are at the beginning of a new year.
This is the time of year I'm supposed to do a check-in here about my 2013 One Word, and it occurs to me that at some point in the icy pre-spring, my search for prayer petered out.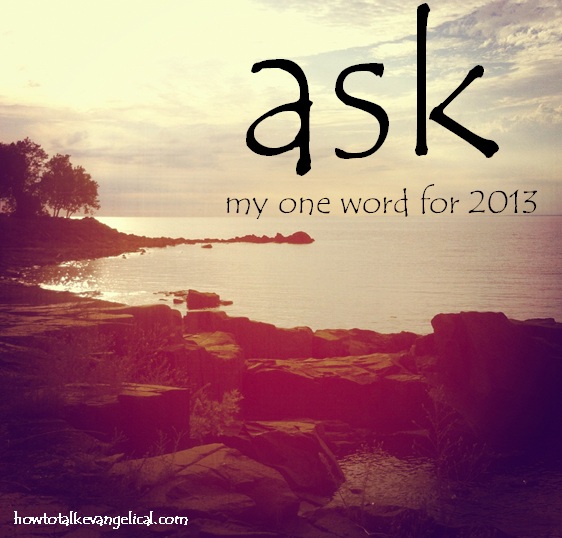 In the first month, I was reading like crazy, sorting through my prayer baggage and cynicism with the loaded words of The Circle Maker. The author suggested that "If your prayers aren't impossible to you, they are insulting to God," and I thought No and Yes all at once. Because in the humble place of mothering toddlers while trying to be a writer, it's all impossible. Every big and small moment of it. The wispy, unrealized dreams as well as the hard moments of daily love, grace and patience.
In The Praying Life by Paul E. Miller (easily one of my favorite books of the year), I learned to come weary. I found a freedom in that book that I never expected, and for a few months I experienced rich, vibrant, distracted, messy, beautiful moments with God in front of my sun-lamp at the kitchen table.
I picked up the next book, a meditation on contemplative prayer by Richard Rohr, but I never could start it. And it has to do with the late days of February when two big things happened at the same time.
First, I began to ask in regular, fragmented pleas for a publisher for my book. I asked God to bring the right editor, the right publisher, the right people. And in the course of one surprising, wild week, He did.
And, in the same breathless week, I had my second miscarriage in a row.
During those early moments of Knowing about each of those babies, I prayed quiet prayers of grace and health. I prayed for the new life growing. I prayed for the child who would be born into this hard world, into all of my baggage, into our loud, beautiful family. I pressed my palm against my stomach and felt the holiness of it all.
The second baby dissolved into miscarriage in the midst of a flurry of publishing contracts and Big Announcements. I was bleeding away the remnants of an unrealized life. And, at the same time, I was realizing a deferred dream.
I stopped trying to understand prayer.
Because really, how can you understand any of this? How can these two things exist in the space of your mind at once? The beauty and the pain, the excitement and the loss – all of it true. All of it real. All of it filtered, somehow, through the grace of God and through those early-morning fragments of my prayer.
*
In the morning, I come down the stairs in my pajamas and I turn on the coffee pot. The morning lights early still, even though the days are getting shorter.
The ducks are on the pond, quiet in their movement, beautiful in their mystery, and I don't know anything more about prayer than I did in January, but I sit there in the silence, and I pray.
I murmur the old worship chorus under my breath. It's been in my head for months.
In the morning when I rise
In the morning when I rise
In the morning when I rise
Give me Jesus
And I don't know what it means – Ask and it will be given to you. Seek and you will find. I only know that in these early morning moments of weariness and half-hearted trust, this is a place of plenty. This is a place of safety.
The ducks are gathering, and the morning is rising, and I don't understand what I'm finding here. But I know that somehow it is Enough.