Leigh Kramer (aka Hopefulleigh) and I became fast Internet friends when we discovered that we love all the same books and guilty-pleasure TV shows. Judging from this beautiful ode to recycling, she must have also read 50 Things That Kids Can Do To Save The Earth in the 2nd grade, and then spent the rest of the year penning letters to tuna companies about saving the dolphins and composing songs about water conservation. (No? Just me?)
I appreciate Leigh's simple, down-to-earth process toward making small changes — even when it's inconvenient. Even when it means adding one more extra step to her life. She's also providing some great resources to check out if you're not sure where to start! So grateful to have her voice in the One Small Change Series (learn more about that here).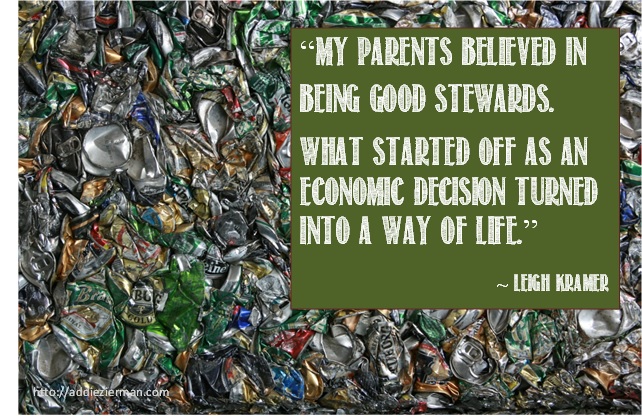 I learned to recycle when I was 10 years old. Not how to recycle but the importance of actually doing it.
I'd been tasked with cleaning my room that day. Sorting the piles, picking up the floor, and going through my school papers from the year before. Before I knew it, my heart-shaped wicker wastebasket was full and I unloaded it in the big garbage can in the basement. The first of many trips that day. Finally, the room was clean and met Mom's approval.
Dad, on the other hand, was not pleased. He took me down to the basement and we stood before the garbage can.
"What's in there?" He asked me, gesturing toward the can.
This confused me because my father is a smart man. When I told him it was trash, the lesson began.
"No, this is paper." He picked up a handful of my discarded schoolwork. "This can be recycled."
Oh! Recycling! I hadn't thought to put it in that context.
Yes, my family recycled, well before we lived in a town with a curbside program.  We'd smash soda cans to compact them and Dad collected copper wire from his work as a carpenter. Every so often he'd turn it in to the processing center and they'd give him money. I was amazed by this! My parents believe in being good stewards. What started off as an economic decision turned into a way of life. And it's also good for the environment.
We moved one town over to Wheaton when I was 8 years old. The city provided us with a blue recycling bin and an incentive. In order to have your garbage picked up, you had to buy a sticker and place it on the garbage can on collection day. The more you recycled, the less stickers you needed to buy.
With this in mind, my dad's lesson makes sense. Since that afternoon spent separating paper products from trash, I've never once forgotten to recycle and I've learned more about why it's important. Some may say I'm a stickler about it, in fact.
Senior year of college, friends and I lived off-campus. The town didn't have a recycling program so my solution was to save our recyclables in a storage closet and throw them in my car whenever I went back home. Thank you, Wheaton.
I've also been known to retrieve recyclable items from apartment complex dumpsters. I mean, the recycling bins are right next to the dumpster. It's not that hard!
Not every town offers free recycling or even a processing center but it's still important to do what we can to reduce waste.
Three years ago I moved to Nashville. Then I found out the city picks up recycling once a month and they don't pick up glass. Say what?!
It would be so easy to toss glass jars in with the garbage but I can't. My recycling system simply has an extra step now.
I keep a paper bag in my office for any paper recycling, from old newspapers to junk mail to receipts. I have two medium garbage cans under my sink: one for garbage and the other for plastic and paper recycling. Beind the recycling bin, I store the glass recycling. Whenever one of these bins is full, I take it out to the appropriate receptacle. When I've amassed enough glass, I drive 15 minutes to drop it off at the recycling center.
Dad's long ago lesson is rote but the system is what ensures follow through. It's also given me a foundation to take additional steps.
Recycling goes beyond what we do with our paper, plastic, and glass. What happens to old electronics and ink cartridges? Where should you take batteries? These things may take a little extra legwork but it's worth it. Literally: sometimes trading in the old leads to cash back or credit, depending on the program.
Other ideas: Reuse cardboard boxes (for shipping, gifts, storage) and tissue paper. When you go grocery shopping, bring reusable bags and produce bags. Donate items to charity. Cut up old t-shirts and use the strips as rags. Compost fruit and vegetable scraps. Use a refillable water bottle instead of bottled water.
Next up for me? Buying cloth napkins, paper towels, and snack bags.
If your town has a recycling program, please use it. There's no reason not to. If your town doesn't, I can understand how life gets in the way of sorting and dropping off. No judgment here, though if you live nearby, I may offer to pick it up from you and take care of it myself. I'm only kidding a little.
Additional Resources:

Leigh Kramer is on a quest; she's living life on purpose. Her to-do list might look something like this: leave life in the Midwest for Nashville, Tennessee with only fried pickles for comfort, quit steady job as a social worker to chase that dream of writing at last, suck the marrow out of life's in-between places and revel in the now at every turn. She is a contributor at A Deeper Family. Leigh shares this journey through words of transparency, heart, and just a dash of pluck at LeighKramer.com and on Twitter at @hopefulleigh.