On our 10-year-wedding anniversary, I stand at the Andover Gas Station/Post Office for forty-five minutes, mailing out a batch of advanced review copies of my book.
The clerk's name is Susan, and she is kind even when I haul my giant bag of packages onto the counter and say, "Hi. I'm here to ruin your perfectly nice afternoon." One by one, she types in the weight and zip code of each manila envelope, prints and applies the sticker, and puts them in the Out box.
The book doesn't weigh much; the postage is only a couple of bucks, and the whole thing fits neatly in the small, 6" x 9" envelope. How can I explain how heavy it feels to pass it across the counter? To let the books fly out of my hands and across the country, where people who barely know me will read all of my secrets?
*
When I get home, I have fifteen minutes to dress for our date night while simultaneously throwing my dirt-covered children in the bath. Liam's toe is bleeding because he dragged it across the driveway. He wants the Cars Band-Aid on. He wants the Cars Band-Aid OFF OFF OFF!
I put on my blue dress and the little heart necklace Andrew bought me that first Christmas we were dating. I was 18. He handed it to me in the stairwell of our college, and my heart raced when he clasped it at the back of my neck. I'd almost forgotten that necklace, tucked at the bottom of my jewelry box, but when I put it on, the contours of the heart charm feel familiar and light. I remember almost instantly how I used to touch it unconsciously during the long weeks that we were apart.
I put on a dash of mascara and get a streak of wet, dirty bath water on my dress while kissing the boys goodbye. And when we peel out of the driveway, I can almost remember what it felt like to be leaving our reception ten years ago, driving toward Michigan – Husband and Wife.
*
These are the light years. True, the kids are wild and a possessed by that terrifying demon that my early childhood education teachers call "disequilibrium." Three nights this week, we've made it only until 4:30pm before saying, "GUESS WHAT GUYS?! IT'S MOVIE NIGHT!!!" And then we've sent them downstairs with peanut butter sandwiches and a Netflix Special so we could hide in the kitchen and eat chips.
Jobs are hard and time is at a premium and the house is always a mess and nothing is ever finished, but still, these are the light years. We are easy with each other; the conversation flows and the misunderstandings are small. There is a lot to laugh about, and the summer has been full of good things.
There are more stacks of advanced review copies on my counter waiting to be sent, and it is exciting and terrifying all at once. The books have a generic gray cover and the wrong subtitle, but I can flip to any page and be exactly right there. In the heavy years of my life and my marriage when the darkness seemed so complete that I didn't know if I'd ever make it out.
I remember so clearly what it felt like to sit on our torn, living room couch and feel like we were in different dimensions of the universe – that even if we were to reach toward one another, we never would be able to touch.
I remember the ways we failed each other – some quiet, some incomprehensible – and the loaded silence of pain.
Every time I read that part of the book where I stopped fighting for our marriage, I feel the ache of regret and the sting of my own mistakes. And yet, also, I feel it crash into me again – the grace of God. The mercy of Love. That sudden, wild moment when the whole thing really ought to have broken apart, and instead, we got a miracle.
*
On the night of our 10-year-anniversary we drive to our alma mater, the Christian college where we first met.  Drinking was most definitely not allowed then, and I doubt it's allowed there now, but we bring a bottle of red wine onto campus anyway, along with a loaf of asiago cheese bread.
The bench where we sit is new and smooth, but it sits in the same spot as the old wooden one did – the one we stopped during our first walk all those years ago. We raise a glass and we toast the past and the future and the decade. The heavy years. The light years. All of them bound up together in time.
All night long, the comments come in on my post from Thursday. So many of you shared the stories of your young marriages turned old and wise. We read them. We sigh. We laugh. I was 18, he was 20. You wrote. They said we were crazy. They said we couldn't make it work.
And I think, Of course you're crazy. We are, all of us, completely insane – out-of-our-minds to get married so young.
And yet.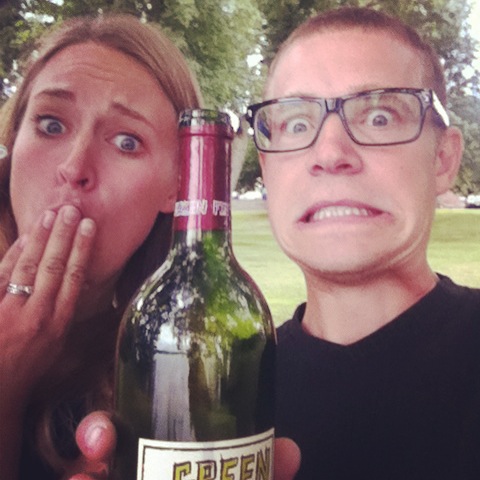 Andrew and I wander around the campus, retracing the first, light years of simple love, and it all looks so different. The buildings have changed, the tennis courts are ripped out, whole parking lots have been added and extended, and the fountain is gone.
It looks different, too, through the lens of experience, and as we walk hand-in-hand through our past, it feels holy and beautiful and delicate.
And when I wrote, last week, that it will be hard and you will have to fight for your marriage, I'm not being dramatic or vague or simplistic. I know because we almost lost it once. Once during the heaviest year, we might have let it go.
*
On the night of our 10th anniversary, we get home early, and the babysitter has cleaned the whole house. The kids are sprawled across their beds, asleep, and these are the light years. It's a beautiful part of the story, and I am thankful for the heart necklace, for the contraband wine, the laughter, the sleeping babies.
But I know it's only part of the story. The other part is in that book on the kitchen table. It's in the chapters of our story waiting to unfold, and in those days, we will cling to the grace we've been given. We will keep learning and relearning to forgive and to hold on.
"Ten years," I mumble. "Ten years," he echoes. It's only a start.
We kiss each other goodnight and go to sleep.