I'm so honored to have John Backman writing here today about his ill-fated attempt at making one small change in his life. I've loved John's work ever since I read his book Why Can't We Talk? (See my reflection on it here.) His words here are so wise and necessary for this conversation, and I'm so thankful that he tackled the complicated, unexpected nature of trying to make these changes. May we all embrace the beauty of grace, even as we strive to do better.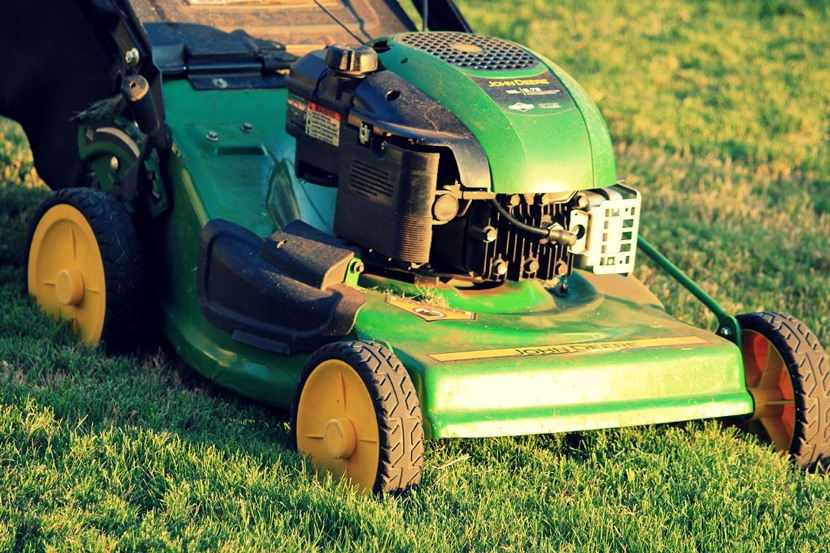 Last month I gave up on my electric mower and bought a gas guzzler.
Considering the aggravation associated with the electric version, the final decision was easy to make. But I made it with sadness—a sort of mourning for this one small change backward.
Four years ago, the thought of green mowing excited me. I gravitate toward doing my part for the planet on a big-ticket scale. When our oil furnace passed away, I gave solar panels a long look (alas, they didn't work with our roof structure). When we had to replace our small car, my wife and I bought a Prius. It makes me feel better about tossing the occasional returnable soda can in the trash, or carting away coffee from Dunkin' Donuts in giant Styrofoam cups.
So when I heard that there were actually electric lawn mowers, I jumped at the chance—despite Sears' hefty price tag—to own one. It was my new eco-strategy.
Electric mowers have their idiosyncrasies. An hour's worth of mowing requires 14 hours of battery charging. The blades do not appreciate long grass. The mowers are incredibly heavy and difficult to push. The neighbors thought me odd.
None of that mattered. I didn't mind having to charge the battery; it meant I couldn't always mow when I wanted to (good practice in resisting instant gratification). Even better, I could use the mower and think with satisfaction of the statistics I'd read online—like the claim that one hour of using a gas mower creates as much pollution as driving an average car 100-200 miles.
For the first two years, it was all good.
For each of the last two, however, the mower broke down at the height of summer. Back it would go to Sears, and from there to a repair shop somewhere, returning several weeks later. By that time the grass was out of control.
Last month—after I'd waited the requisite weeks and endured the knee-high grass and got the mower back and it still didn't work—I had to admit defeat. The electric mower gave way to the shocking lime-green gas guzzler now occupying the prime parking spot in my garage.
I also felt vaguely stupid. Now my neighbors could see my efforts for what they were: maybe noble, but definitely misguided.
Or were they?
Sure, I can't use the electric mower anymore. But I can use the insights that came from it.
For one thing: This experiment did work for a few years. So I saved the planet from a few years' worth of the emissions from one gas mower. That's a small good change.
For another: The experience exposed a bit of my faulty, anxiety-ridden thinking. I've always thought of doing good for the world as a steady progression: we make one small change, it becomes a part of our lives, we make another, and gradually we become more virtuous.
But it doesn't always happen that way. Sometimes it comes in fits and starts, steps forward, steps back. Sometimes many steps back. What I learned from my lawn mower was the wisdom of accepting that, even embracing it—of relaxing my obsessive grip on my own "progress."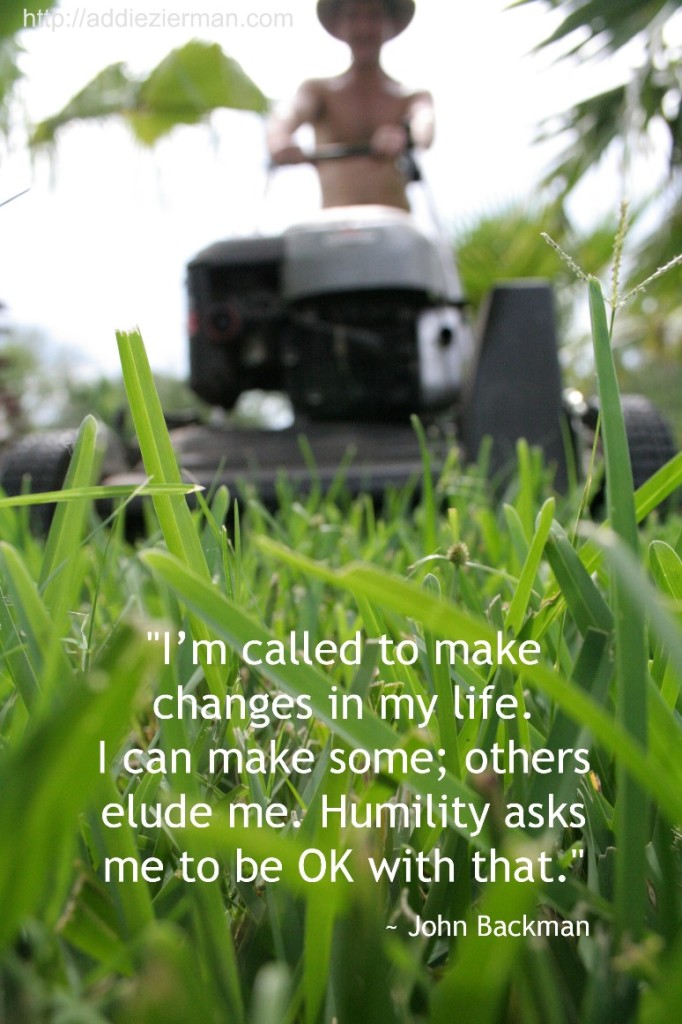 This goes along with the way I tend to make one small change. Unusually for me (as a planner and obsessive type), I tend not to pursue the next improvement so much as pay attention to whatever crosses my path—and do that. It reminds me of a businessperson I once knew, the CEO of a green-energy company, who formally challenged his employees to make their entire lives eco-friendly. Many of them felt overwhelmed by the challenge, and they let him know. In response, he would ask, "OK, where can you start? What can you do? Do that."
Through all these lessons, I hear the echo of a steady drumbeat, and it sounds like humility. The monastery with which I'm associated asserts that "humility is not self-denigration; it is honest appraisal. We have gifts and deficiencies, as does everyone else. We start from there."
In other words…I'm called to make changes in my life. I can make some; others elude me. Humility asks me to be OK with that: to "start from there"—and to keep inching forward, one change at a time.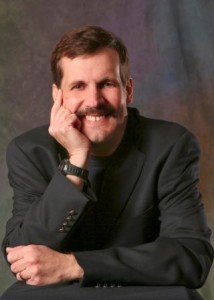 John Backman, the author of Why Can't We Talk? Christian Wisdom on Dialogue as a Habit of the Heart (SkyLight Paths Publishing, 2012), writes extensively on contemplative spirituality and its ability to help us dialogue across divides.
As a regular contributor to Huffington Post Religion and an associate of an Episcopal monastery, he has written articles for numerous Christian publications. Check out his work at the Dialogue Venture blog and follow him on Twitter.