If you read my What I'm Into post last week, you know that the serious-book-reading didn't happen in July. I read mostly for entertainment, not for serious mind-or-soul improvement. I read only books that paired well with our inflatable kiddie pool and hard lemonade. Because JULY.
So instead of reflecting on and giving away a book this month, I'm going to give away something else.
A scarf.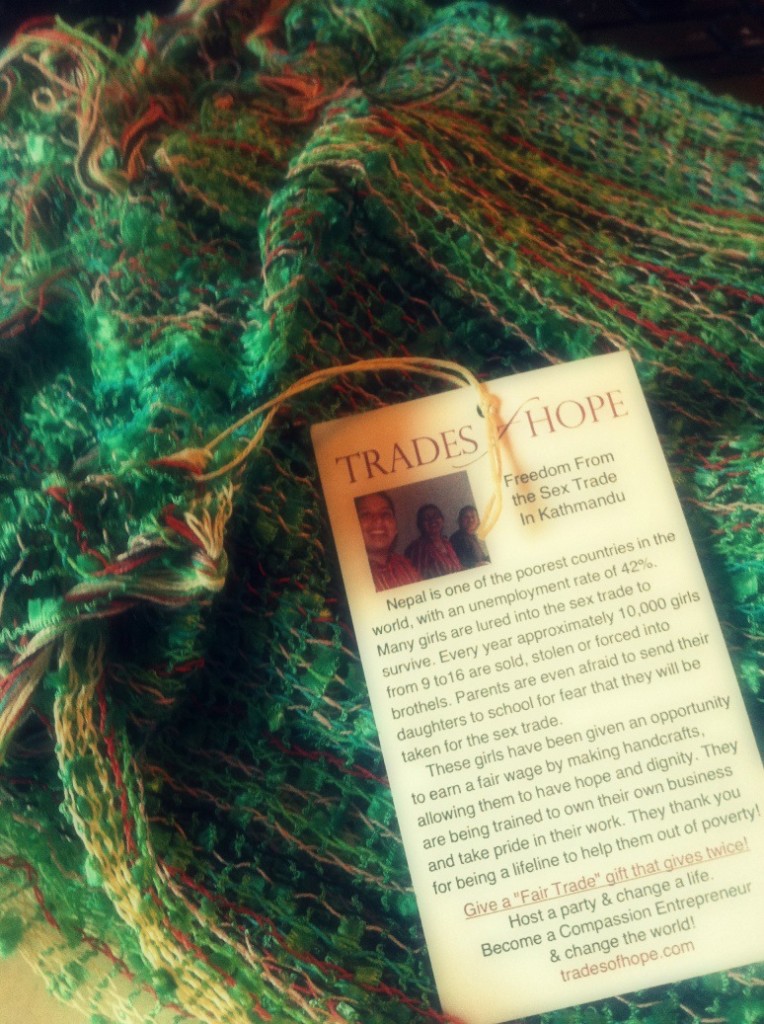 Lately, I've been thinking a lot about the nebulous, confusing world of social justice –and about how I can engage in it without taking it all on at once. I want to be brave enough to approach the hurt and need of the world. I want to be wise enough not to take on the unnecessary burden of survivor's guilt or the weight of legalism.
Some beautiful writers have been sharing their own One Small Change stories here on Wednesdays, and I'm thankful for the simple steps that others have taken in order to engage with justice. I don't expect any of us to do all the things, but maybe one or two of them will resonate with you. And it's exciting to think about the ways that we might inspire one another on to good, small things.
Recently, I heard from one of our lovely readers, Shannon Glaser, who works with an organization called Trades of Hope. It's a fair trade organization that markets and sells beautiful products made by women around the world. I love the heart of this organization: to give women the tools to start and sustain small businesses in places where such an opportunity may not have existed.
Shannon sent me one of the beautiful scarves made by women in Nepal, where approximately 10,000 girls from 9 to 16 are sold, stolen or forced into the sex trade every year.
I've never been much of an accessories kind of girl. My fashion sense has never been fully developed, and my wardrobe is usually dictated by how late we are running on a given morning. But last Thursday I put on my beautiful aqua summer scarf from Nepal. I also put on the paper beads that I bought from Breaking Free – an organization here in Minnesota that works with survivors of sex trafficking and prostitution.
(I'm pretty sure there are more fashionable ways to wear a scarf than the haphazard way I looped it around my neck, but I tried not to worry about that too much.)
That day, the boys and I drove around the neighborhood, hunting for garage sales, and I couldn't stop feeling them, these women that I don't know. I felt linked to them by the things that I wore.  Every now and then, I breathed a prayer for these strong, beautiful women, and I still don't understand prayer very well, but I think they matter…those mysterious moments of lifting strangers high.
I kept thinking of Dear Abby Leigh, who does a great little series on her blog called Dress for the Day. Her mantra is "Dress for the day you want to have…not the one that's trying to have you."
And I think, yes. I want a day that is not bound to the chaos of my own kids or the sloppiness of my own life. I want to build a mindfulness of others into my moments. And wearing that scarf the other day, I felt like it happened.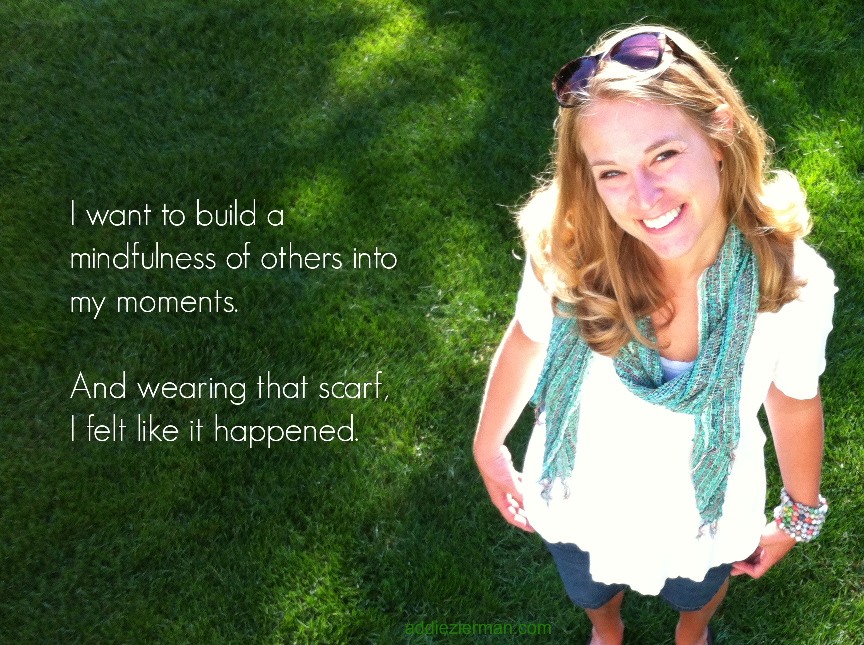 Shannon has generously offered to give away a scarf to one lucky winner. To enter, simply check out the Trades of Hope catalog here and leave a comment below, letting us know what your favorite product is. (I'm kind of in love with this copper wire bird trio myself.) I'll announce the winner this Friday (August 9th).
I think August is kind of an awesome time to shop for Christmas presents. This is the time of year that I always start to think about it because I hate the mad dash for free shipping during the first couple of weeks of December. I really like Trades of Hope because it feels affordable to me. As a Mama Writer on a Serious Budget, it matters that all the products are under $50. I love that.
Because this is a party-model business, I set up a special Addie Zierman party that will be open for the next month, if you'd like to order something. You can also follow Shannon on Facebook to keep an eye on new item releases and sales.
So maybe instead of buying those Target earrings for your mother-in-law for Christmas, you buy her the Nina Earrings. One small thing. Maybe you buy a Uganda Basket for your own kitchen table, and when you pray with your family before dinner, you remember those women whose hands created its spirals, and you ask for peace on their families.
It's just one thing. But it's a beautiful thing. And it matters.