I had the honor to meet Leanne Penny last year at Story Chicago, and she is just as wonderful in real life as she is on her blog. She's writing for the One Small Change series today about choosing local food, but she also does some wicked awesome up-cycling. Her rag rugs, in particular, are super cool. Visit her Etsy shop to check them out!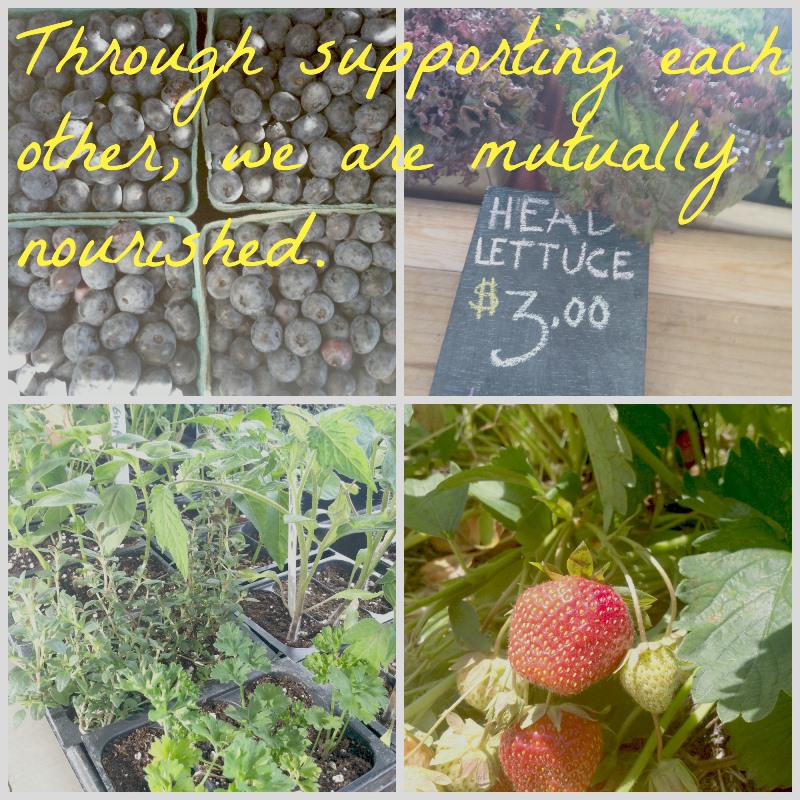 If there is one thing in out lives that has become overly complicated, it's our food.  We're confused and constantly bombarded with opposing opinions on what we should eat t many of us have given up in resignation by ordering another pizza with a side of "screw it."
Jerry Seinfeld put it best when he said: "Food is just so complicated as an adult. Nobody knows what to eat: protein, carbs, fat content?  We're just walking up to each going "you look pretty good, what are you eating? Maybe I'll eat that."
Preach Jerry.
In fact, I have a good solid bet that this is how you came across every diet plan you've ever adopted. You had a friend who seemed passionate about a way of eating and rather than research it, you just went "what the hell, I'll eat that too."
I speak from experience here.
When I started this journey I was clueless. I knew I needed eat more naturally, but I didn't even know how to make soup that didn't come from a can.
But, after some heavy Googling I hit the store, list in hand, determined to make organic and sustainable food work on our budget.  In twenty minutes, I was in tears because it just didn't seem possible.
Instead of giving up, I accepted that I wouldn't be able to go from boxed dinners to "Oh Pioneers" in a week's time. I had to break it up. Changing one's food perspective from Hamburger Helper to roasted local chicken takes a major mental shift, or twelve.
Eventually, in time, I got the shopping and cooking thing down.  I learned how to make the most out of our budget and I got creative with the remainder.
So, when I started seeing articles about large farms oppressing field workers I lost it. I just figured out how to make real food and now I have to figure out if I came by it ethically? How can a bag of spinach ever be bad?  It's so green and wholesome!
That's when I realized that nourishing our family was so much bigger than what I was putting on our plates.
So, I began to develop a set of personal beliefs about food.
I asked questions like: what is this and where did it come from? How closely does it resemble what God created it to be?
Who was involved in getting it here and are they being supported and compensated for putting their hands into the earth on my behalf?
Somewhere along the road, all this confusion grew into a love affair with real food and a deep sense of thanks for the earth for sustaining me. It grew into an active interest in obtaining fresh food that was grown near our home.
Now, like a total nerd, I tear up when I visit the farm stands and talk with the old gents about their chickens and how well they're laying.  It used to be just a dozen eggs to me, but now it's this man's livelihood, the thing he loves to do.
And by supporting these farmers I get to be a part of their passion and they, a part of mine.  Through supporting each other, we are mutually nourished. 
What seemed so complicated in the beginning now seems strangely simple: I'm supposed to eat real food and in doing so, sustain the earth and support those who till and cultivate it.
So, if you want someone who has local, organic shopping mastered, it's clearly not me.  We still buy bananas and questionable cereal.
But I can't help but feeling like this small is building, that this journey is changing me from the inside out.
Through helping my children gather fresh eggs and taking them to pick buckets of blueberries I am giving them a map for nourishing that goes beyond what they're putting on their plates.
It's about caring enough to look closer.
And I feel that this small something has the chance to ripple endlessly.
If I can continue to live authentically, support locally and share what I know, If I can raise kids who understand the impact of their food, then maybe this small will multiply like some locally caught, non GMO loaves and fishes.
*
I understand that the idea of reversing the food culture is beyond overwhelming, but here is a list of small things you can adopt and feel good about putting on your plate.
As often as you can, stop at a farm stand or market and buy something fresh. Better yet, double it and put some up for the winter.

Start making one fresh, new thing from scratch, and when you've mastered it, try something new. This will help you understand what your food is and how it gets here.
Commit to preparing one locally grown meal a week, even if it's just scrambled eggs from local chickens with a side of farmers market zucchini.
Develop a set of beliefs when it comes to your food.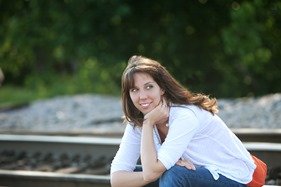 Leanne Penny is a mother, writer, wife and overall creative soul who is passionate about partnering with God on the business of redemption. She lives with her husband and two preschool-age children in West Michigan where she reads, plays, cooks and squeezes the rest into the cracks somehow.
Follow her blog at leannepenny.com and connect with her on Twitter or Facebook!