When I started this blog almost two years ago, I called it How to Talk Evangelical. It felt like a natural stepping-off place from my completed manuscript, which had the same name.
I'd finished that manuscript in grad school, and it had a complicated, grad-school-inspired structure. The book was punctuated by glossaries of evangelical terms that formed a vehicle for me to talk about my experience. The terms themselves became the spine against which I built my story, and it seemed only right to continue that structure as I made my foray into the blogosphere.
It felt doable to me. I didn't know the first thing about blogging, but I knew about writing. And it was easy to think about choosing just one term at a time. Riffing on it. Redefining it and letting it hook into my own life and then turning it entirely on its head.
So that's what I did. Over the last couple of years, we've covered some of the most cliché of the clichés here: God doesn't give you more than you can handle and I'm feeling led (to break up with you) and the truth in love. Using the metaphors and terms and language of the evangelical world, I began to work through some of my complicated faith baggage, and you came along with me. We've been sorting it out together, it feels like. Untangling.
But then one day I got a new agent, and she looked at my book and said, "You might consider making the structure a little more…simple," and I spent a few days panicked and crying.
And then I sat down, calmed the heck down, and tried it. And it turns out that the terms weren't the stabilizing backbone of my book after-all. The story itself was strong enough to stand on its own. The language of the evangelical faith was part of it, to be sure, but it wasn't the whole thing as I once thought it was.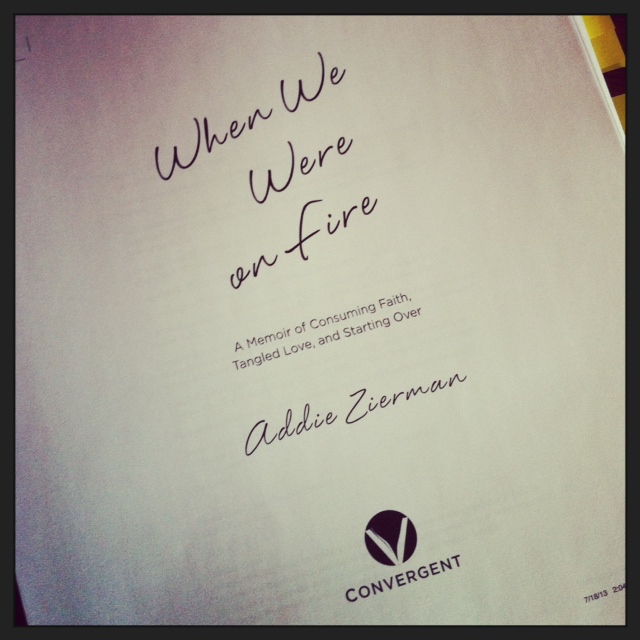 I got the typeset pages for my first book from the publisher this week. We have a title. It's not How to Talk Evangelical.
The book will be called When We Were On Fire: A Memoir of Consuming Faith, Tangled Love and Starting Over.
We're days away from an official cover, which I will reveal as soon as I possibly can.
In the wake of all the changes to the book, I've done a redesign of the website. If you look at the URL bar, you'll see that the page is no longer located at howtotalkevangelical.addiezierman.com – though that address will still get you here.
Instead, the address is simply my name: addiezierman.com.
Over the past few months, I've been veering a little anyway. I've still been tackling religious terms and the various aspects of Christianese…and I'll continue to do much of that in the months and years ahead.  But also, the content of this blog has expanded as my own life has cracked open and spilled over into other things.
And I wanted to stop defining myself by the evangelical terms and start defining myself as just…well…me.
You'll notice the new header (if you're reading this in an RSS reader – which I hope still works – click over to check it out) and some new tabs. I've created a page for the new book, and I'm beginning to put myself out there for speaking engagements.
You'll also notice eventually that I've integrated Disqus for keeping track of comments. It sucks at first because it's one more login and password to remember…but once you get that figured out, it's so much better. You no longer have to subscribe to the whole thread to get the response to your comment. It just comes to you…like magic. And that's important to me, because I spend a lot of time responding to comments. I really want people to, you know, read them.
I've also lumped my freelancer self in here too. Frankly, I no longer have the energy to maintain two separate sites and two separate email signatures. This is me, y'all: a Jesusy, angsty technical-writer-turned-book-writer with a blog. I talk a lot about the kids and a lot about the ducks, and it's all just me. Just Addie Zierman…with a tiny subtitle about talking evangelical, because alongside all of it, I'm still learning. Still figuring out what it means to speak good, true words into a word that is hurting.
*
My brilliant designer, Hannah Rose Beasley did an amazing job with this site, and I'm super excited about how it turned out.
As I understand it, your email subscriptions and RSS feeds should still work…but if you don't see anything come through in the next few days, please take a second to resubscribe. I don't want you to miss anything, and there's so much goodness coming. We've got another edition of the One Small Change series tomorrow…plus a cover reveal for When We Were On Fire in the very near future!
You can also keep up with me on Facebook here (be sure to hover over the Liked button on this page and select Show in News Feed so that the Facebook Algorithm of Doom doesn't edit me out of your life) or on Twitter here.
My Facebook "Likes" for each post didn't transfer over, which totally hooks my false self. But then I think of this beautiful quote from Glennon Doyle Melton, and I think this is a good thing.
Sometimes we're so busy responding to strangers that we forget to respond to the people right in front of is. And we forget who we are a little. And instead of feeling grounded into our real lives we start feeling untethered, like satellites out in the cyberworld. As if we actually ARE our profiles and our worth actually COMES from how many "likes" we have. No. There is no THERE there. There's not and there is never, ever going to be.
Also, since this is a brand new website, my "Most Popular" posts didn't come along for the ride. If you're interested, they were (as best as I can remember):
It's all a little different, and it makes me nervous and excited all at once.
Thank you for coming along with me into this new phase of this blog…and of my life as a writer. I'm so grateful for you all.