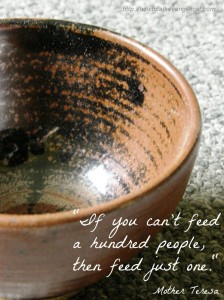 I want to change the world, but I'm up to my eyeballs in shoulds in my own regular life. I'm overwhelmed, already, by my daily failures as a parent and a person.
Yesterday, I caught my kid chucking a toy mailbox at his friend. My two-year-old keeps collapsing in random places to have temper tantrums.
I'm tired. Some days, it feels like all I can do to get us all dressed and fed.
And then there's the Internet, which is completely bananas. On Pinterest, y'all are making homemade bug spray and sunscreen bars, and it's making me stress about my bottle of Neutrogena Beach Defense.
In the last month, I accidentally clicked on links that told me that my beloved Diet Coke is going to give me both cancer and the teeth of a lifetime meth addict, and now I'm stressed about that too.
I don't exercise or eat enough green vegetables. I don't volunteer. Sometimes, I don't have the gumption to rinse out the empty peanut butter jar, so I throw it away instead of recycling it, and then I feel guilty for the rest of the night.
A factory falls, and I scroll through the pictures, sober and powerless. I feel so far away, so isolated from all of it. What can I even do?  I am a suburban mom from Minnesota. My problems are first world, to be sure, but still, they feel heavy to me. I feel like I'm already holding so much.

Yesterday, I wrote about the choice I made to buy locally grown tomatoes. I know it's not a perfect solution, and in the end maybe it doesn't change anything for the tomato pickers that I've read about.
But I'm finding that it's changing my heart.
It's helping me to remember that this whole thing is bigger than just me. It's bigger than the kids screaming in the cart, and it's bigger than trying to figure out what's for dinner tonight.
It's reminding me that we are all connected.
These days, I'm finding that tomato kiosk at the "expensive" grocery store is holy ground for me, because I'm encountering God there.
It's just one small thing. But it's something that I can do.
And I want more of those moments in my life. One by one, I'd like to begin integrating small, doable changes, because I find that as I do, my heart is cracking open a little wider. When I figure out that I actually can do one small thing, I feel empowered to do other small things.
I need less guilt-inducing, overwhelming, big picture stuff. I need less should, more inspiration.
I need small, practical, sustainable ideas of how I can choose to be engaged with justice where I'm at now. In the burbs with my toddlers. In a state where there's not locally grown food available all year round. In a life that already feels overcommitted to so many things.
So that's what this series will be about. I'm assembling a group of guest bloggers to share the small things they're doing to engage with justice, kindness and a larger world on a daily basis.
I'm hoping that we'll all find some small thing that we can do. And then maybe another. And then maybe another.
How to Contribute to the One Small Change series:
I've already lined up a few amazing contributions to this series – writers I know and respect who have something distinct and helpful to add to the conversation.
But I want to hear from you too.
I'm looking for writers to give just one practical idea that anyone could do. One small way that you've reoriented your life toward justice. It could be a change you made in how you spend money, an app you use, an organization that you support or a way you get involved with local or international justice issues.
It could even be something as simple as a way that you make space in your daily life to recognize that there is a bigger story going on here…and to pray.
The series will run every Wednesday from now until…whenever we're done. Post should be no more than 800 words and induce 0% guilt or shame. Only inspiration.
Please send them to me at addiezierman(at)gmail(dot)com. I can't promise that I'll be able to use everything – but I'm going to try to use as much as possible.
There's such a great community here at this blog. I'd love to see how we could offer each other the challenging grace of one small change – and be changed for it ourselves.