I come from a long line of Bargain Hunters and Garage-Salers. I knew what a "Sale Rack" was long before I ever went shopping on my own, and to this day, I'm drawn there like a fly to light. I go the back of the store first. To the clearance and the red-tags and the allure of a good deal.
Better than finding a cute pair of jeans is finding a cute pair of jeans on sale for 90% off. Better than having someone say, "I love your shirt," is being able to say. "Thanks! Got it for two dollars!"
I come from coupons and Aldi shopping. I learned to love the taste of off-brands, and I'm more conscious of money than anything else when I shop. I know that Walmart is cheaper than Target. That there are certain things that you should always get at the Dollar Store.
*
A couple of months ago, a clothing factory collapsed in Bangledesh, and I sat still all morning, looking at the pictures, feeling the weight of the rubble.
Mary Karr linked to the article on Facebook. "We should pay more for our jeans," she wrote, and her words have stuck with me, a sharp barb in my heart.
*
I come from a long line of Bargain Hunters, and I'm starting to think a lot about the price of a good deal. I'm feeling a pull lately when I stand in the aisles at Target.
Who made that?
I'm trying to picture her face. Is she smiling? Is she exhausted? How many hours did she work in the clothing factory today? The wage she made – is it enough to buy groceries? Does she get to see her kids? Does she feel safe where she works, or are the walls crumbling imperceptibly each day, the whole thing waiting to collapse.
The questions feel like a kind of minefield to me. First because they are largely unanswerable: I'm finding it almost impossible to find simple, accurate information online. Instead, the internet is a wasteland of Opinions and Angry Commenters and Unverified Statistics.
I wish there was a chart. It would be so simple if there were charts that included wages and cost of living and safety ratings, and you could just pull it up on your phone and make a good, educated decision about that cute dress you're trying on at Old Navy.
According to this article in the Business Insider, "ethically made" clothing makes up only 1% of the $1 trillion global fashion industry. The writer also says that "major chains typically use a complex web of suppliers in countries such as Bangladesh, which often contract business to other factories. That means the retailers themselves don't always know the origin of clothes when they're made overseas."
Last week, I had to throw away three pairs of shorts because I've been wearing them for years and they all have holes in places where it's inappropriate to have holes.
When you're a stay-at-home-mom in the summer, you need shorts, and I had exactly ten minutes yesterday for a kid-free Target run. So I grabbed a pair of Mossimo jean-shorts off the rack, tried them on, and threw them in my shopping basket along with a new package of kitchen scrubbers, a ream of paper, and some granola bars.
Someone once asked on Facebook, "What is the biggest deterrent for you to shopping ethically?" and I felt like an asshole because, honestly? It's convenience. It's a toddler stuffed in the front of the shopping cart, sobbing and flailing. It's having ten minutes and a budget. It's options and the catharsis of buying a new shirt from the sale rack for two dollars.
It's selfishness, I suppose. But also, it's survival.
And I believe that God is about love and about justice and that Christians should be about recognizing what is wrong and valuing others more than ourselves.
But also, it's complicated, and heaping on shame does nobody any good.
In the checkout line, Mary Karr's words run through my head, "We should pay more for our jeans."
I watch the cashier ring up the shorts for $14.99, and I feel powerless and guilty and resigned.
*
On the other hand: tomatoes.
I read an article a while ago about the alarmingly rotten working conditions for those who pick most of our tomatoes. I read about pesticides being spread while workers were in the field and about the staggering amount of birth defects that happen as a result. About long days and heavy loads and shockingly low wages.
And I can't stop thinking about those mamas. Those babies.
At our local grocery store, they sell some of their tomatoes from a local, Minnesota greenhouse. And every time I see that blue Martin's Greenhouse stickers, I remember the injustice of the tomato fields and my own bent toward selfishness.
I choose those blue-sticker tomatoes, and it means that there are no Romas sometimes and that I can't buy the cute cherry tomatoes. But also, it makes me feel connected.
I am conscious, in that moment, of a bigger story in which I am not the main character, but just one of the beautiful beloved that make up the world.
And I know that I won't necessarily change the world by changing the way I shop. I don't have it in me to start a revolution; I'm nobody's spokesperson.
But I choose the local tomatoes because it's one thing I can do. Because passing up the Aldi selection and making one more stop at the "expensive" grocery store turns my heart back to a bigger world. Because it turns my gaze from myself to others. It reminds me to pray. It reminds me to notice.
It's just one thing. In the scheme of things, it doesn't really add up to much. And if I start thinking about all the tomato-based products that I buy that were probably unethically made – ketchup and tomato soup and spaghetti sauce and salsa – I get totally overwhelmed.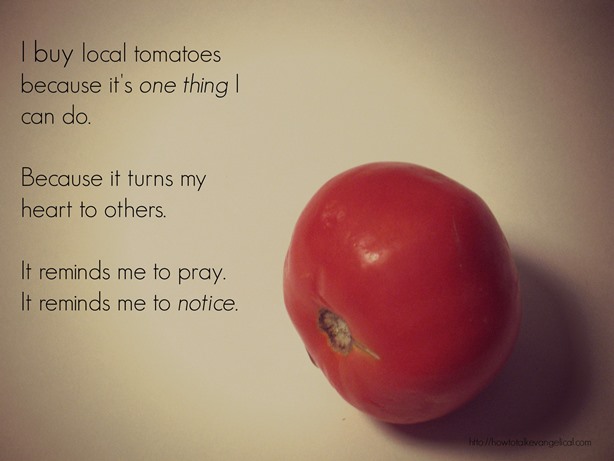 So today, just tomatoes from Martin's Greenhouse. Today a prayer for the pickers. For the clothing makers. For my own stony heart.
Maybe next week, one more small change. Maybe the following week, another.
Maybe this is the way we begin waking to justice. Quietly, slowly. One tiny thing at a time. Maybe every bit of it matters.