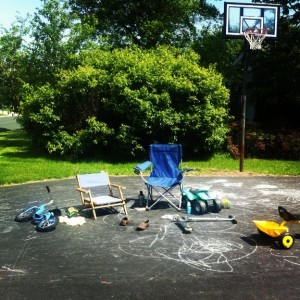 Last week, summer finally broke all the way through the Minnesota gray, and we all heaved a collective sigh of relief.
The baby pool is out now and probably won't go back in the shed until September. I'm spending more and more mornings letting out the old water, pouring in the new, and it feels like a kind of ritual. That emptying. That filling.
This weekend, I left all the Super Important Things undone, and instead we took the kids to a sculpture garden and let them weave crazily through grass and art. We ate our lunch at a picnic table on top of a hill and we played on slides and we peered into a lake, looking for fish.
When we got home, we watched the first summer storm, and then we all went outside and splashed in the puddles. The kids rode their bikes through the dip in the road where all the water gathers, and we were summer-soaked and happy, barefoot in the middle of the street.
The kids' legs are pocked with mosquito bites and scrapes now. There are three containers of bugs that Dane has collected living on our deck – including one maggot. Our driveway is covered in chalk.
The cottonwood trees are shaking loose their seeds, my kids are 4 and 2 years old. It's summer, and the whole world feels lit with magic.
*
Yesterday, I spoke on a discussion panel for a Young Writers event at the grad school I attended. I sat next to a successful screenwriter and an award-winning novelist and a poet with a beautiful new collection. I felt out of my depth with my blog and my almost-book stuck somewhere in the publishing void.
They asked about writing routine, and I told them about 4am. About the art of making space in your life. I told them about coffee shops and about the cost of babysitting. I talked about the notebook in my purse – about the unexpected grace of waiting rooms and long lines.
They looked at me wide-eyed. So did the screenwriter next to me, who has no kids and a Dream Writing Routine. We all know that there is nothing glamorous about 4am.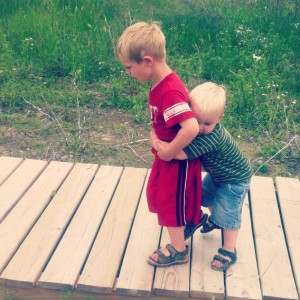 And that's not even the whole story. The whole story includes 5:45am, when I'm just making headway on a piece of writing, and suddenly the silence is broken by Mommy! Mom! Mommy! from Liam's room – or worse, Mom! I PEED! from Dane's room.
It includes the inevitable pang of guilt when I pull out of the driveway and leave the kids with a sitter – again. It's saying terrible things like "Mama will snuggle you for five minutes, and then I need to finish my work."
The moderator asked, What music do you listen to when you're writing? And I didn't have the heart to tell those wide-eyed high-schoolers that it's PBS in the background almost every day.
And if you're a Parent and a Writer, you can't just do it in your "spare time," because you have none. Because these babies are sponges that soak up every second you give them and want still more.
But you can do it.
It is possible to be a parent and an artist. It's possible to write in the small spaces – in the late nights or the early mornings or the in-betweens. It's a matter of choosing it again and again, every single day, and it's a hard choice to keep making. But if you choose it, it is possible to cobble a masterpiece from stolen moments.
The screenwriter talks about his writing routine, and I feel a pang of envy for his long, unbroken hours. For the quiet and the control. I think about my own chaotic life, about how the soundtrack of their childhood will be written into the fabric of everything I produce in these next few years. It feels exhausting.
But also, it feels like summer. The baby pool is out, and we spend our afternoons digging in their earth for worms and beetles. The pages of my notebook are textured with wind and water, smudged with dirt, ringed with coffee, and all of it is hard, tiring work. Parenting. Writing. And every bit of it is worth it.
*
It's morning. The dawn is already lighting when I get up at 4:30, and the ducks are out, trailing quietly around the pond. I am tired, and the coffee is brewing and it's not one bit glamorous. But the cotton is falling and the sun is rising, and what it is is beautiful.