"Instead of being a source of hope, my Christian background only increased my sense of hopelessness. On the one hand, I knew I was a phony, a hypocrite, and a liar. But on the other hand, I was convinced I'd experienced a genuine conversion to Christ in my teens. Where do you turn for hope when you already have the answer, but it isn't working?" ~ Heather Kopp, Sober Mercies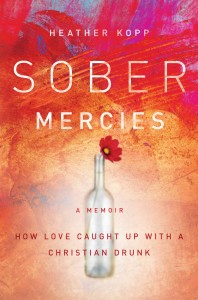 It took me nearly three years to get help for my Depression.
Three years between the first days of muted gray in China and that sharp, rock-bottom place where I found myself doing things I never thought I'd do, just to anesthetize dull ache of it. Just to feel something besides the darkness.
I didn't really understand Depression then. I thought it was only for people who had been through something Very Bad.
I thought that what I was experiencing was some sort of spiritual shortcoming on my end – so I pressed in harder. Got up earlier. Read my Bible for longer. Wrote hundreds of pages in my prayer journal.
I listened to sermons and read books and then, when I still could not seem to dig my way out, I started blaming All the Christians. I blamed famous ones who acted as if they knew all the answers; I blamed the ones in my life for not being able to help me. For not even trying. For not being able to see it.
And the refrain playing over and over again my head during those days was this Sunday-School idea that Jesus is The Answer. That no matter what the question is, it is always Him. That He is ENOUGH. That He is always supposed to be enough.
When I read the quote above in Heather Kopp's Sober Mercies a couple of weeks ago, I got a little weepy, because although our stories and struggles are different, it was exactly the same way for me too.
I had The Answer. It wasn't working. And so in addition to the Depression, I felt this wide, fearful hopelessness. If I needed other help, what did it say about my faith? And what did it say about Jesus?
*
Sober Mercies is the story of how a good, Christian woman became a drunk. And it's about how she found healing.
It is a beautiful memoir, riveting and self-aware, and what I love most about it is how Heather Kopp tells her story without a single hint of self-pity or cliché. She just tells it. She gives it like a gift.
I related to Heather's story in so many unexpected ways. I never went so far as keeping mini bottles of booze in my purse and downing them in restaurant bathrooms – but during that last year, when the Depression was so bad, I tried to drink myself out of it.
I drank myself sick, and I know the exhausting loneliness of throwing up in the bathrooms of unfamiliar bars. I know about lying to your husband about how many you've had. I know about that first swift pull up out of the darkness that the wine gives you…and I know about the crashing headache and the crashing down.
After I got help, I was able to restore balance to this area of my life, but I have a more complicated relationship with alcohol now. When I have a few too many, I become wary of myself and of the wine, because I've been to that place where it has become a kind of anesthesia. I don't want to go there again.
But what I mostly related to in this book was Heather's spiritual struggle. Like her, I grew up believing that if I knew and followed Jesus, things would be just fine…and when they turned out to not be fine at all, it almost ruined my faith.
For those of us who found Jesus early and grew up learning all the right answers, the spiritual journey can be surprisingly tricky. It includes a certain amount of unlearning, unknowing. Of letting go of the God we think we know to figure out that he is so much bigger than we ever dreamed.
And I think this is the real journey happening in this book. Yes, it's about sobriety. But mostly, for me, it felt like an exploration of this struggle. The one in the quote above: Where do you turn for hope when you already have the answer, but it isn't working?
And if you've ever felt the weight of that question – if you've ever needed a God who is bigger than all of the answers you know – then this book is for you.
*
Jericho Books has graciously offered to give away a copy to a lucky winner here. Leave a comment below and you'll be entered for a chance to win. (Any comment – brilliant, non-brilliant – doesn't matter. There is no comment judgment here, only love!).
I'll pick the winner this Friday morning, June 7th, but if you can't wait until then, I assure you, it's well worth the money. You can order from any of the following retailers: Amazon, Barnes and Noble, Books-A-Million, IndieBound or ChristianBook.com