Matthew 8:24-27 – Suddenly a furious storm came up on the lake, so that the waves swept over the boat. But Jesus was sleeping. The disciples went and woke him, saying, "Lord, save us! We're going to drown!"
He replied, "You of little faith, why are you so afraid?" Then he got up and rebuked the winds and the waves, and it was completely calm.
The men were amazed and asked, "What kind of man is this? Even the winds and the waves obey him!"
John 11:32 – When Mary reached the place where Jesus was and saw him, she fell at his feet and said, "Lord, if you had been here, my brother would not have died."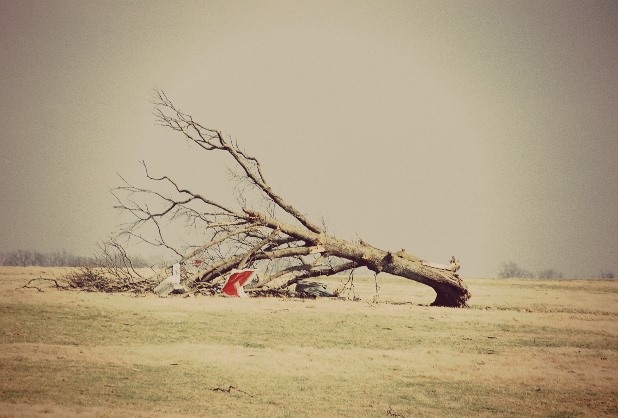 What do you do when the sky itself turns against you?
You spent your childhood naming those clouds. (That one looks like a dog, Mama. Or, Look, a turtle with a telephone!) You've lazed in the damp evening grass at night, and the whole thing was so big and beautiful, spread with stars you could never count.
What do you do when, all at once, it screws itself up into Category 4 Tornado? When it betrays you with its fierceness, its indiscriminate violence?
The wind whips itself into something terrible, and it comes, and it breaks apart everything you've built, believed, loved. And what are you supposed to do?
*
In the morning dark, I'm looking through the photos of the Oklahoma tornado, like everyone else in America: the twisted steel, the overturned cars, that desolate pile of rubble that was once an elementary school.
Today I was going to write about Dane's 4th birthday. It was Thursday, and it was beautiful.
He is the last birthday in our little cluster of friends. He has waited patiently through three other parties for his turn, helping me finally decide on a frog-and-lizard birthday party, hearing over and over of every toy he sees, "Let's wait and see what you get for your birthday."
And then it was here, and when the kids in our Mommy-and-Me class sang "Happy Birthday" to him, he sat there like a sparkler, grinning and blazing. When they were done, he said, Thank you! And it was so damn sweet and sincere that I almost burst into tears, because when does that end?
When do we stop believing that people mean it? When do we stop counting down the days, running to the end of the driveway, waving to our friends who are pulling in: Welcome to my birthday party! I'm so glad you are here!
When do we stop believing that life is worth being celebrated?
And maybe it's a slow crumbling, over time. Our soaring expectations are left unmet, and the people we love let us down. We start to learn, slowly, that living in this broken world is painful – sometimes for no good reason at all.
Or maybe it happens all at once when the sky comes violently down. Maybe our innocence and joy is pulled out from under us like a rug on a day that we don't see coming.
You grow up, and you find yourself in a world that's more questions than answers, and it feels like nothing will ever be okay again.
*
In the mornings, I sit at this chair, turned toward the big window, waiting for words, waiting for God.
I was here the morning after the theatre shooting in Colorado and the morning after Hurricane Sandy. On the mornings after Sandy Hook I forced myself to look at the photos of each of those children, weeping and saying their names out loud in the silence. For myself. For their Mamas. Saying it all to a God who often feels so far away from it all.
On the morning after the Boston Marathon shooting, I thought a lot about my sister and her husband, there at the race just a few hours before. About how close we all are to tragedy. I stared at a picture from the factory collapse in Bangladesh, a couple frozen in a dust-covered embrace, and none of it is okay.
These are the moments before the whirlwind of articles. The "Open Letters," the petitions for gun control or better safety policies, the calls to action. In the early morning moments after a tragedy, there is only the photographs and the bare facts, stripped of detail, uniting and separating us at once.
And if you pay attention to these early morning moments, the questions are always the same. Always, Why? And Where were you God?
And all the canned answers will be right in their own way. Yes, God is in the rubble. Yes, God is in the hallways, covering those babies like a Mama Bird. He is in it too, dirt-streaked and weeping. He knows every name, every lost bit of it, every broken heart bleeding out in pain.
But also, he is the God who speaks to storms, who rebukes winds. He is powerful enough to stop all this, and sometimes he doesn't. Tragedy comes, and it seems like he's taking his sweet time showing up, and you can't shake the feeling that if he had just Been There, this would all be different.
And there's no rushing through that. These question, they matters, and it's okay if it makes you doubt. It's okay to be angry. It's okay, even, to wonder if this whole thing is real at all.
In the end, I think that the clichés are more damaging to faith than the hard questions. And if we keep just putting band-aids and quick-fix phrases over top the whole thing, we'll never really heal. There will always be doubt festering like an infection beneath, unspoken questions that we are too afraid to ask.
*
It is early morning, and my boy is four. He is sleeping upstairs, sprawled across his bottom bunk, clutching his bear. My baby is two, drinking juice, his thumb poked through the corner of his crocheted blanket.
I am sitting in the same chair I always sit in, and I'm trying to hold it all: My own children, safe and warm. Others lost in the rubble. A God who I feel here in the quiet. A God who did not stop the tornado, did not stop the gunmen or the bombers or that factory from falling in.
He is the one who always Saves but sometimes does not save. The one calls himself Our Refuge but sometimes does not protect that which we love the most.
And these are not questions that can be quickly sorted out in a 20 minute sermon or a fortune-cookie phrase. They are the ones that you have to breathe alone in the silence. They are the questions that force you to press into this whole faith thing harder or to turn away altogether.
In the morning quiet, people I don't know are picking through the rubble of their lives, and I am drinking coffee, and we are all holding still, waiting for answers. Waiting for The Answer to make himself known, clear like the sun, warm like love.