You don't have to be good.
You don't have to read through your Bible in a year. You don't have to keep a journal or attend the all-church prayer meeting or help in the nursery two Sundays a month.
There is no continuum of holiness here. You can't be "more" of a Christian, or "less" of a Christian.
There are no faith giants or super-heroes. There are no perfect Christians, and no one has it entirely all together. In the end, we're just a hundred thousand beating hearts, torn and broken and made perfect by his Love.
You take grace like a garment, and it's not like putting on a Girl Scouts vest. There are no patches to earn. Nothing to add.
You take it, and it is a clean white t-shirt. It requires no embellishment, no accessories, no scarves. You don't have to dress it up or upcycle it or tie-dye it in the backyard. It is enough, all by itself, to cover your shame, your fear, your cold.
You don't have to like Christian music or read Christian fiction or answer all the questions in your fill-in-the-blank Bible study.
You don't have to eat organically or buy fair trade or go on mission trips to the other end of the world. You don't have to sponsor a child in Ecuador.
You don't have to listen to sermons on your ipod or read the "right" blogs or support the "right" political candidates. You don't need a Jesus fish sticker on your car.
If you pray, do it because your heart is drawn to the heart of God. But there is no script here. No magic words. You don't have to get up in the early morning and kneel on the floor. This is not a formula, and you cannot pray yourself into God's good graces.
Listen, you are already there.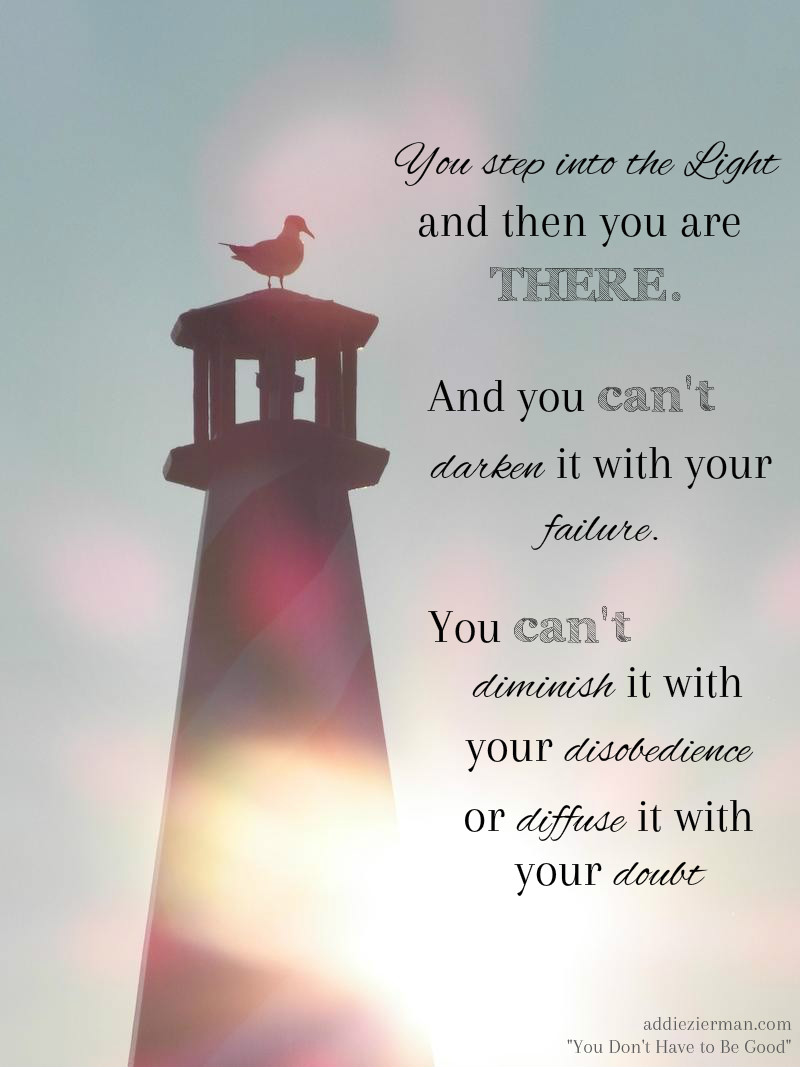 This is the only place in your whole world where there are no expectations; this is the one person you cannot disappoint. There is no test. God is not waiting for you to do some certain thing or to say some particular combination of words to give you Good Things.
Get up and pray if you can, because there is something here for you in this quiet. But if you can't — if you are bone-tired, if you push the snooze button again this morning — you are not less beloved. There is no great, cosmic head-shaking going on in the sky.
God is as near as your sheets pulled up around you.
He is covering you with the quiet of his love.
You step into the Light, and then you are there, and you can't darken it with your failure. You can't diminish it with your disobedience or diffuse it with your doubt.
If you never read another Bible verse in your whole life, you will be loved just as endlessly, just as wildly, just as inexhaustibly.
If you never find your way back to church, if you never join another Bible study, if you never sing another worship chorus…you are still enough. Because he is Enough. Because nothing can separate us from the love of God – not even our own broken hearts.
There might be a time when you feel led forward out of your own cynicism or your own fear, and Lord, I hope you go.
But maybe you don't. Maybe you take the long way around. Maybe you get on a boat headed in the other direction. Even still, you can't outrun His love and grace. It is bigger than the sky, closer than your ragged breath.
And what I'm trying to say is that this is not some cosmic equation – good behavior + prayer = God's love or God's blessing or God's presence.
In the end, the Gospel story is a shattering of all the formulas. It is a God who walks through the dirt, whose Love is big enough to cover the broken, empty places of the whole wide world. Whose Goodness is strong enough to cover our failures.
It is a God who died to make us enough and who defeated death to give us Life, and you don't have to be good. You just have to step into it.
The day breaks, and it is grace, and you can't earn it at all.
You are already here.
Stand in the middle of it and look up.