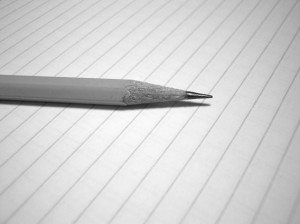 During my Very Hard Year, I meet the church ladies every Thursday morning at a coffee shop.
It was dark when I drove there and dark when I left, and in between, there was a fill-in-the-blank Bible study on the book of John.
There was homework that we were supposed to be doing. There were small spaces for answering leading questions, all of it meant to guide the reader toward a deeper understanding of the Bible.
Like most studies, it was pragmatic. It was meant to help you learn, and in that learning, to grow stronger in your faith.
But it was my very hardest year. I was in the deep winter of Depression and didn't know it yet. But what I did know was the answers to questions 1-10 in Chapter 1. After years of Sunday School and AWANA Clubs, after high school Bible study and youth group retreats and four years at Bible College, those questions were so insultingly simple that I resented them.
The questions I was battling through in my own heart during those months had to do with loneliness and sadness and feeling like God was nowhere. Like he had up and left my life.
I tried to write the complex questions in the margins and in the spaces, but there was no room for them. It was a fill-in-the-blank Bible study, and it wasn't about the questions. It was about finding the exact right answers.
*
Here is what I am not saying. I am not saying that fill-in-the-blank Bible studies are bad. I am not saying that you are simple or stupid if you love them, if they speak to you, if you are being changed by one right now.
We are all in different places of learning and growing, and sometimes that word – the one you write in the small, blank space – is the word you needed to find. The one that will change everything.
What I'm saying is that during that time in my life, it was just not doing it for me, and maybe you're there.
Maybe you're desperately trying to interact with God or with your faith community, but it all feels dried out and stale – a very old crust instead of Bread of Life.
*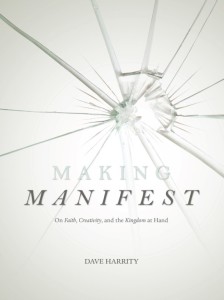 I met Dave Harrity at the Festival of Faith and Writing last April. We'd connected online a bit, but at the conference, he handed me a postcard about his forthcoming book.
I wanted it to be available immediately, right then, because it is the book I needed so desperately that very hard winter.
It's the one I need now.
In his introduction, he describes Making Manifest as a "28-day devotional book grounded in the acts of writing, creativity, imagination, solitude, and community building, all designed to help you 're-vision' the way you understand and interact with the kingdom of God."
It's a totally different kind of "devotional" – a workbook filled with meditations and writing prompts. It asks that you make space for quiet. It asks that you write freely and that you pay attention to your life. That you value the words you write in the quiet space of this book, not because they are perfect, but because they are holy.
I'm not all the way through it yet. It's meant to be a 28-day devotional, but I'm ambling. I'm taking my time with each prompt, feeling my soul get a little wider in the reading and writing.
Making Manifest doesn't ask you to read large swaths of Scripture. Instead, it incorporates small bits and goes deep into the complex, life-giving truth about who God is. It would have been perfect for my cynical, winter-bare 24-year-old heart. The one that could not take one more fill-in-the-blank study of John. The one that could barely open the Bible without feeling inexplicably angry.
In the back of the book, there are discussion questions, workshops and exercises that allow you to use this book in a group context, and I'd like to start a group at some point. I'd like to try it in community.
I think it's the kind of book that you can work through again and again and find it entirely different and uniquely beautiful every time.
*
I'm excited about this book because in the end, it was a series of writing prompts that helped me find my way back to God – not in a devotional book, but in grad school. It was hundreds of free-writes that were eventually refined into essays that turned into chapters that turned into the book I'll publish with Convergent this fall.
But in the beginning, it was just prompts.
Just a notebook and a pen. Just me and the God I couldn't seem to get to in the traditional, evangelical ways.
And somewhere in all of that messy cursive, something happened: I found him again. Somewhere in all of those imperfect, holy pages, He met me, and I was Found.
*
I'm so excited to have one copy of this beautiful workbook to give away, but really, I think it's worth every penny. (It's available from Seedbed here.)
You know the drill – leave a comment (Any comment! No brilliant insights necessary!), and you'll be entered into the Random Generator of Awesomeness. I'll announce the winner this Friday (the 10th).
In the meantime, stop by antler, Dave's organization that's committed to helping people engage in creativity as a devotional practice for spiritual formation. These are some seriously cool people bringing something that we desperately need to the faith conversation. Check it out!