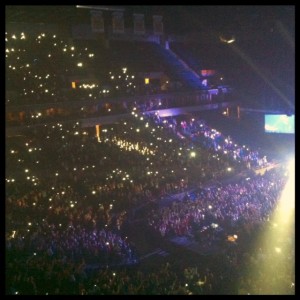 There are two things that you should know to begin with:
I love our church.
I am not much for "Christian concerts."
I was at one time. In the old on fire days, I was elbowing my way to the front to see DC Talk, my face red with the heat and energy.
I had a hoarse throat and the official band t-shirt, and I was right in the middle of all of it – faith and music and so much passion.
The first time I ever really danced it was at a Christian ska concert, and I know what that sounds like, but you should have seen it. We were learning to be ourselves, singing out loud, worshipping wild. We were young and awkward, but we were moving to the music, finding our feet strong beneath us.
It was where I was on Saturday nights. Christian concerts. I was one of a thousand screaming, Jesus-loving teenage fans, and we were looking for an anthem.
*
In the Mad Season, I gave up a lot of things from that old, evangelical world.
"Gave up," is actually maybe too benign of a phrase. Threw across the room, is a little truer. Stomped on in rage is also good.
These things that used to define me are the things that I was most anxious to crumple, crush, throw away. I was angry and I was cynical, and what I needed was a little distance.
I needed to strip away the whole convoluted Christian culture in order to finally understand the heartbeat of grace. I needed to remove myself from the Loud of all that Christian rock and breathe in the quiet of my own desperation.
I didn't listen to anything "Christian" for years. Then I slowly started adding back a few things. A couple of bands who sang words that felt true and honest. I rarely bought whole albums – but I'd download a song here, a song there. The ones that made me cry. The ones that managed to lift the sheet away from some covered-up part of my heart.
*
Several weeks ago, our church bought tickets to the Chris Tomlin concert downtown. Chris Tomlin is an evangelical powerhouse of a singer, and the concert was sponsored by the local Christian radio station. It is the kind of thing that I never go to. I cannot reiterate this enough.
But I also, somehow, really wanted to be part of it all. I wanted to be on that yellow school bus with the people from our church headed down to the city. I wanted to be crunched in, junior-high-style, driving through snowy April streets.
So, this time, Andrew and I decide to go.
In the packed lobby of the Target Center, there are a zillion people, and I realize immediately that Christian t-shirts still make me entirely uncomfortable. Even the fitted, clever ones. Even the mission trip ones.
I'm on edge when we walk into the auditorium because the last time I was in a place this big for some Christian Thing, it was a Teen Mania youth rally that was a lot about courtship and missions and being really awesome for God.
I came out of that whole experience with cracks rupturing imperceptibly beneath the surface of my soul. And at the steep edge of the second floor balcony, I feel it all over again. So I'm arms-crossed, on-edge, curled up in my stadium chair.
The lovely, brown-haired opening singer says, "Do you love Jesus tonight?" while she strums toward a new song. I offer a wry answer to no one in particular. "Not tonight," I mumble, because the question feels silly and rigged for applause. But then she starts singing and it's so damn beautiful that I want to hold my breath.
Chris Tomlin comes out, and I shake my head when his first song includes a line about "God's great dance floor." But a few minutes later, a rapper is reading something out of the Bible. It's that part in Ezekiel when God made a whole valley of dry bones live again.
I am mesmerized by the way he says the familiar words. The ones I've read a hundred times. He says them and I feel them in my own dry bones like healing.
There is singing and lights. I listen to the guy on stage, but mostly I'm listening to a thousand people around me, all of them singing along. The woman next to me sings the harmonies and it's her voice I'm most struck by – honest and quiet, beautiful and strong.
This morning in church, we gathered around her eight-month-old daughter and prayed for healing, and I can't stop thinking about this baby girl as I listen to her mother's voice sing the hard, beautiful truth of God's goodness.
I'm caught off guard when they start singing that one song – the one that does something to my heart – and all of the sudden I'm singing too, my voice disappearing into the ocean of sound like one small wave.
And I would be lying if I say that the cynical part of my heart isn't prone to cataloging every flaw, every cliché, every bit of jargon lasering through the room.
But also, I would be lying if I say that I am not moved.
This is where I am these days – both fractured and found. Stuck in the tension of my broken-mending faith.
I still have these hard places, but I have been touched by grace. And grace breaks the barrier between us and them. Between church people and cynics. Between all that we are and all that we hope to be.
And we sit in this stadium with all these different t-shirts, and there was a time when I was zoned in on the words people wore. But now, I want to stop with all that and look at their faces instead. I want to see smile lines and wrinkles and piercings and eyelashes. People who, in the end, are just like me.
*
At the Chris Tomlin concert it's late and I'm tired, and this is not the kind of concert I go to. But he starts singing an old hymn, and I'm singing too, and I feel it all the way through.
I am one of the broken and beloved, and I have been all this time looking for an anthem. And the one we are singing is grace.