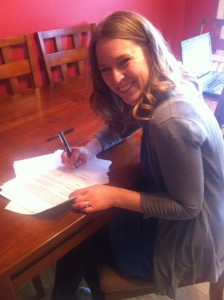 I started writing my book during my MFA program at Hamline University a hundred years ago.
We were freshly home from China, and I was working as a technical writer at a software company. I'd sit in 2pm meetings and create online help modules, and then, after work, I'd drive to school.
Outside of small, lit classrooms, the seasons changed, and so did I. I always thought I would write fiction. Instead, I started writing my story bit by bit, prompt by prompt.
I started writing about faith and passion and being on fire, and I was always surprised by how many people seemed to relate.
Almost no one in those classrooms came from an evangelical background like mine, but everyone had some sort of church baggage. Some well-meant moment gone horribly wrong, some heavy-handed pastor, some overzealous boyfriend.
And then I was deep into my own Mad Season. I was spiraling, and I was writing about it because I had assignments due.
I've written before about the ways the writing of this particular book saved me – how God met me there when I couldn't find him anywhere else. And because of that, this book feels both weighty and delicate.
*
My agent called to tell me about the book deal when Andrew and I were on our weekend getaway up north this February.
We got to our 1970s-decorated room at the Cascade Lodge, and I sat on the floral bedspread and listened to her voicemail.
It's a two-book deal with a brand new imprint of Random House called Convergent.
And — here's the super cool part — they're fast-tracking my first book so that they can release it with their inaugural line in Fall 2013. This October. Only six months away.
When my hands stopped shaking enough to try to call her back, we realized that the Cascade Lodge has zero cell phone reception. So we got back in the car and drove to the nearest strip-mall coffee shop so that I could make that call.
While I talked to my agent, I watched a man who was waiting for his son to get off the bus. He had a hunting knife attached to his belt via holster. On the wall, there were various paintings of a family of bears engaged in typical "up north" activities – camping, canoeing, hiking.
The snow piled high outside, and the waves crashed in Lake Superior and the bell on the door jangled when knife-wearing man's son came in from the bus.
"Let's do it," I told her. "I'm in." And that was that.
I thought about getting a bear shirt from the gift shop to commemorate the occasion, but in the end, I decided against it.
*
I want to tell you that for me, the journey toward publication was long. It was a lot of  almosts and not quites. It was full of try agains and rejection emails and waiting.
I finished the book when Dane was a baby, and now he's four, and I want to tell you that I felt the wait.
I need to say this because I know some of you are writers. Some of you are waiting for this thing to happen, and it's not happening, and it feels really hard and tender – a purpling bruise that keeps getting elbowed by other people's good news.
But I also need to say that I was changed in the waiting, and that these years have been so good for me. I learned things about God and about myself. It has been a softening. It has been a deepening.
I want to tell you that I think Convergent is the exact right publisher for this book. There were a lot of almost-fits along the way, but I feel this deep sense of rightness here. This is where I'm supposed to be.
But it took a while to get here, and I want to tell you who are in the aching, waiting place to take heart. This is just part of it for most of us. You will get there.
*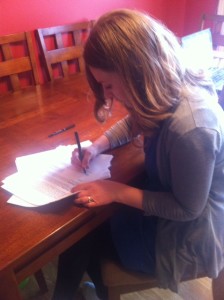 I signed my book contract yesterday in the middle-flurry of morning activity. It took three or four tries to get this photo because Liam kept try to climb onto my lap to grab my pen.
In the living room, the TV blared – those SuperWhy! kids trying to find their super-letters. Dane kept shouting that he needed the wings reattached to his dragon toy.
I always thought signing a book contract would be a kind of transcendent moment. But in many ways, it was part of the movement of our day.
When I dropped the contract off at the gas station/post office, the boys abandoned me for the toy aisle immediately. I stood there alone, and I finally said to the clerk, "That's my first book contract you're holding."
She looked at me with the dead eyes of an overworked postal/gas station employee, said, "So you want me to track it or something?"
And in many ways, this is a life changing thing. And in so many ways, it is business-as-usual.
In the end, I think that's exactly, beautifully right.
Thank you so much for being part of my journey. I cannot wait to share this book with you.