"God made everything out of the void, but the void shows through." – Paul Valery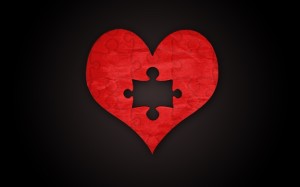 I could tell you about the seven week ultrasound. When I walk in, the technician says, "So you've been having some problems?" and that's all it takes for me to burst into tears right there in the doorway.
I could tell you about the wobbly static of your secret places projected onto a screen. The picture comes in and out, line and shadow, a hidden hologram.
I could tell you about the circle – the sac – she calls it, measuring too small. There should be a little bean of a thing inside of it. A blob with a beating center. A beginning.
Instead, it's empty.
"We can't draw any conclusions," she says. "It's very possible that you have the date wrong. You'd be surprised how often that happens."
"I don't have the date wrong," I tell her.
"Even so," she chirps, and I can tell by the dismissive flick of her hand that she doesn't believe me. "We can't say for sure until you come back for another ultrasound in two weeks."
I could tell you about knowing for two weeks that you are having a miscarriage before anyone will let you call it that.
In the second ultrasound there is a new technician who is all business. I see the empty circle, exactly the same as before. She snaps pictures, takes measurements, says nothing.
I could tell you about the doctor, the one who delivered Dane almost four years ago. In the white exam room, she says blighted ovum. She talks about a mysterious condition in which a placenta is formed but never an embryo – no heartbeat, no tiny person growing in the quiet.
I could tell you that this is my second miscarriage in 4 months and how strange it feels, this time, to miss something that was never there. But I keep seeing it – that too-small circle, that missing baby, that hole in the middle of it all.
*
Once I sat with a friend over pizza, and she told me quietly about her fractured relationship with her father. About the inexcusable ways he had failed her, had hurt her, had broken her heart.
I listened the best I could, but I didn't hear her. Not really. It was before my breakdown, before the year of my drinking, before my Mad Season. And all I could think were hearty, evangelical thoughts about God-shaped holes.
She was saying, "This is not how it should be," and all I could hear is, "Quick! Tell her about Jesus!" and so I did.
I told her about how God is the best kind of Father. About his unending love and his deep-ocean kindness, and I was telling her that Jesus could fill that cavernous emptiness that her Dad had left in her heart.
She was poking at her pizza with her fork, and when she looked up at me, her eyes were set like stone.
And only now am I beginning to understand the wrongness of that whole conversation. Because it is March, and it should be almost-spring, but it just keeps on snowing.
God is here, and I feel him close and real these days. But also, still, there is this hole. There is the empty space where a baby should have been. And I feel that too, tender and sharp.
I know it will get better with time – these things always do. But also, I know that this world is cracked through. The people who are supposed to love us best fail us in the worst possible ways. The pregnancy doesn't take, or he baby is gone before you can hold him. The lump is malignant. The crash is fatal. Over and over again, people keep leaving before we're ready for them to go.
We are, all of us, punched through with holes, living with a little bit more emptiness every year. And it's possible to be filled with the Spirit and still feel the void.
It's true that God is the best kind of Father. And also, the absence of your flesh-and-blood Dad matters. There is the way things should be and the way they are, and between them, there are a hundred thousand hollows, echoing with emptiness.
We are not a complete puzzle, missing one crucial piece. We are riddled with holes, waterlogged, going down.
God is not some perfectly shaped stopper, meant to keep a sinking ship afloat. He is something else entirely – a life boat, a raft. The Rock that we cling to when the whole thing is going to hell.
And I think that in order to find wholeness, we have to learn to tell the truth about our emptiness.
So this is me, telling the truth:
I had another miscarriage this month, and I can't stop feeling it.
I am adrift in new territory, both hollow and held. I am floating on some strange ocean. I am carried by his strong Love; I am feeling it all.