This was originally posted at A Deeper Story.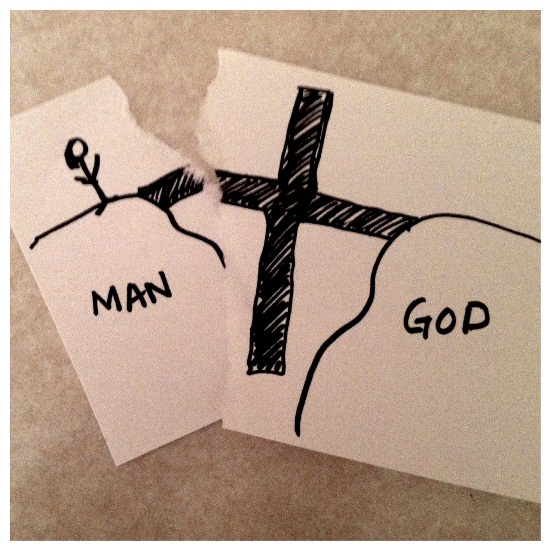 "The cross is not a detour or hurdle on the way to the kingdom,
nor is it even the way to the kingdom; it is the kingdom."
~ John Yoder, The Politics of Jesus
The first time I went to a therapist, I was shattered at the rock-bottom of my life.
It has been a year of Depression and anger. A year of drinking too much too fast. In a thousand small ways and a few really big ways, I'd been hurt by the churches where I sought refuge. And so, in many ways, it was the loneliest year.
I went to the therapist after the almost Thing with the man who was not my husband. I went with a certain kind of desperation. I was at the edge, and I knew I had to reach out and grab something, so I grabbed the first name on the In-Network list and called.
The first therapist belonged to a Christian practice, which I chose on purpose. I knew I needed to sort through my tangled evangelical relationships, and I wanted to do it with someone who might understand. I was thisclose to giving up on faith altogether, and I was looking for someone to help me keep holding on.
I remember that it was fall and it was sunny. I don't remember the therapist's name, only that she was small and severe, and she had that tired, middle-of-the-afternoon look about her.
I sat down on the couch, and she sat at a desk, her body turned toward the window. When I launched headlong into my story, she stayed bent over her yellow legal pad, scribbling. I sobbed, and she gestured toward the Kleenex box without looking up.
I told her the whole thing, from the very beginning. I told her about the old on fire for Jesus days and the slow burning out. I gave the details, the pain. I told her about those mornings that I spent with my Bible, needing God so much I could barely breathe…and feeling only silence.
I told her about the tequila and the churches and that boy I should never have started talking to at the coffee shop that day. I told her how close things had come to falling apart.
When I was done, the therapist tapped her pencil, got up, and walked to the white board on her wall. Silently, she drew a crude drawing of two cliffs, a cross spanning the gap between them.
I'd seen this illustration approximately 800,000 times before, ever since they first trotted it out in Sunday School one morning to explain, visually, the heart of the Gospel. Without God, there is sin and death. With God, there is hope, life, joy. And the only way across the abyss is Jesus.
"It sounds to me," the therapist said, "like you're trying to get to God on your own."  She drew some little squiggle lines exuding from the stick figure (meant to be me? I guess?). The stick-girl was on the "sin" side of the cliff, and the squiggle lines represented the "good works" she was doing to try to get to God. They were, naturally, coming up short.
The therapist explained it slow and patronizing, and my mouth fell open a little because she was saying, "Jesus is the only way to bridge the gap!" like it was brand new information.
I was thinking in all caps and profanity-laced anger. DIDN'T YOU HEAR A THING I JUST SAID? I was thinking, I believe in Jesus, and I am desperate to keep believing. I am seeking, and I am asking, and I still feel like I am falling.
When I left the office that day, I barely could muster up "goodbye," and I knew I'd never go back.
And it's this same Before-and-After hoax that has us giving three-minute testimonies, telling about how life was crap before we met Jesus…and now it's so fulfilling and joyful and peace-filled.
Bullshit.
There is truth to the Bridge Metaphor. I will never deny that for one minute.
But it's also an oversimplification. It's not like you say a prayer, and then you walk happily over the cross-shaped bridge to Eternal Happiness.
No. You choose this. You choose Jesus because you believe that this whole, wild thing is true. And then you spend the rest of your life clinging to him. You hang on for dear life, because you are aware – for the first time ever maybe – that you are suspended over the bottomless void of your own selfishness, your own hate, your own broken heart. That the only thing steady here is this cross.
And she was a bad therapist, but, in many ways, she was a pretty typical Christian.
Instead of looking into my eyes and seeing that I was fighting to hang on, she assumed that my doubt and pain and struggle was symptomatic . She assumed it pointed to a faith that had never been there, and so she sent me back to the beginning to take a first step toward God.
But the truth was that it wasn't a broken faith at all. Just the normal middle of things.
In the end, faith is so much about uncertainty. So much about struggle. You hang on the best you can, and you try to remember that even if you lose your grip, this Love will not let you go.
The next therapist I went to was a great therapist.
She sat across from me in her swivel chair and she said gently, Let's check in, and the way she said it and the way she listened was Gospel. It was like she was saying, Look, this is hard. You're all tangled up in the darkness. But you are not failing. It was like she was saying. You are still held. You are still loved.
You are suspended over the void. You are holding onto that cross with one baby finger, feeling like you're going to lose it if God doesn't grab hold of you.
You are in the hard, beautiful middle of faith. You are exactly where you're supposed to be.