Audience of One – A succinct reminder that Christians should not care what others think but should be satisfied with pleasing God. (This probably originated from Bible verses like Galatians 1:10, which asks whether we are seeking the approval of God or man.)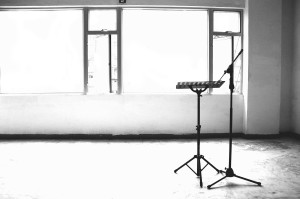 At the Cascade Restaurant, the floor is red and black tile scuffed up by over 85 years of shuffling feet.
It's the one of the only restaurants you'll see between Lutsen and Grand Marais, and on both nights of our weekend away last month, the parking lot was full of pickup trucks.
We went there both nights because the whole place was lit up from within, and because there was live music…and there's just something about live music.
In the Cascade Restaurant, there are wagon-wheel chandeliers and the Christmas decorations are still up in February. We sit beneath a roaring bear bust that's molting a little around the eyes, and the whole local crowd seems to be there in their sensible boots and their flannel.
And when the guy in the corner with the guitar begins to play and sing, they listen closely or they don't. They talk a little louder to one another and laugh hearty. They tuck into greasy Cascade Burgers, or they sit quietly at a small bar table, beer in hand, taking it all in.
It doesn't seem to matter to him. He just keeps playing. One song after another. Covers and originals and that song he wrote for his daughter, who is a young woman now, sitting at the back of the bar. She comes and gives him a kiss on the cheek after he plays it.
And you can tell that he loves it. That he loves them, the people in this bar. That he doesn't care how they receive this gift he is giving, just that he gives it.
Few are truly honed in, few listen attentively. (Andrew and I are playing backgammon and eating a plate of Cajun French fries.) But he plays in the background with all of his heart. He sings and he smiles wide, and he'll never be on American Idol or cut a major record deal. I can't even remember his name. But on that cold, dark Minnesota night, the whole place is filled music. And it's something.
*
To be a Christian and an artist of any kind is to receive a hundred conflicting messages about purpose. About your role. About what you should care about and what you should not.
In a world where everything is a commoditized, the power of Christianity lies in its claim that our worth is not defined by the world around us. We are defined not by Facebook likes or by compliments or by blog followers. Not by the number of people who want to date us…or don't. We are not our talent, our looks, our jobs, our incomes or our wardrobes.
We matter because God says we do. Our achievements do not change that; our failure does not detract from it. We are loved equally, eternally, deeper than the ocean, higher than the sky.
But also, we live in a world where it matters if you tweet and publicize your work. Where numbers mean something to someone somewhere. In this noisy world, if you want to publish a book or make a record or sell a painting, you have to work for it. If you want to create a successful business, you have to market like crazy.
And if we're not careful, we become dishonest in the tension.
Instead of saying the truth, we throw out platitudes. Instead of admitting that we care if you show up, that we want to be heard, we insist that we don't…that we only care what God thinks. And in doing so, we cultivate an atmosphere of shame…both for our hidden hearts and for one another.
We have this dirty rotten habit of pulling scripture out of their greater Biblical context, and using them to legislate our feelings. You shouldn't care about this because God is enough. Or Audience shouldn't matter because God is your Audience of One!
Listen: God is enough. This is true. What he says about you and your worth…this is completely true and completely enough. He is satisfied with you. Your work, whatever it is, is good, and you don't have to hit a number of fans or sell a certain amount of tickets to matter.
But it's also true that it won't always feel like it. And part of the work of faith is learning to navigate the chasm between what feels true and what is in a way that is honest.
Because God is enough…and also we were made for relationship, for each other. It's true that songs are meant to be heard and words are meant to be read and paintings are meant to be seen, and it's okay if you want your work to mean something to someone. There is no sin in that; there is no shame.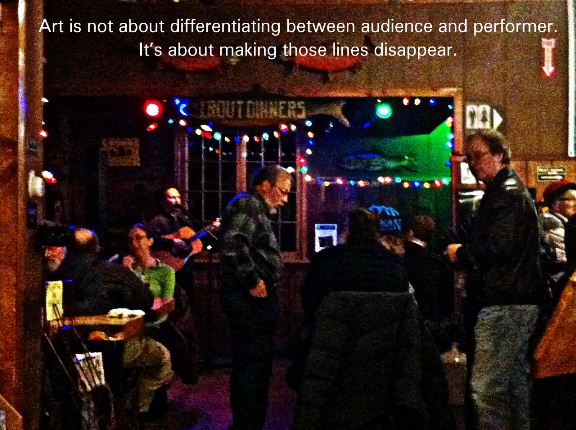 In the Cascade Restaurant, the line between musician and audience is thin – if it exists at all. In one moment, the man is singing, in the next, he's talking to us all like old friends. He starts into Bob Dylan's "Tangled Up in Blue," and we are foot-tapping, singing along.
And if you spend too much time in the faceless internet, or reading the statistics or worrying about what you should be feeling if you're a good Christian, you'll miss the truth about art.
In the end, art not about differentiating between audience and performer. It's about making those lines disappear. It's about tapping into those deep-down truths that course through us all, the ones that we can't say any other way. It's about connecting to the Creator-heart of God and knowing him better because of it.
It's the smell of beer on tap and the sound of laughter and conversation all around you, weaving into your music, sometimes louder than your own lyrics. And it's okay. None of that detracts from what you're doing here.
It's all part of the same song. The one we're singing together. The one that matters.