We must love them both, those whose opinions we share and those whose opinions we reject. For both have labored in the search for truth and both have helped us find it.
~ Thomas Aquinas

When dialogue becomes a habit of the heart, we are poised to engage with others […] because our souls are already turned in that direction. We hear something disagreeable and think, "How interesting. Tell me how you got there."
~ John Backman, Why Can't We Talk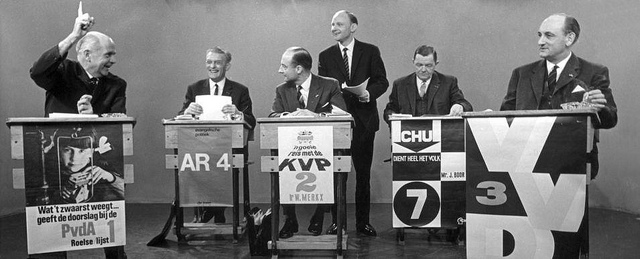 I started my freshman year of high school with a large collection of Christian t-shirts and an avid enthusiasm for apologetics (those rational arguments crafted by theologians to defend against objections to the Christian faith).
I'd been checking out books from the church library for several months. I devoured Evidence that Demands a Verdict and More Than a Carpenter – Josh McDowell's bestselling responses to some of the most troubling arguments against Christianity. I armored my faith with his ideas and statistics, and then I signed up for debate team, because I thought it would help me hone my skills and teach me to defend my beliefs.
Somewhere along the way, I'd gotten the idea that Christianity was about knowing all the right answers. And I thought that if I could just find a way to speak those answers loud and sure and clear, it would be enough to sway the doubting heart.
But then debate team began. And I was terrible at it.
The team was made up of confident intellectuals with quick brains and thick glasses. I learned quickly that the bulk of our work was not learning craft a great argument. In this form of high school debate, it was all about organizing data on note cards, highlighting relevant statistics, titling information in a meaningful way so that you could find it in the heat of the debate.
The winner of those matches was not the team that spoke convincingly. It was the ones who spoke the fastest, the loudest, who squeezed in the most facts in their seven-minute window, who closed with the right counter-argument.
Speed-reading was encouraged, and we were all half-listening, half-engaged, feverishly searching for our next argument in an accordion folder.
I was way out of my depth, and I spent the moments between matches crying in various high school hallways after being eviscerated yet again.
*
I started this blog for a lot of reasons, but one of them was that I wanted to be part of that conversation that is shaping faith and culture. I appreciate the way the internet has made it possible for us to hear each other in a new way.
We are sharing our stories, our experiences, our dreams and our frustrations – and the way we look at faith is changing because of the way we engage with each other. And I love that.
But along with this, I've seen how quickly things can escalate here, in this virtual void. Dialogue turns debate turns deep disconnect. We are hunting through our stack of note cards, looking for the right counter-point, half-listening, half-engaged. We are taking sides, firing tweets like grenades, writing the first angry thing on our mind and hitting Publish.
I've been on the receiving end of comments that sting like a slap in the face, and I've felt them purple and bruise and throb for weeks.
Things get hot-button-issue crazy around here, and it snags my inner Debate Team drop-out. All this warring, this standing up for what we believe undoes me, and when things get loud, I withdraw. I am hands up, backing out into my own daily life. I am waiting for it to pass.
*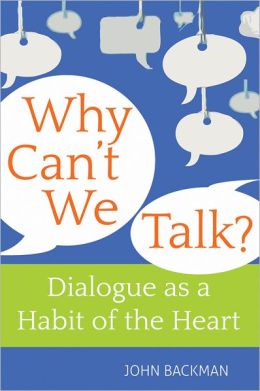 I want to tell you about this book I read. It's written by one of the members of the How to Talk Evangelical community, John Backman, and it's called Why Can't We Talk? Christian Wisdom on Dialogue as a Habit of the Heart.
It's a book that changes the way we engage with one another – particularly in the places where we vehemently disagree.
Instead of approaching dialogue as a means to an end (agreement on an issue, a changed viewpoint, or even common ground), John explores it as a spiritual practice. Dialogue becomes a way to love and value one another. A way to do the long, hard work of peacemaking that Jesus calls us into.
Rather than focusing on techniques for "productive" dialogue, John focuses on our hearts. He reminds us that we are not defined by our opinions or perspectives, but rather by our "identity as image bearers of God." And that when we remember this about ourselves, it's easier to see that it's true of others – even those who most frustrate and confound us.
In his book, John advocates for being careful with our language, for persisting with people we find difficult, for choosing to suspend judgment and instead ask questions like "what if?" He redefines humility and honors the statement, "I don't know."
And it gave me hope, reading this book. We can choose not to give up on each other. We can choose love over anger, and we can keep talking, keep working it out. These schisms that we've created don't have to be the last word on the subject. Love can be the last word.
Because, really, when it comes down to it, Christianity is not really about knowing all the right things. It's not about winning a debate. It's not up to us to convince anyone of anything. Our real work is to come again and again to the Love of God. To let that love flow through us into this broken world.
*
I'm so excited to be able to be able to give away a copy of this book to one of my readers. To enter the giveaway, simply leave comment below. (It doesn't have to be profound or insightful or anything. Even just, "I want this book!" is fine with me!)
You can also purchase it right this second at the following fine retailers: Barnes and Noble, Amazon, Books-A-Million and IndieBound.
I've never run a giveaway, so I hope you'll bear with me while I figure it out. I'm planning to use a random-number generator to select a winner from among the commenters. The contest will close at midnight this Friday (March 8th), and I'll announce the winner then!
[This is the first of a new monthly Book Reflection and Giveaway here at the blog. Stop by the first Monday of every month to see what I've been reading!]