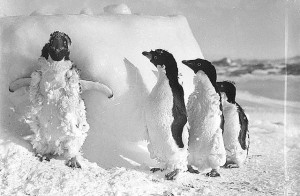 When I say "cynic," I'm talking about all of us – a whole generation, a hundred thousand broken, beating hearts.
But also, I'm talking about that one fifteen-year-old blonde who led all the Bible studies and the small groups. The one who waited for the boy while he went off to missionary school, waited every day, until he came home and said, "I feel like God is telling me to break up with you."
I'm thinking about that first semester of Christian college when she showed up with bobbed hair and a burned-out heart, and she felt their suspicion, subtle but sure, an undercurrent coursing beneath the whole thing: Perform. Prove your faith to us all over again.
She moved to the periphery then, finding her home with the writing people. She got married. Church was a Saturday-night game night in married housing. She was serving Aldi-brand chips from a garage sale table, and it felt like communion.
I'm thinking of the next year, when they went to China, and nothing could have prepared her for the loneliness of it. The smoke rose thick and black from the buildings of her factory town, and it was like it blocked out God himself. I can still see her, staring down at the canal every morning, feeling like if she could just get to a church where they spoke her language, maybe she could be healed.
But then she came home, and the Church People smiled empty smiles and spoke empty words, and she spiraled. They joined an evangelical church. A house church. Another evangelical church. All those buildings, all those people, all that hot dish – and still, she was a ghost.
One night, as a last ditch effort, she went to a Beth Moore Bible Study, and she needed someone to look at her and see it. She needed them to say, "Are you okay?" But instead they said, "If you were a fruit, what would you be?" And while they giggled and said orange! and raspberry! and pear!, she slipped out early, drove home fast and furious, too mad to even cry.
I'm thinking about the coffee that she drank obsessively, black and thick and bitter. About the rum and coke and the tequila and entire bottles of wine. I'm thinking about the other places that she looked for community and understanding and church and how the whole thing almost broke apart.
When I say "cynic," I'm remembering the long nights bent over the toilet, throwing up. I'm remembering the fierce, sharpness of anger and the endless cavern of not caring, and I know what it feels like to be falling. I know what it's like to need someone – anyone – to reach out and catch you.
And when I say "cynic," I'm thinking of me.
*
It's been five-and-a-half years since the worst of it. Four since I heard my son's heartbeat for the first time and knew I wanted to get well.
It has been a long, slow journey, but I am at the far edge of cynicism now. I can feel faith breaking through again like a new, spring sun, and I'm surprised by it every day.
We are at this church that feels like life to me. It's just a normal church, but I can hear it there: Gospel. Love. Grace. The sun shines through the windows, and I am my whole, broken self.
Sometimes when I think about those dark days, I wonder why I didn't just say it. I need you to fight for me. Why didn't I stand up in the middle of that Beth Moore Bible Study and say, I am falling and I am falling apart, and I need you to catch me.
Would it have changed anything? If I had spelled it out, said it bold and loud and desperate, would they have rallied around me?
And what I keep coming to, again and again is this: I couldn't.
I was paralyzed in anger and in Depression. I was afraid and ashamed and broken into a thousand pieces.
So I'm saying it now. I'm saying it for the person who can't. I'm saying it because it needs to be said, because I want to remember what it felt like to be in that desperate place. I'm saying it because I believe that what Jesus did, most of all, was see people. And I want to be a woman who sees.
In the end, God healed my cynicism not through the Church but in spite of it.
I suppose it's fitting. The Bible study leader in me – that Jesus-Freak Superstar – needed to learn that she belongs to God even when she does not belong to the Church People.
And I know that, when it comes down to it, the Church is just a bunch of people trying to figure it out the best they can. We can't heal anyone. We can't really fix anything. We are broken ourselves, all of us, every last one.
But we can do better.
What I'm saying is that once there was a paralytic. And there were people who picked up the edges of the mat where he was lying and carried him through the crowds. In order for him to be healed, someone had to take on that weight. Someone had to haul him to the top of the roof, and lower him straight down through so that he could get to Jesus.
And before the Church is anything else, it has to be that.
People who see. People who carry.
People who will grab onto each other's sharp edges and lift.