The movement from naïve optimism to cynicism is the new American journey.
– Paul E. Miller, A Praying Life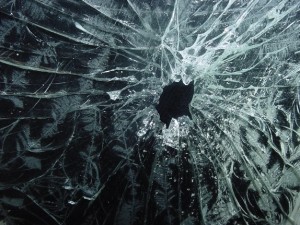 The day I understood my own cynicism was the day I first heard my son's heartbeat.
It was late fall and sunny, and his heart beat quick and strong, like hummingbird wings.
I lay on that white-papered exam table, listening to static and sound – listening to my first baby for the first time, and it felt like relief and euphoria and first love all at once.
I heard that wild, beating heart, and I wanted more than anything to protect it from all of the sharp things in the world.
And all at once, it occurred to me that I had become one of those things – sharp and angry. Hardened and removed. I was sitting, arms crossed, at the edge of things, daring those Church People to impress me. I was looking at the world with narrowed eyes, and all I could see was the cracks.
Somewhere inside of me, there was a new person, flickering to life – soft and fragile, his tiny heart beating against my heart. And more than anything, I wanted to be well.
I wanted to be a soft place for him to land.
*
Here is what I know: our hearts get heavy with so many things. They turn into pendulums, swinging from one extreme to another.
We are wild for Jesus, on fire for the Lord, and then – swing –we are burned entirely out, and ash coats everything black.
We go from instant, simple belief to deep-rooted doubt, from t-shirt wearing certainty to sharp, corner-table critique. From Yes, Lord to Oh hell no.
One Big Thing happens to us or a lot of things happen, one after another. And then there's this moment of stunning clarity, and we see that everything that we once thought was so entirely perfect is cracked to its deepest heart.
And listen: this is good.
This is such an important moment, and without it, we'd spend our whole lives swimming in some man-made lake instead of the Living Deep.
Maybe you had a moment at age thirteen, when you walked up to the big, last-night-of-the-week bonfire at Christian camp and "rededicated your life." Maybe you saw something exciting and magnetic about faith and it drew you in, and you "made it your own." And that's part of it.
But the other part is found here, in that space when you see all the holes. When the darkness creeps like fog and covers everything up and you can barely see the Light anymore.
The moment when faith really "becomes your own" happens after you have seen the whole God thing for all of its uncertainty, all of its hardness, all of its pain and brokenness and hypocrisy…and choose it anyway.
*
Dane, my first baby, will be four in May, and he is tall and lanky. A kid. A little boy. He is skinning his knees and jumping on the couch and testing all the limits. He's making me insane; he's making me laugh-out-loud happy.
His heart beats wild and kind inside of him, and I don't hear it any more. But I see it every day.
This morning, his younger brother, Liam, woke up crying (he is cutting those two-year-old molars; he is inconsolable in his pain). We piled tired on the couch, all three of us, and Dane leaned over and said, "It's okay Liam. God is here! He's everywhere, even though we can't see him!"
And it occurred to me that somewhere along the line, I started believing that again. That I started saying it aloud to him, speaking it sure and clear like Truth.
And I think it's because one sunny, fall day, I heard the heart of God alongside the beating heart of my baby, and I started on the journey back home.
I thought the mad season would last forever. I didn't think I would ever start really believing again. I thought that it would always feel hard and a little bit forced. I felt like it would always wear me out, this act of moving forward in imperfect, resigned faith.
But sometimes all it takes is a decision: I want to get well. Sometimes all it takes is one tentative arm, reaching to touch the edge of the holy.
And usually, it comes slow. Usually the miracle is not instant but a simmering Something beneath the surface of your heart.
It's not a light-switch that you can just flick on and forget about. It's another Sunday that you get up, and you don't want to go to that dang church, but you go anyway. It's a Sunday that you stay home in your sweats with your mug of coffee, and you open a book about faith instead of the Bible itself…because you're not ready yet.
It's one more angry rant over margaritas, and then it's picking your tired, cranky heart up and walking a few more tentative steps.
Maybe you don't even see it happening until one day, four years later, you get quiet. You expect to hear the cynic voice in your head, and instead you hear something else entirely. Something old and familiar. And you could almost cry because it's been so long since it's been loud enough to drown out your snark.
But there it is: unmistakable. Beautiful.
It sounds like faith and hope. It sounds, most of all, like Love.