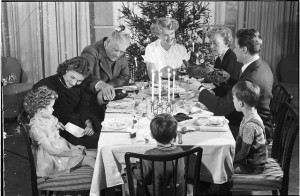 I'm not sure how it happened, but somewhere along the line, we got into this bad habit of eating dinner at the kitchen counter.
Being intentional in my mothering is not my strong suit – a truth of which I am regularly ashamed. But it is especially not my strong suit at dinner time, when everyone is hungry and crabby and strung-out on the day.
I am at my worst when the ground beef is smoking on the stove and Liam is wrapped around my leg, crying. When Dane is whining for a granola bar, and I am running on fumes, tired and worn and thisclose to coming entirely undone.
So Dane and Andrew sit on the stools, and we haul Liam's high chair over to the counter next to them, and I eat standing up on the other side. I hold my fork with one hand while using the other one to grab things I've forgotten or that the kids have suddenly decided they need right this second.
At 22 months, Liam doesn't ask for things as much as he screeches for them, and it's "MIIILK" and it's "FORK!" and a constant argument about CHIPS! I'm slicing up more cheese for the kids between bites, reminding them to say please, managing the chaos the best I can.
I know while it's happening that I am choosing the path of least resistance over the path of peace, but I choose it anyway because it's easier. Because I'm not sure I can manage anything more.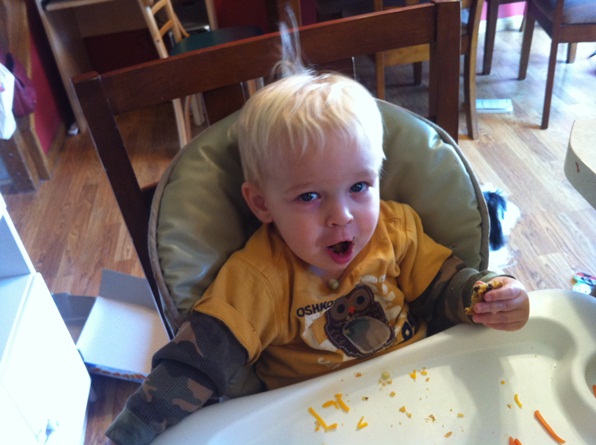 *
Once I heard a speaker tell a group of moms that the reason they don't practice consistency is because they're lazy. I balked in that moment at the language, and I get angry thinking about it now because I think it's a dirty rotten lie.
I've never met a mom who is lazy. Really, I rarely meet anyone who is lazy.
When I look around me, I see a world that is tired. We are worn out and weary in one way or another – ever aware of how great the space is between what we want to be and what we are.
We are comparing and compared. Entirely sure we're doing it wrong but not sure how to fix it. We are drawn to articles with 7 Steps to Confident Kids and 10 Ingredients for a Great Marriage. We're looking for a few small somethings that we can manage. A procedure that will work. Someone who will tell us how we can fix it all.
But in the end, there are no magic phrases. Just time and intentionality. Just consistency and the hard, long work of love.
And we are choosing the path of least resistance because we're not sure we have what it takes to resist.
*
One of my goals for 2013 was to begin to transition our family dinners to the kitchen table.
I am working toward it slowly, and right now, we've got about a 2 out of 7 night success rate. Not great. But still, good. So good.
And here's what I want to tell you about our dinner at the kitchen table: it's still chaotic. I'm frenzied, trying to get the chicken out of the oven and the bread sliced and the milk poured. I'm trying to think of what they might possibly ask for so that I can save myself a trip back to the fridge.
Dane sets the table and the milk spills. We forget to push in the chairs, and the dog jumps up and grabs a roll.
But then we are all sitting down. We're facing each other. Dane doesn't wait for us to remind him. (Truth be told, sometimes Andrew and I don't even remember ourselves). But Dane does. He doesn't close his eyes or bow his head or fold his hands. He just yells loud and glad, Thanks God for the food!
And how I love this phrase: Say grace.
When it seems like it's too much and not enough all at once, say grace.
Look around you at the beautiful chaos of your life, and just say it. Grace.
Speak it out over the messy kitchen and the haphazardly set table. You've got paper towels torn from the tube instead of napkins and the cups are mismatched and it's so loud.
Maybe you're slouched, elbows on the table. Maybe not one of you is minding their manners. Who cares? Who ever said it has to be pretty? True grace so rarely is.
At our own messy dinner table, we're all saying our "high" and "low" for the day, and maybe it's a small thing, but it's good. We never used to do it before. And there's something about taking this time to sit around a table and look into one another's eyes. There's something about filling and being filled.
Liam is feeding the dog his chicken, and Dane has refused to try his green beans. And really so little has changed from the counter to the table. It's just that sitting down here, I can actually see it. Grace.
It's scratched into the worn table. It's woven into our conversation. The kids get down without eating half of their food, and Andrew and I sit there still, keep talking about the day while the boys strip to their underwear and run back and forth the length of the house.
Say grace.
It's as sure as the old 1980s ceiling light above us. It's glowing bright, lighting the whole thing new.