It's deep winter. In Minnesota. We have been bundling up against the negative temperatures and harsh wind chills, and I've been putting off essential, life tasks like grocery shopping and library trips (currently The Circle Maker is three days overdue). I just can't seem to force myself out into the cold.
The boys are wild with pent up energy, riding their bikes down the hallway, wrestling on the floor. Fights over toys are more explosive than ever, and we are watching way too much PBS.
I love the northern Midwest. My heart was made for this landscape. But the winters. Oh the winters. They do me in every lousy year. My McDonalds consumption goes up exponentially in January, and my Swear Monkey comes out in full force.
Things I've Been Reading
I saw The Perks of Being a Wallflowerin the theatre by myself a couple of months ago, and I loved it. It was the kind of movie that made me want to create art that matters to somebody. I finally read the book this month and was pleased to see how close the movie stuck to it. (Possibly because the author was also the screenwriter and director.) Beautiful, beautiful.
I finished the second book of Madeleine L'Engle's Crosswick Journals, The Summer of the Great-Grandmother. It took me a while. I kept getting bogged down in her family history. But still, many beautiful moments and a worthwhile read.
I also read Brené Brown's The Gifts of Imperfection which rocked my world and the evangelical bestseller on prayer, The Circle Maker, which took me three posts to work through. (The final reflection is here.)
Currently Reading: The Book Thief (Zusak), The Sun Also Rises (Hemingway), and Why Can't We Talk? Christian Wisdom on Dialogue as a Habit of the Heart (Backman) (I can't wait to tell you more about this one!)
(I read 4 books this month; aiming for 5 in February!)
What I've Been Listening To
My parents gave Dane a kids' music CD, Slugs & Bugs & Under Where? for Christmas, and he is OBSESSED. There is a song about the stinkbug that cracks him up every time, and if we're in the car, we're pretty much listening to this album.
I'm happy it makes him happy but bummed that he's no longer content to listen to my music. (On a related note, it's really inconvenient when you get the potty-themed song, "Where You Gonna Go?" stuck in your head.)
Back before I had kids, I used to do a monthly mix exchange with my close friends, and I loved the way it drove me to explore new music. I'm trying to compile one just for the winter of 2013, but it's slow going. I'm so much more aware of my need for silence in Stir-Crazy January, so I haven't been listening to as much music as usual.
So far I've only added two songs to the playlist: Let It Go, a haunting song by The Murder of Crows, and Matt Redman's 10,000 Reasons, because it does something to my heart. Hoping for more great new discoveries in February.
What I've Been Watching
It's January, which makes it officially Bachelor time. I can't believe I watch this show, but I also can't stop watching this show. The drama! The cat-fights! The roses! Knox McCoy calls it "The Hunger Games of Love," and though his weekly re-caps of the show border on over-the-top mean, my Tuesday morning is not complete until I've read his hysterical commentary.
We had to take a little break from one of my favorite shows, Parenthood, because all of the story lines felt so dark. Every now and then, I work up the courage to watch one and then feel depressed for a while. Speaking of depressing, Downton Abbey. Enough said.
Loving Nashville and my pre-teen staple The Vampire Diaries. I'm behind on New Girl and Happy Endings, but will catch up over laundry at some point. This season of Revenge isn't grabbing me like the last one did, but I'm invested in the characters now and will have to see it through to the end.
Also, Andrew finally talked me into trying The Walking Dead, and we devoured the first season. I don't really like horror or scary stuff, but the relational dynamics of this show sucked me in. We also just finished the first season of Sherlock, which was quirky and smart and totally addicting.
Wow. Does it seem like I watch too much TV? It's possible I watch too much TV.
The Basement Room
Remember back in November when the basement room looked like this?
And this?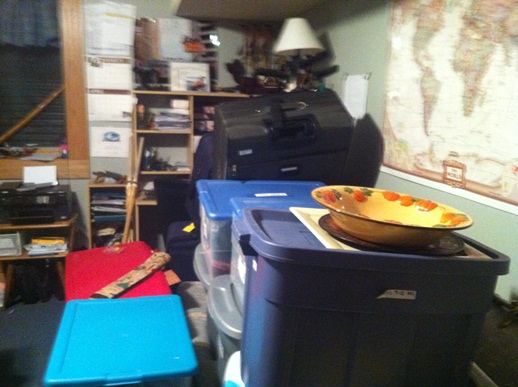 And then you were kind of scared that I was a hoarder?
And then remember a few weeks ago, when I was stuck deep in the messy middle, and even after seven hours of cleaning and organizing and rearranging, it still looked like this?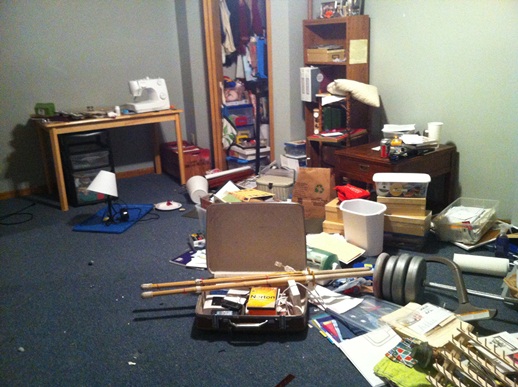 Well, now it looks like this: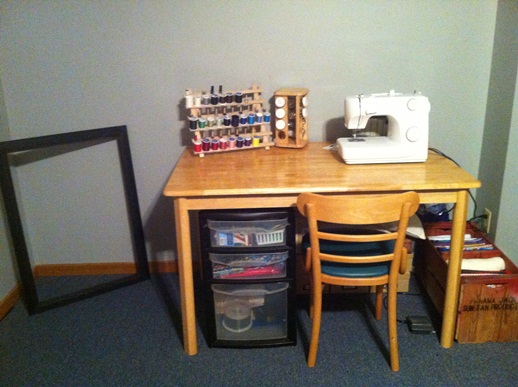 And this:
And this: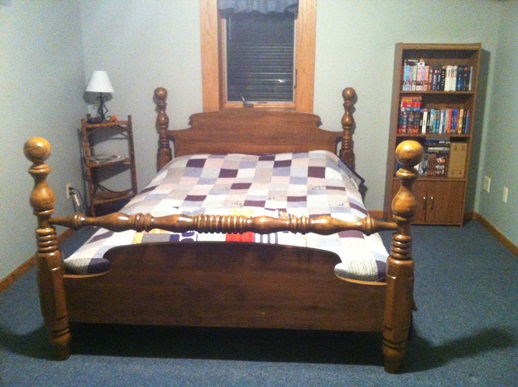 I still want to do a few things. I'm planning to hang a lot on the wall, and I just ordered a new comforter (since this one's falling to pieces). I'd like to sew some cute pillows and new curtains too.
When spring comes, I'd like to repaint the dresser and bookshelf all cool and distressed-looking. But at this point, I'm just thankful that it's clean and it's organized.
Addie Zierman for the win!
A Few More Things that Happened in January
1. My Mama friend and her husband went on an anniversary trip to Mexico, so we took their two kids for a couple of days.
It was pretty much as exhausting as it sounds. But it was also a lot of fun. The three big kids managed to actually sleep all in the same room two nights in a row…and there's nothing quite like a first sleepover.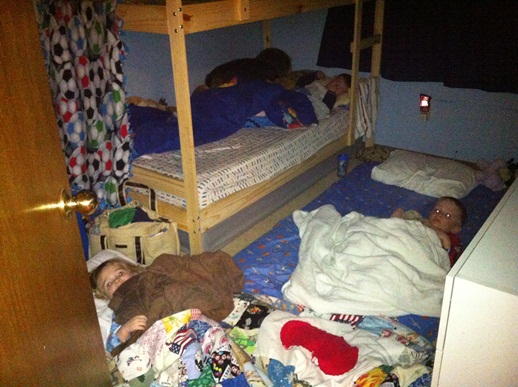 2. During our Adventure in Babysitting, we ventured out in the sub-zero weather with all four kids to go to the Reptile Zoo south of the Cities. It was totally worth it.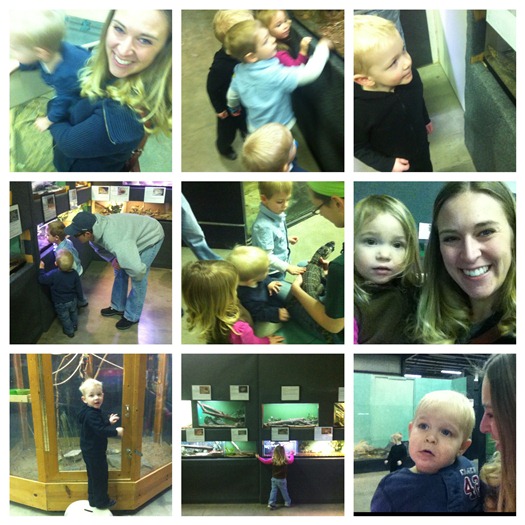 Highlight for the Dane and Reese: holding an alligator.
Lowlight for Addie and Axel: holding an alligator.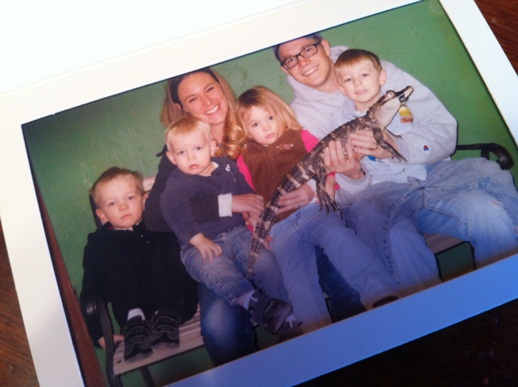 3. Liam tasted play dough.
4. I ate an entire serving bowl of pasta. By myself. On two different occasions.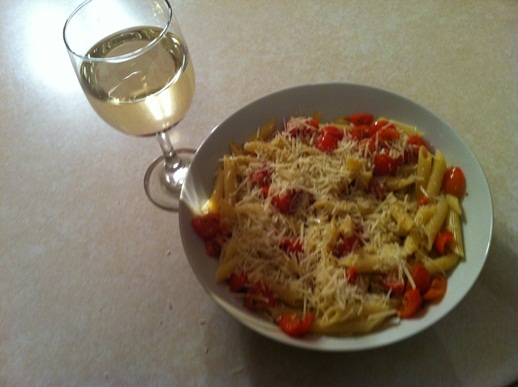 5. Dane had his pre-school screening and I started researching options for the fall. UNREAL. This is us on our post-screening slushy-and-chocolate-bread date at the Starbucks in Target. (Only the best for my man.)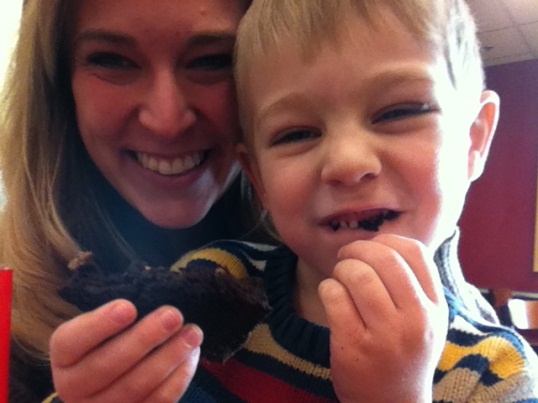 On the Blog
I announced my One Word for 2013: Ask and confessed some of my prayer baggage. I told you about five things I've kept from my Super-Evangelical-Jesus-Freak (SEJF) days, and you told me about yours.
What about you? What have you been into this month?
(Joining up, as usual, with the lovely Leigh Kramer for her monthly What-I'm-Into linkup.)