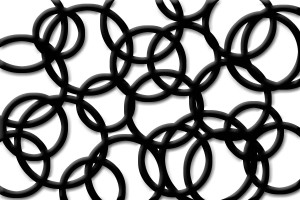 I know I keep telling you this story, but I don't know how to talk about The Circle Maker without talking about that circle I drew on the carpet at age 14. That sort-of-boyfriend who told me to kneel down in circle and stay until God told me which country to go to on my TeenMania mission trip.
Tell me the ancient story of Honi and his circle in the sand. Tell me about how he stayed there until God sent rain.
Tell me this, and instead of feeling inspired, I will feel the depth of my own failure.
I will feel the silence of that moment fifteen years ago when I knelt small and hopeful in my basement room. When I prayed and prayed and never felt an answer, and so I chose the Dominican Republic by pointing at a page with my eyes closed and hoping God was involved.
Tell me about praying in circles, and I'm back in the Dominican Republic, you see…because this is how the memory works, jumping from one sharp pain to another. I'll remember the unkindess of that trip. I'll remember the flimsy look of my faith next to everyone else's. I'll remember the mime costume and the hot, dirt roads and getting "disciplined" for sitting next to a boy on a bus. I'll remember feeling entirely invisible.
I will feel it all like I'm still there.
*
Over pizza and wine at the Crave restaurant in Mall of America, my friend Kim and I segue seamlessly from publishing to prayer (because that's just the kind of friendship we have).
She mentions a great sermon she once heard on prayer and spiritual warfare, and I feel my face drain. I look down at the roller coasters below, the flashing lights, the giant Ferris wheel in the middle of the world's biggest mall, and I feel unmoored.
"Oh," she says, apologetic. "Is that a trigger word for you?"
And it's never occurred to me to think of it like this. Trigger: a term I've only ever heard used in relation to victims of rape. But maybe it's the right word, because when she says spiritual warfare, I feel like I'm Jericho-marching around a school, battling something I cannot name.
I feel stretched-thin and small. I feel the weight of all that is at stake. I feel my own inadequacy. I feel my faith small and slight, my prayers disappearing unanswered into the sky.
And I'm writing this blog, and it's because words like this undo me. I write here because I'm trying to find the true thing at the heart of all of this loaded language. It's about reclaiming something. It's about finding my way home.
*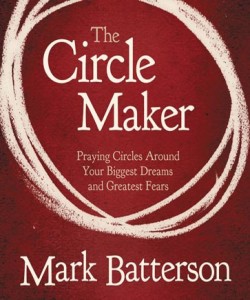 The Circle Maker is book about dreaming big and praying hard, and not giving up before you see a miracle. It's a chronicle of the impossible realized. It's story after story in which prayer was met with a resounding, amazing yes, and it's glory and it's movement and the whole world pulses with the power of God.
It's meant to be inspiring, to awaken the dreamer in each of us. To rekindle a sleeping imagination with the embers of faith and prayer.
But this cynical heart of mine is not easily inspired anymore. I read books like this through narrowed eyes. I allow myself to become closed off by words and sentences that feel too simplistic. I am stirred to frustration rather than faith.
Show me your slideshow of Before-the-Miracle and After-the-Miracle snapshots, and my first thought is It's not really as simple as all that. My thought is You've left out the mess. It's the craft tutorial that leaves out the glue-gun burns and all the times you'll have to pull out the stitches and start over. It's the episode of Extreme Home Makeover that's so inspiring but so unrealistic.
I want to know more about the "long, boring" years of praying that Batterson mentions in the book. I want to know what it feels like to walk around and around and see nothing happen.
I want to know that the mega-church pastor who sees miracle after miracle come to pass feels it too – the discouragement, the doubt, the fear. He mentions it briefly, but I need to see it. I want to know what happens, really, when the simple, desperate prayer goes unanswered for years.
Because unless you tell me the dark, unsexy truth of it, how can I tell you my own hard truth? How can I tell you that it's not that I don't think God can do wildly wonderful things? That, if I'm really honest, it's that I don't think he'll do them for me?
*
This is less a post about a book than it is about my own steeled heart.
I don't think that The Circle Maker is a bad book. I think books, like anything, speak to us all differently at different times in our lives.
For me, for now, I am conflicted. I am frustrated and grateful all at once.  I love Mark Batterson's believing heart. I am inspired by his faith. And also, I am annoyed by some of his black-and-white-sounding statements. I am thankful for the way this book threw a stark light on my own gnawing questions. Is God FOR me? Do my dreams matter? Does prayer really change anything? I will probably never love the term praise-through.
And here's the thing: for a long time, I gave little thought to prayer, this tender spot in my faith journey. What you are seeing are my first steps back in.
I spent all these years walling myself in with cynicism. Ram that wall with big questions and giant claims about God, and what you'll see is 15 years' worth of crankiness flying loose like so much dust. Trigger those hard memories, and there will be fallout, and it is bound to be messy.
And I think this is just part of it. The beginning of a process. The first steps of something new.
All I know is this: grace anyway.
Grace for the cynic. Grace for the Circle Maker. Grace for every beating, broken heart reaching toward God.