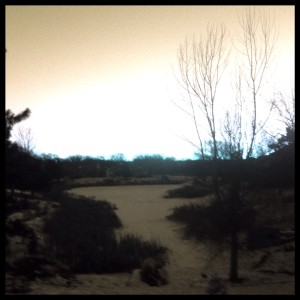 It's that sudden fall from winter to winter that always catches me off guard.
We live in Minnesota, and it happens every year. It really shouldn't surprise me all that much when the ticker on my phone tells me it's -12 but it feels like -26 and we won't get above zero today. But it always does.
We haven't had a measurable snowfall since that magical December blizzard, and the whole world feels raw, exposed without its thick blanket of white.
The trees are stripped bare, and the homemade hockey rink on our pond is empty, and we have to pile on the layers and run fast from the warm car to the warm grocery store because the air all around is break-you-open cold.
These are the days I think about running away.
All the riding toys are inside. Dane is working his balance bike down the hall, bare feet smacking on the floor. Liam is pushing the Thomas riding toy fast and slamming into the patio door. There is a small chunk of paint missing from our wall, and I don't know how it happened, but I can't stop seeing it – this mark of our restlessness.
Sunday I sat on the couch in the middle of all the chaos, and I thought seriously about sticking my kids in the van and just driving south. I tried to figure out if we knew enough people along the way who would let us stop. Eat. Play. Crash for a night before moving on.
In my desperate, half-froze mind, 1600 miles with two small boys seems completely manageable. And I feel like if I could just get us all to the edge of the world where there is water and sun and seagulls…if we could just run far and fast without all of these bulky layers…maybe we'd be alright.
*
This weekend, I finished reading the first book on prayer – the one that was making me so crabby.
There were a lot of times that I almost gave up on the whole thing. It was touch-and-go for a while when he turned the word breakthrough into prayer through…and then, as if that wasn't fun enough, introduced the term praise through. Nothing makes me crankier than a cutesy pun applied to a profoundly complicated spiritual truth.
There was a time when I would've just put the book down. Not for me. But I am aware lately that there might be an unhealthy hypersensitivity about my bullshit detector. It's a result, I think of my own angry season, of all that leftover angst. I read one thing that sits wrong with me, and I'm prone to write off entire books, entire people.
I come across reductive phrases that leave me feeling Minnesota-January Cold – Spell your miracle! And God does not answer vague prayers! – and I want to run away again. I want to chuck the whole thing and get the hell out of Dodge.
But.
The truth is never quite so simple.
This weekend, I sat in the upstairs hallway with my book and my glass of wine. I kept one eye on my son's first ever sleepover and one eye on The Circle Maker, and I discovered something: Underneath all of that bravado, all of the hyperbole and the fighting-words, there is a person who loves God. Who loves people. Who prays with an intensity that I have not yet figured out.
And who am I to say that there is not something for me here? I am turning these phrases over in my mind. I am figuring out what prayer isn't and something of what it is and if I only listen to the voices that sound like mine, I might miss something true about God.
*
It is end-of-the-world cold in Minnesota. When you walk onto the deck, what's left of the snow is sharp and brittle under your feet, calcified by the cold.
On the bad days, I feel weak and I feel lost to it, like I've fallen through a hole in the ice and I'm sinking.
But then, some mornings, I wake up and I know the truth: I am strong.
I live in Viking country, and I am from Prairie people, and I am a survivor. I walked in my insulated boots through my own Mad Season, and the love of God makes me enough.
I can read the book that might have shattered me two years ago, and I am strong enough now to calmly disagree. I am learning to quiet my inner cynic, to note my own reactivity, and to listen for that which might be true.
It is January in Minnesota. I am learning to walk through the break-you-open cold of the world without breaking open. Every day, we get a little closer to spring. Every day, I am becoming a little more whole.