Jericho Walk: A way of praying modeled after Joshua 6, in which God instructs the Israelites to circle the walls of Jericho seven times and promises that he will deliver the city into their hands. During a Jericho Walk (sometimes called a Jericho March), modern Christians walk circles around a particular area, "claim it" in the name of Jesus, and pray for spiritual breakthrough.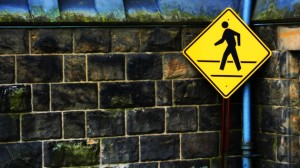 We did the Jericho Prayer Walk around Buffalo Grove High School the same month that I wrote Satan on the bottom of my shoe with ball-point pen.
The girl from Teen Mania who kept calling to check the status of my summer mission trip fundraising (and of my spiritual life) suggested both, I think.
"You got to remind yourself that Satan is under your feet," she drawled over the phone. "Claim God's power. He has given that school to you, you just have to claim it and tell Satan he has no business interfering!"
I was a freshman in high school, dazzled by the idea of God's power coursing through my words, changing my world in grand, sweeping ways.
I wanted revival, this vague, wild thing that would turn the harsh hallways of my school into Sunday Morning. And that is what I prayed for as I walked with one loyal friend seven times around the school perimeter, Jericho-style.
The words I prayed have been lost to my memory, but I can still remember the pictures I had in my head. The dreams I "claimed" that day as I walked. I wanted that tiny school Bible study to expand, to press against the walls of Mr. Strand's biology room, to need a bigger space.
I saw us in the school theater, taking up all of the seats. I saw handsome guitar-playing boys and hands raised, and I don't doubt that it was genuine. I believe that my sincere high-school heart desperately wanted people to know the Jesus that I so loved.
But I now also recognize the desperation that I felt to belong.
In so many ways, I felt my faith alienated me from high school life, from all that I'd been promised on Saved by the Bell, from the other kids with their short skirts and salty language and PDA against the orange metal lockers.
If the spiritual walls of my school crumbled like Jericho and God broke through, maybe that would change. Maybe I wouldn't feel so alone.
*
I began my year-long study on prayer this week. My word for this year was ask, and right now it feels a little like an excavation.
I picked up The Circle Maker by Mark Batterson this week because it looked interesting to me on Amazon and because it was the only prayer book on my list carried by the Anoka County Library system. In the first chapter, Batterson recounts the legend of a holy man named Honi, who drew a circle in the sand and refused to move until God sent much-needed rain.
Once when I was trying to decide on where to go on a summer mission trip, my older, devout boyfriend gave me similar advice. I wrote about it here, and I still recall how my knees prickled under me as I knelt in a circle in my bedroom, praying for an Answer.
I'm only about forty pages in, but the words of this book feel barbed to me. They're catching on all my prayer baggage and my doubt. When Batterson writes things like, "If your prayers aren't impossible to you, they are insulting to God," I get agitated. When he writes, "Most of us don't get what we want simply because we don't know what we want," I get downright crabby.
That miraculous scene at Jericho, where God told his people, Don't attack. Just march. I have given it to you, becomes an extended metaphor in the first pages of The Circle Maker. Batterson writes this of Jericho: "It not only reveals the way God performed this particular miracle; it also establishes a pattern to follow."
And suddenly, the miracle has been reduced to a template. A how-to. A procedure.
*
This past year, I have been learning to extend grace and love to my former self. In those first wildly cynical post-evangelical days, I resented her – this fifteen year old girl who called herself a Jesus Freak.
Only now am I beginning to see the beauty of that faith-filled heart, that unwavering belief she had that the impossible thing would happen.
But the truth is, the girl who walked seven times around her school, praying for revival, didn't really know her classmates at all. She knew her prayer-group friends and the members of the school Bible study, but she maintained a healthy distance from her unbelieving peers.
I wish I'd spent less time praying for revival and more time praying for Ryan. Susan. Jessica. Jeremy. I marched around them like they were something to be claimed, something to be conquered. I thought it was about faith, but in retrospect, I think it was really about fear.
I wish someone would have taught me the courage of love, of entering into other peoples' pain. Of circling them not wide and war-like, but close-up, arms wrapped tight in an embrace.
*
When I read the story of Jericho now, I see the hot sun beating down and the long road. I see the wildness of a God who does things in a way that you'd never expect.
I don't see a procedure, and though I know the cry of victory comes, it's not what I hone in on when I read the story at age 29.
These days, the impossible things are not big and exciting. They make up the fabric of my daily life. A quiet voice of love in the middle of a tantrum. Energy to look beyond my tired, worn-out self and serve someone else. Patience. Peace. Faith. Especially faith.
So when I see Jericho now, "claim," is not the word that jumps to my mind. It's "believe."
I think of tired, dust-covered feet. I see doubt and faith all mingling together day after long, hot day. I see it all there, captured in the quiet work of walking.