This post was originally posted at A Deeper Story.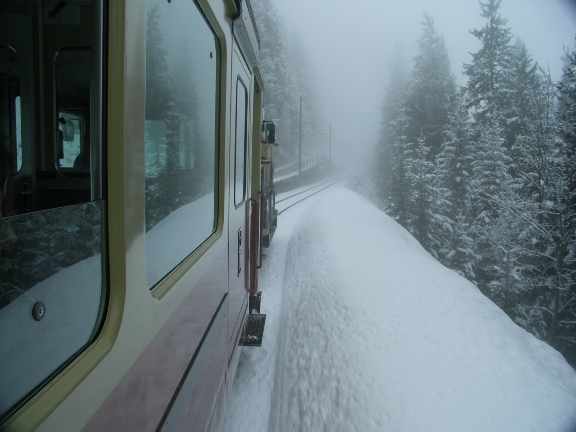 It's not even one week into the brand new year, and already there are piles of clean, unfolded laundry all over the bedroom floor.
You have to wear socks in the kitchen right now because I haven't mopped in a while, and it's too grimy for bare feet. New and old toys are everywhere; the downstairs office is so full bins and loose papers and empty Amazon boxes that you can barely open the door.
I have a pile of books that I want to read, need to read, will be better for reading, but they remain uncracked on my nightstand. Instead, I've been watching episodes of The Walking Dead on Netflix with my husband while the dryer rolls in the background.
*
I've always loved New Year's – that celebration of past and present. The looking back, the looking forward: the year before you feeling so much like a new, college-ruled notebook, totally fresh and unruffled.
The ball drops somewhere on the other side of the country, and we kiss and cheer, and I feel suddenly buoyant with the starting over. I feel, for a moment, that it's actually possible to be the version of myself that I want to be.
For the last several years, I've made long, beautiful lists of resolutions. I have been through enough work goal-setting to know how to draw up a helluva goal: Specific. Measureable. Attainable. Realistic. Timely. 
Generally, I write at least one for every area of my life. Goals for reading and writing. For housekeeping and for parenting. Goals for my marriage and my friendships and my body image and my wardrobe. Goals stacked upon goals stacked upon goals.
The idea is to break down the person you want to be, the life you want to live, into so many manageable, measurable steps. Not lose weight, but rather, lose 10 pounds by May. Not keep the house cleaner, but rather, mop twice a week, clean the bathrooms once a week, fold laundry immediately upon removing it from the dryer.
I write the list, and if I do it all, my fuzzy imagined self might come into focus. I might be that Mama I always imagined I would be, hanging fresh, white sheets on a clothes line. I'll be writing in the sun, stopping to turn cartwheels barefoot with my children in the yard, while super-healthy-yet-delicious meal cooks inside.
If I put the classic books on the list, maybe I will read them this year, maybe I'll feel smarter, more competent. Maybe I'll stay up even later, cleaning and writing and submitting articles to magazines. I'll look back a year from now and see that I have leapt higher, run farther, done more.
Maybe I'll burn bright.
Maybe I'll burn out.
The year starts over, and the perfectionist in me pounces on that moment and tries to tame the wild world. But really, who can manage that? Time gallops forward, and we hang on the best we can, and none of us is doing this thing exactly as we'd like.
And the truth about the New Year is that it doesn't change a thing. I'm not made new by the turn of the calendar, but by Love. I'm new because of Christ, new every single moment of each broken-down old day.
*
This year, I made only a few goals. I made them because it's in my nature to make lists. I made them because I think there's something good and honest about rolling up your sleeves and trying to rebuild the broken habits of your life.
But they're not very measurable. They're not specific or really all that timely. They're less like checkboxes, more like soft-glowing streetlights up ahead.
This year, I want to learn about prayer. I want to stop serving dinner from behind the kitchen counter, and instead start sitting around our scratched up dining room table. I'd really like to finish that knitting project I started last winter. Maybe go on a writing retreat or two.
I want to learn to ask and I want to embrace adventure, and I can't break it into a S.M.A.R.T goal for you, but that's okay, because in the end, life is so entirely unmeasurable.
I'll wash my floors 15 times or 30 times or 50 times this year, and in the end, it doesn't really matter that much, does it? No one but me really cares how many books I read, and maybe it's in the second-chapter of a book I'll never finish reading that a sentence will break my heart in two.
I'll keep trying to get us around that old kitchen table, keep teaching Dane to help set the dishes and clear them away. But there will be nights where we're doubled over the kitchen counter, eating frozen pizza, laughing wildly, and this matters too.
I guess what I'm trying to say here is that each moment is its own, brand new, unmeasurable thing. Who can say what God is making with all of these botched goals, this unfolded laundry, these unread books?
I'm resting my head on that handsome man's shoulder, and the zombies are stumbling forward on the television screen. I lose track of the minutes, the breaths, the way I fit so perfect under his arm.
Upstairs, the toys are still out and the socks are unmatched and time moves on anyway. The stars are quiet. Bright. Uncountable and unmeasurable in the new, old January sky.