Matthew 7:7 – Ask and it will be given to you; seek and you will find; knock and the door will be opened to you.
Back when I was a Jesus Freak, I wore a necklace made out of tiny gold safety pins and super-flared jeans, and I thought I knew about prayer.
I spent so many Friday nights curled cross-legged on a couch in someone's basement, eyes closed, hands raised. Some guy played the guitar softly, and we took turns speaking to God, speaking alongside one another, asking collectively for the same big things. Revival. Salvation. Hope. Change.
On Saturday nights, I knelt on the thinly carpeted floor of that youth-church by the mall. On stage, the beautiful punk-rock girls with pierced faces and bleached hair sang about touching heaven, changing earth, and I could feel the words rise swift and powerful from my heart.
I knew the cadence, the rhythms, the language of communal prayer. Lord we just pray for our schools, I said, and I felt every word as my friends echoed them back.
In so many ways, prayer felt as much about connecting to each other as it was about connecting with God. We said Amen, and we looked up at each other, bleary and happy and closer than ever.
The journals I kept during that time are not so much a reflection of who I was or what happened to me in high school: they are my Psalms. My prayers. My deep-down hopes. They are a conversation and a cry, wanting and waiting, all of it addressed to God in my curly, sixteen-year-old cursive.
Who can really say how it faded? There was Christian college. Roommates. Politics. Displacement. There was new love and marriage and that sweet first apartment in married housing.
The circles of my life shifted in certain ways, and prayer shifted too.
And then, eventually, the dark days came. I asked every day for God to come near, and maybe he did, but I sure as hell couldn't feel him there.  And then one day, I stopped asking. Stopped expecting to hear his voice tearing through my darkness.
*
These last few years have been a slow kind of rebuilding. In the deep part of the Depression, the room of my heart was stripped bare, and on the shaky ground of the other side, there's been a lot of cautious work. I am pulling up floorboards. Redefining. Moving tentatively back toward God, making my peace with the Church People. Reading the Bible in really small doses.
But prayer has continued to elude me, this murky mysterious thing that I once did so well. I pray mostly in small, desperate spurts when my kid won't stop screaming or won't sleep or runs wildly into a parking lot. In the mornings, when the sun comes up, I start to pray, but the words get lost in my chaotic brain, and my thoughts spiral toward other things.
When our church meets at the beginning of the month for communal prayer, I send my husband and volunteer to stay with the kids because the idea of praying out loud makes me physically recoil. When I do manage to pray, I notice that my heart is steeled against the words. I ask for things fully expecting silence, abandonment, a resounding no from the sky.
Most of the time, I talk to God indirectly through blog posts and essays. And in all of these small, nearly imperceptible ways, I'm starting to notice him speaking back. This year, the creative process itself has been a kind of prayer. I string the words carefully together and end up no place I ever planned to go.
*
Here is the new year. It is cold and quiet and dark in the mornings, and 2013 feels new and old all at once to me.
There is this thing that people are doing in the blog world: they are forgoing a list of resolutions and instead focusing on one word, one guiding principal for the year.
And I'm way too much of a list maker to give up all of my resolutions (find a recipe for a green drink I can actually tolerate, finish knitting that cowl I started last winter, read 40 books), I love the idea of one unifying word to give the year definition.
So I chose one. Ask.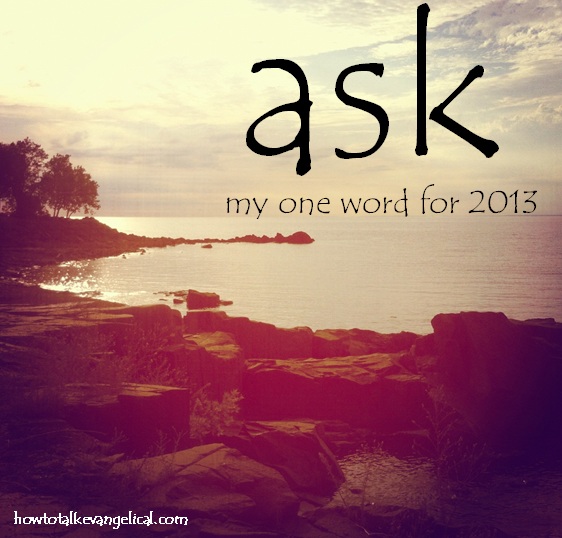 I chose it mostly because this year, I want to relearn prayer. I want to figure out what it is and what it isn't, and I want to learn to do it in my own voice instead of that learned evangelical cadence. (I have a list of books to read on the subject of prayer and a brand new, Barnes and Noble gift card from my husband.)
I want to ask God my questions. Say out loud what I want and what I need and find a way to believe that he will answer …even if it's not in the way I expected.
And I want to start asking for help from others. I have been so long trying to do it all myself, to prove to the world that I am worthy because I can juggle all the balls so brilliantly. But things keep falling, and I keep failing and the truth is, I am not as amazing as I want to be.
In the end, both of these things point to the same hard truth about me: I have become an island, curled into myself. I have stopped really trusting, stopped really believing, stopped waiting and started doing it all on my own. I want to learn the bravery of trust. The faith of the ask.
Ask and it will be given to you, Matthew writes, and I don't know what it is, but I want it this year. So I will work on my way-too-long list of goals (serve dinner at the table instead of at the kitchen counter, start writing a new book, plan at least two weekend getaways with my Andrew).
But mostly, I will ask. I'll ask little more of God, of the world, of my wobbly faith every brave, new day.