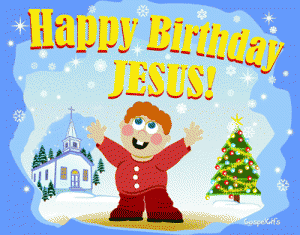 Now that Dane is three and starting to understand about Christmas, we've been doing our best to tell him about the birth of Jesus. About God come down and God with us and the baby in the manger.
So far, I think he is mostly just confused.
The other night, before I knew what was happening, I heard myself say, "Maybe we should make a cake for Jesus since Christmas is his birthday!"
I'm not totally sure where this came from. We were not a bake-a-cake-for-Jesus kind of family growing up, though I know many in our church who were. It was one of the many ways families tried to focus on the "Reason for the Season" in the evangelical world I come from.
"OK!" Dane said quickly, as he is a huge fan of birthday cake of all kinds. Then he thought about it for a minute. "But how can he eat it? I can't see his hands!" (We talk all the time about how even though we can't see him, God is here. Dane's still trying to wrap his head around that one. To be honest, I am too.)
"Well…he won't eat it really. We'll eat it."
"We'll eat God's birthday cake?"
"Um. yeah."
"But Jesus wants some cake too. How can he eat it, Mom? I don't want Marty to get God's cake!" he said, distraught about our terrible, food-snatching dog.
And that's about how that went. For another ten minutes.
*
It's a tricky thing to navigate with your family, and over the years, the evangelical culture has done some zany things to try to keep the focus on the Christ-child during the Christmas season.
So this is for all the ones who grew up trying to "keep the CHRIST in CHRISTmas." A little evangelical Christmas quiz of sorts.
Here's how it works: You get one point for every question you can answer a hearty yes to. Additional points are available where noted. When you're finished, post your grand total and any other evangelical Christmas memories I might have missed in the Comments section for a chance at a little prize!
You've had yourself a merry little evangelical Christmas if:
1. There is a photo or shaky video somewhere of you on a church stage around age four, singing "Little Drummer Boy" with 30 other kids. (2 bonus points if you are simultaneously beating on an oatmeal- or coffee-container-turned-drum. 5 bonus points if you are crying.)
2. You ever sang "Happy Birthday," to Jesus. (2 bonus points if there was a cake with "Happy Birthday Jesus!" written in frosting. 4 bonus points if there was a full-fledged Jesus Birthday Party, complete with balloons and gifts.)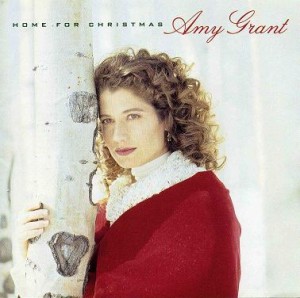 3. You memorized all the words to Amy Grant's "Breath of Heaven." (4 bonus points if you ever sang it to your family with a towel wrapped around your head to make you look like Mary. You can also give yourself 4 points if you memorized "Grown Up Christmas List" from that same album and ever contemplated singing it personally to Santa at the mall.)
4. You've made your own nativity out of any of the following materials: salt dough, clothespins or empty toilet paper tubes.
5. You know that a candy cane is really a "J" for Jesus. And if it looks like a cane, it's only to represent the shepherds that came to the manger. (2 bonus points if you know what the red and white stripes symbolize.)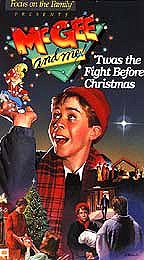 6. You watched McGee and Me! Twas the Fight Before Christmas at least once every year in Sunday School. (2 bonus points if you can remember the gift that Nick wanted to buy for his mother. 4 bonus points if you had a secret crush on Derrick Cryder, Christmas Pageant Bad Boy and Nick's arch nemesis.)
7. Your church ever used any of  the following items in its annual Christmas pageant: A cabbage patch doll. A water-baby. Bathrobes (for shepherds). Or bath towels (for head coverings). (Give yourself 4 bonus points if you ever took part in a live nativity and your coat smelled like goats for one week.)
8. You've ever said, "I'm giving you this present as a reflection of the greatest gift there ever was — Jesus!"
9. You ever had a nativity up in your yard. (2 bonus points if it was inflatable. Another 2 if your baby Jesus went missing at least once. And 4 bonus points if you had one of the ones where Santa is kneeling before the manger)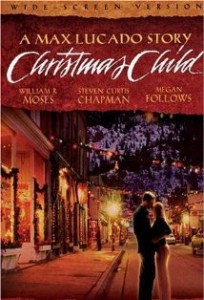 10. You recognized Steven Curtis Chapman immediately in the sappy Christmas movie Christmas Child. (4 bonus points if you recognized Megan Follows and couldn't stop thinking of her as Anne Shirley. 2 bonus points if you sang along during any point while watching that movie. Another 2 points if you own the movie currently and have watched it once already this year.)
11. You owned a sweatshirt, mug or key chain that said one of the following phrases: Jesus is the Reason for the Season or Keep Christ in Christmas or Wise Men Still Seek Him. (2 bonus points if you've had all three at some time or another.)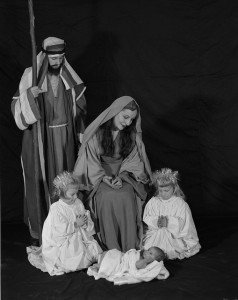 12. You ever dressed up with your family in a nativity-style photo booth. (2 bonus points if you agreed to be a sheep so that your little sister could be Mary.)
13. You've ever lectured someone about using the abbreviated Xmas rather than Christmas or about saying Happy holidays instead of Merry Christmas.
14. When you think of the original nativity, it's hard not to imagine everyone as Precious Moments' characters…thanks, in part, to Timmy's Gift, the movie.
15. In your teen years, you owned one or more of the Happy Christmas CDs: the Christmas punk-rock and ska take on classic Christmas carols. Because nothing says Silent Night like a couple of trombones and an electric guitar and some guy screaming at the top of his lungs. (Give yourself 1 point for each album you own. 2 points if you still know where they are. 4 points if you've ever sang a punk-rock version of a Christmas carol yourself.)

Total up your score! The person who has the most points (and if it's a tie, the funniest additional memories, as judged by me), will win a $5 Amazon gift card. Contest closes at midnight on Friday, December 21st.