This post was originally published at A Deeper Story.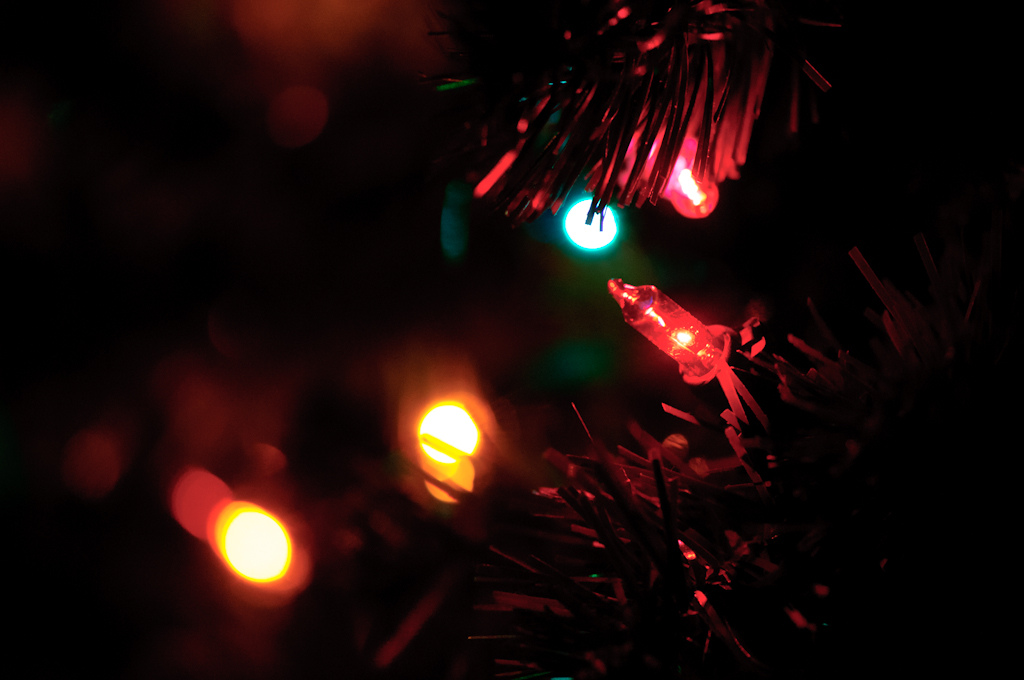 That was the year I was underwater.
Christmas was happening, as it always happens, but it was somewhere above me. The lights blurred and the songs broke muffled and distorted through the surface of the water that I couldn't seem to swim out of.
It hadn't been long since we'd named it – that thing that had been quietly erasing me. Depression. I had only been in therapy a few months, and I'd only just started with those little white pills – the ones meant fix the tangled mess in my brain.
Day by day, I was edging toward wellness, but it would take time. I was so far-sunk in the whole thing. The water felt a million miles deep.
That was the Christmas I kept headphones in at all times…120 melancholy songs carefully selected and playing randomly on my iPod shuffle. There were no carols in my music rotation that year, no Jingle Bell Rock or I'll Be Home for Christmas. Not even the aching beauty of O Come, O Come Emmanuel. Not even my old favorite, O Holy Night.
During my work lunch hour, I'd wander half-heartedly through Target with Patty Griffin and Damien Rice in my ears so I couldn't hear the Christmas songs in the store speakers.
When the iPod shuffled to Joseph Arthur's "In the Sun," I kept it on repeat so that I could listen over and over to that line that said: I don't know anymore/what it's for/I'm not even sure/if there is anyone/who is in the sun/will you help me to understand?  I couldn't think of any truer way to describe my spiritual landscape in that moment, during that Christmas, than those words.
In the face of all of those glittering Christmas lights, my own darkness felt so defined and absolute. Against the soundtrack of Christmas with its jingling sleigh bells and nostalgic lyrics, God's silence felt so overwhelming loud.
*
It's Christmas again, that season where Truth gets sentimentalized and made into tacky décor.
Jesus is the Reason for the Season! for one. It rhymes so nicely, after all, so we put it on little wooden signs all over our houses. On the signs, Jesus is in a manger, all golden straw and golden haloes, generic in his beauty.
Wise men still seek him, the plaque says. It hangs over the dining room table, the wise men in silhouette, profiles and camels sharp against the background. They are pulled out of their context: the sand and sweat of their journey. The ache of searching for an unnamed Something. The very real fear that at the end of the harrowing road, they might not find it at all.
I got physically agitated the other day when I came across one that said, Are you part of the Inn crowd or one of the Stable few? The pun was just so obvious, so trite, and the whole thing felt so shrunk down to me on that pretty little free printable.
As if always, you are one or the other. As if you have either shut God out or you're experiencing the fully majesty and miracle of his presence.
So often, life is lived in the in between. You have chosen the baby in the manger. You've chosen Emmanuel, God with us.  But it doesn't feel like he's here. It feels like you are wandering the cold dark streets of a strange town alone.
Or then there's this gem: The magic of Christmas is not in presents but in His Presence. Which is true, and yet …there you are underwater. There you are, drowning.
Maybe you have been seeking, but you feel like you're dried out in some desert with no end in sight. Maybe you have been to the stable, and you can't seem to find him there. Maybe God's presence feels elusive to you, and you don't know why, and you feel like it's because you're doing something wrong.
Maybe you're sad. Maybe it's dark. Maybe it's Christmas, but you don't feel it in that way you're supposed to.
The candles are passed around the sanctuary, lit one by one across the pews, and you are so numb that you barely even register the hot wax dripping on your fingers. I know.
Peace now. There is no right way to do Christmas.
You hear the angels sing or you don't. You are filled with joy, or you're not.
In the end, Christmas happened, happens anew every year, regardless of how we experience it.
You seek him, maybe. Or maybe you're so tired of all that restless journeying that you just hunker down into yourself. You have spent the last years being erased by this thing that you didn't know was in you, this sadness, this Depression, and Emmanuel means that when you can't find him, he is finding you.
Christ comes, and he is among us. You see him or you don't, and that's okay.
He's there. Here. Not above your pain, like some abrasive, jingling Christmas song playing in a store. But with you. With me.  His holy heart descends to where you are, sunk deep next to you in the dark, dark waters.
Peace now. In this moment, this is all you need to know about Christmas.