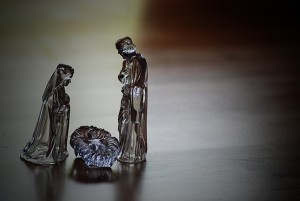 The regular morning babysitter texts to tell me that she won't be able to watch the boys for the rest of the month.
(She's seventeen, all sweetness and last-minute notice and text messages.) The new semester has started, she says. Her schedule has changed; her classes start earlier.
I read the text and burst into tears at my kitchen counter. Sometimes you don't realize how thin the thread is that is holding all the pieces of your life together until it snaps.
I keep thinking about all the words. The ones I have to write. Blog posts and guest posts and essays. Freelancing projects pushed to the side but coming due: newsletters, website updates, employee bios.
The words take time and space and a lot of staring out the coffee shop window. I am a slow writer. I'm up at 4:30 or 5 every morning, working in the darkness. Then I'm gone two mornings a week for three-hour chunks that disappear under my fingers as I write, write, write.
And still, it's never quite enough – the bits of writing time I scrape together from the wild, constant work of mothering are a threadbare blanket that never covers me all the way up.
It's all well and good to commit to an imperfect Christmas on my terms, but it feels entirely different to have imperfection thrust upon me by the suddenly realized schedule changes of my babysitter.
This is what I'm thinking about as I sit in my kitchen, re-reading the text message and hyperventilating.
*
It is Christmastime, and the nativity is set up by the Christmas tree to remind us that Love came down. In the beginning was the Word, John 1 says. And the Word was with God, and the Word was God. And this has always appealed to my writer-heart – God as Word.
It's a thread that's always running through this blog, a theme of my book: words are fragile. Our language is powerful but limited. How quickly the most beautiful metaphor can turn into cliché. Words accumulate so much – particular the religious ones, which pick up the debris of hate and failure and brokenness as they roll through the world.
The tension for me is to put the words I write in their proper perspective. They are my gift, my calling. And yet, all does not hinge on whether I write it perfectly. The point is not these words written carefully in the darkness; the point is The Word, that one singular person who changes everything.
*
The Christmas series at the new church is about selflessness. They send home a calendar and encourage us to come up with tangible ways we can serve others every day this month.
The Word became flesh and made his dwelling among us.
And it occurs to me as we sit at the kitchen counter, thinking about all the people in our life, that my words are not the revelation here. Love is the revelation.
It occurs to me that the time spent staring at the blank screen, those moments zoning out at the kitchen sink while the words begin to emerge piecemeal from my heart – all of this is important.  It matters that I'm a writer. I was created this way on purpose, and it is good.
But to live the bulk of my life in that ethereal, creative place, somewhere above the daily stuff of life, is missing the point. To be so lost in all the writing that I forget to live and to live abundantly – that would be a tragedy.
After all, it's Christmas. We're celebrating that Word that became flesh. We're thinking about tiny hands and feet that would grow and grow. Feet that would walk the dusty roads of the world, hands that would touch and heal and transform.
And in that place where the Word comes down and dwells among the great need of humanity…that is where the world is changed.
*
I may be a little quieter on the blog this month. After all, my babysitter texted. After all it's Christmas.
Sometimes you don't get to choose your flavor of imperfection; sometimes one thread breaks and the whole thing crashes down around you a little bit, and faith means saying, OK then. Let's go with that.
An Amazon box arrived with a Christmas gift I'd ordered for a friend: Brené Brown's The Gifts of Imperfection. You know I have baggage around the whole "God told me…" line, but I could have sworn I heard a deep laugh as I held the book up to my face. "Yeah, that one's actually for you, pumpkin."
So I'll be reading. Writing when I can. Baking Christmas cookies for Dane to take out to the garbage man. I'll be trying to figure out what it means when words become flesh.
I want to see what happens to my words when they come up off of the computer screen, out of the confines of the blog. When they become chapped winter hands, reaching out. Boots and two pairs of socks walking toward someone. A smile. A voice. Arms strong enough for the holding.