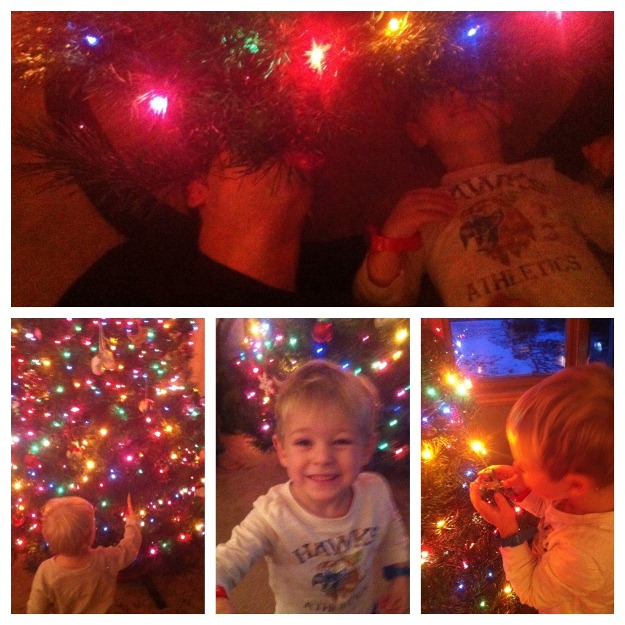 While we were at my parents' house this week for Christmas Pt. 3, my Uncle Lee (who wrote this great book on pastoral care) gave me an apt metaphor for the Christmas season:
It's like when you get to work, and you have way too much stuff to carry, but you don't want to make two trips. So you grab it all: your briefcase and your coffee cup and your laptop and your books and your papers, and stuff is literally falling out of your arms as you walk, but you keep going because you have to get it all in the door.
And Christmas is kind of like that. She has to carry too much. Too much food and too much family and too many parties and last minute Target stops and late nights wrapping. Too many movies and activities and red-and-green-sprinkled sugar cookies. It's all falling out of her arms, but she keeps going, trying to get from Point A to Point B, holding all of it.
That's kind of how it's been for me this year.
Yesterday we drove home from a whirlwind 3 1/2 days with my family in Chicago, celebrating Christmas and spending precious moments with one another. But after our mid-trip lunch stop somewhere in Wisconsin, the DVD player quit and the crying and whining started, and I was officially over Christmas.
When we walked in the door, I set about unpacking us and de-Christmasing the house, beginning with the dead, deathtrap of a Christmas tree in the corner.
Things I've Been Reading
I had great intentions this month of reading slowly and reflectively through all of my Advent books while doing brilliant free-writes based on Messy Canvas' advent windows.
As it turned, my mornings by the Christmas tree were short and often interrupted by wakeful children. I read haphazardly through my favorite Advent poetry book, Luci Shaw's Accompanied by Angels. But really, what helped me to focus my heart this month was the words I read from other bloggers about the season.
There were so many. I didn't have a chance to jot down everything that spoke to me, but here are a few posts that I'll be printing out for future Advent readings:
I finished John Green's Looking for Alaska, which was, admittedly, not my favorite of his books. I put all of my other half-finished November books aside and immediately started Brene Brown's The Gifts of Imperfection, which I planned to give to a friend for Christmas but stole for myself instead.
It's blowing my mind with lines like this: "Until we can receive with an open heart, we are never really giving with an open heart. When we attach judgment to receiving help, we knowingly or unknowingly attach judgment to giving help." Yes.
I also finished The Paris Wife, which I started listening to on one of my summer trips to Chicago and hadn't finished…because there's just no space in my non-road-trip life for listening to books on tape. I finished it on the Illinois tollway, and it was excellent. It's about Ernest Hemingway's first wife, Hadley, and the years they spent in Paris.
While at home, I borrowed a copy of The Sun Also Rises from my Dad's bookshelf because it was written during the time Hemingway was married to Hadley and based on real-life events. I also borrowed a biography of Zelda Fitzgerald, since The Paris Wife piqued my curiosity about the old Paris gang.
(I made a sad discovery upon reviewing my 2012 Reading List: Only 19 books read! A sad number indeed. One of my goals for the new year is to be more intentional about finishing books and double that number in 2013.)
My December Soundtrack
Let's be honest, it was entirely Christmas music. One of the surprising free finds on Noisetrade was a band called Branches. I'd never heard of them before but downloaded their Christmas album and loved their take on classic carols.
My Christmas 2012 playlist also included "Angels We Have Heard on High" from Sufjan Stevens' new Christmas album, a few from Sleeping at Last, and a haunting version of "Auld Lang Syne" by Kim Edwards.
(Note: All of this music can be found free on Noisetrade!)
What I've Been Watching
With most of my TV shows on hiatus and no Netflix to give me sappy new Christmas movies, I was a little at a loss. Our family watched every kids' Christmas movie possible, and Andrew and I did Love Actually and The Family Man. I was also pleased to see Zach Morris from Saved by the Bell on a Hulu freebie, 12 Dates of Christmas.
During my various crafting/wrapping/cooking endeavors, I got out my old Veronica Mars DVDs and worked through Season 1. After all, what says Christmas like a snarky girl detective, solving high school mysteries? Also, I had forgotten that Schmidt of New Girl fame cameos as Veronica's brief love interest, Leo the cop. True story. Awesome.

My One Christmas Craft
Back at the beginning of a month, I swore off projects that included "tutorials." But about midway through the month, I decided to make some play dessert food for my kids out of felt. They both love to play kitchen now, and the felt projects looked simple and cheap.
I am now addicted to making food out of felt. So easy! So fun! So much puffy paint! Here's a little subset of my creation. (They were Liam's favorite Christmas present…until my Mom gave him a rideable Thomas Tank Engine. But they're still pretty awesome.)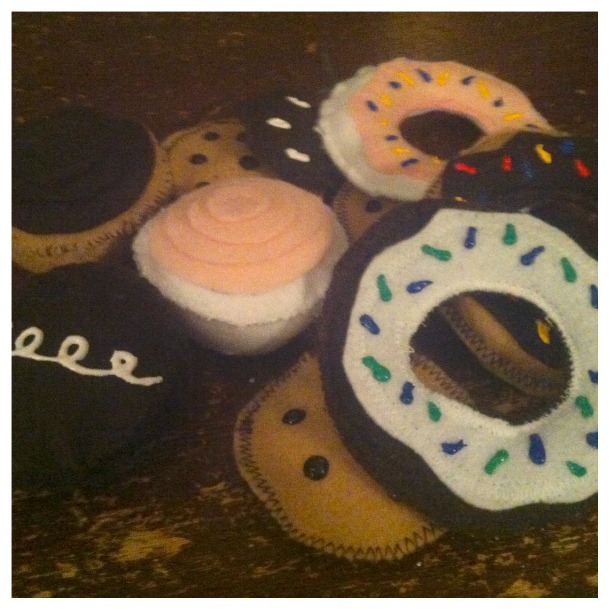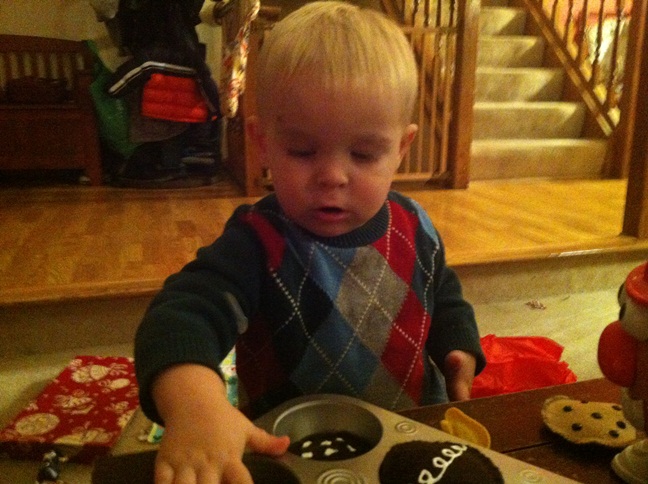 Top 5 Moments of the Month
1. The great snowstorm. This is possibly the only snowstorm I will be happy to see this winter, as at the beginning of December, it still all smacks of Christmas magic.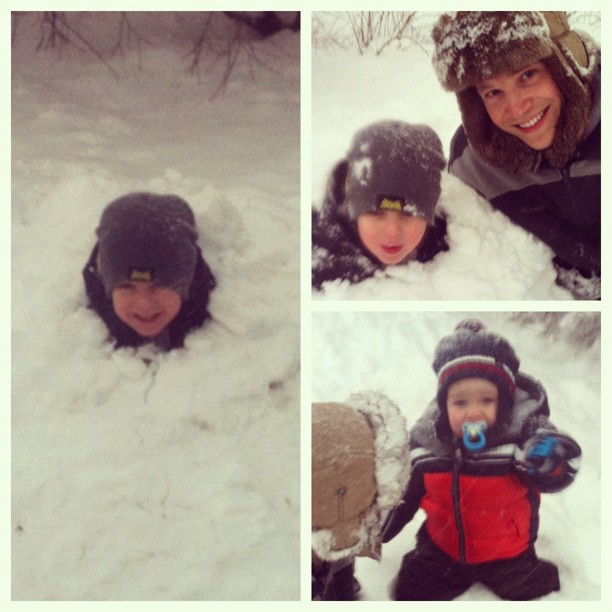 2. A weekend spent with my two close friends from high school. Now that one of them lives in London and I have two wild kids at home, this is becoming more and more rare, so I treasure the times that we get to be together in real life.
3. Taking the kids to see Santa. Every year, our local Culver's has a Santa Claus come on Tuesday nights from 5:30-7, and we've always made an event out of it. We go. We eat. We visit the Big Guy. This year, neither of my kids cried, which was a first. Also, Dane got his hand painted for the first time. It was all kinds of Christmas magic.

4. Family Christmas Tradition Redux. Nothing is the same now that there are kids around, but I love the way traditions have grown and changed to absorb them. The lefse at my parents' house; the warm-baked appetizers at my in-laws; the gifts and the closeness. It is wild and chaotic and wonderful.
5. Dane's new bike. My family all chipped into get Dane one of those awesome new two-wheeler bikes with no pedals. Supposedly, it helps the kid learn to balance and then he never needs to do training wheels. I will never forget Dane opening that package, screaming, "My bike! My bike! You gave me my bike!"
Also This Month:
Liam took a spill while we were delivering cookies and gashed open his forehead. (Those of you who've followed the blog for a while might recall that this has happened once before and that the first time almost killed me.)
Two was the magic number. 2 stitches (bringing his yearly total to 7.) 2 times that the doctor said darn under his breath while stitching together my kid. 2 times that I almost punched said doctor right in the nose.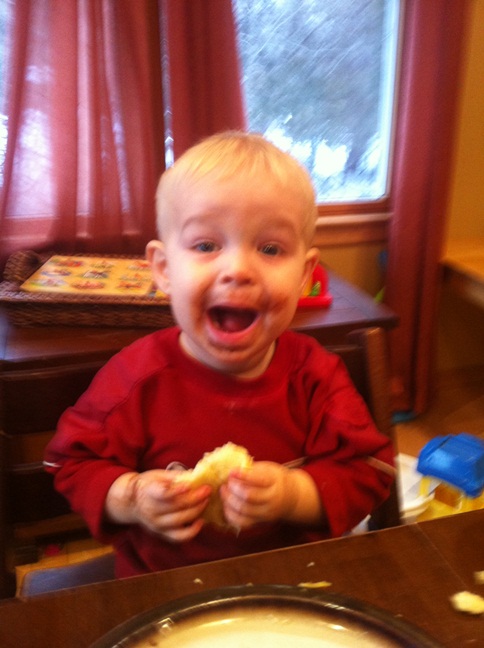 On the Blog
At the beginning of the month, my babysitter quit and I had to reassess my December, thinking about my words and The Word. I posted at Deeper Story about all of those ratty Christmas cliches and at Everyday Awe about If the Angel Should Come.
You all amazed me with your fabulous evangelical Christmas memories in the comments section of my Merry Little Evangelical Christmas quiz.
We made space for sadness in Christmas Miracle and in my friend Carra's brilliant guest post on the Paradox of Advent. And then I told you about our entirely ordinary Christmas here.
It's been a full month. A full year. Today I will clean the house and think about what the new year holds.
What about you? What have you been into this month?
(Linking up as always with the brilliant HopefulLeigh, who I got to meet in person last week! For the record, she's just as wonderful as you imagined.)