Church Home: The church you attend regularly. The one you belong to.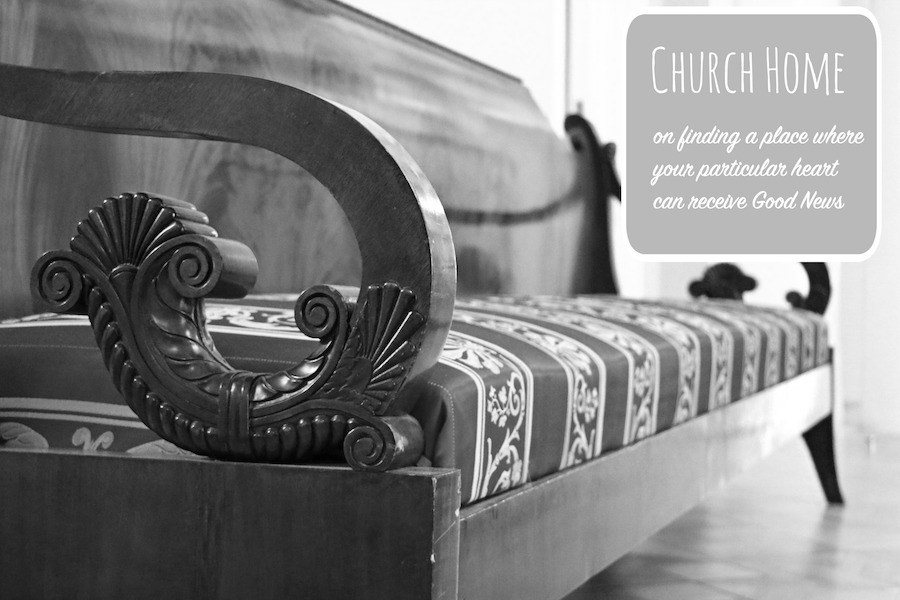 I chose Jesus in junior high for a lot of reasons, but at the top of the list was the fact that two girls in youth group chose me.
I was a little awkward, a little lonely, a little unsure of who I was. I hadn't quite figured out how to pluck my eyebrows or do my hair yet. And they sat down next to me and took me in.
I chose that amped-up, on-fire kind of faith because I loved God, yes…but maybe moreso because they loved me.
During those years, youth group became a place where I fit. I couldn't kick a soccer ball or throw a basketball. I didn't make the spring musical; I sat ninth chair violin in orchestra. But church gave me an identity. A sense of belonging. It gave me cross-country trips in a double-decker bus. It gave me Sunday night youth group and Tuesday night Beach Nights and Christian ska concerts where I danced like mad.
And I'm grateful for that time and the way it formed me.
But also, I am becoming more and more aware of how enmeshed faith and that feeling of belonging are in my mind. I'm aware of the role that played in our long, soul-sucking church hunt (which I wrote about a while ago in a three-part mini-series here and here and here).
I'd walk into those buildings week after week, and I wasn't looking for God so much as I was looking for My People. The ones who would see me, lonely and awkward, stilted in my Depression. The ones who would sit down next to me and take me in.
One of the longest, most painful parts of my journey has been the prying apart of expectations and reality. It's been separating individual, broken churches from The Church, that wide, deep, uncontainable thing. It's been realizing that no church can heal me…that it's only ever Jesus. That when the Church People are barbed or absent or toxic, he is still enough.
*
Six Sundays ago, we got up and drove to a different church.
We've attended the same one ever since we moved into our house nearly four years ago. We kind of crashed there. We'd just been through a particularly difficult season, and we needed something, needed it now, and we ended up somehow at this big, lively community church in the northern suburbs of Minnesota.
It was not the kind of church that I wanted, but it was what I needed. During our first small group there, we sat around and told our stories – the true, messy versions – and I saw for the first time that we are all a little broken.
The loneliness started to ebb, and it wasn't because I found a perfect group of friends, a community, but rather because I began to see the small, intricate ways that we are all connected.
I learned to stop seeing them as one nebulous whole – the Church People. I began to see faces. Learn names. There were things that continued to hook my cynical places, but also, I become more and more aware of the beautiful things that were happening. Their methods of outreach rubbed me the wrong way, but God, did they know how to love the poor.
 It took us a long time to decide to leave. But we did.
And it wasn't because God wasn't there. It wasn't because they're not our people. I am aware now more than ever that God is at work even when I can't see him. I am aware that they are all my people in some way or another.
We left because it was time to leave. Because God had done things in us in that place, and we both felt the gentle pull forward to something different.
*
We walked into a new church that Sunday morning, and in many ways, it was like any other church. There was the foyer and the coffee and all the greeters. Small talk and introductions and so much smiling.
But I could feel my heart expanding, and it was almost inexplicable to me, the suddenness of it. The pastor spoke, and he wasn't saying anything all that new to me, but, Lord, I could hear it. For so long, I've sat guarded in church chairs, arms crossed, daring them to impress me, but all at once, I found myself unguarded. The tiny worship band bid me to praise the Lord, and I did.
And I think that we're using the wrong language. It's not church shopping or church hunting. You're not looking for the right church, as if there could be one. As if there's a magical place where everyone will love you immediately…where they will know exactly how to take you in. Where you'll feel complete.
It may not be even about looking for a place where "God is working," because, really, God is always working. He's always among us – Immanuel – his ways so much bigger than our ways. His plans so much more complex than ours. Who can see what is really happening among so many miles of surface?
Maybe, in the end, it's about looking for yourself. Not in some narcissistic way, but in that deep, true sense that we're all created different and beautiful.
Maybe it's about finding a place where your specific beautiful heart can hear Good News and take it all the way in.  A place where they talk about God in a language you understand. Maybe it's about finding place where you can serve with your whole, broken heart and be healed in all that giving.
I don't know, really. All I know is that we landed in this tiny church one Sunday morning, and I felt entirely myself.
And after all, isn't that what we mean when we say home – that place where you flourish into your truest self? Where you come down the stairs in your sweats and your ratty bedhead, and still, you're exactly perfectly enough?