Prepare Our Hearts: A common prayer before a church service or a worship set in which we ask God to make our hearts receptive to his Spirit and his love.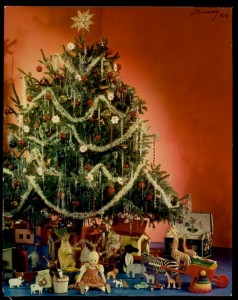 I was so busy this fall that I didn't even get a chance to be sufficiently annoyed about how early "Christmas" is starting these days.
I did notice a Target holiday commercial in the middle of October (fail), and a few weeks ago, while I was deep in book edits at Caribou, I was startled into the moment by that annoying song, "Simply Having a Wonderful Christmastime."
But other than that, I hardly even noticed it.
On Thanksgiving morning, the sun rose pink in the sky and we sent the kids outside in only sweaters to chase the ducks. We ate and laughed and ate and cleaned, and then I stumbled off to nap, (to sleep off that cooking/Pinterest-project-doing/tryptophan coma).
And when I woke up, the world was entirely changed.
It was snow-coated and glowing, and the kids were clamoring into boots and hats and puffy coats. They were running outside to hold the first heavy flakes in their mittens. The white lights on the house flickered on and lit against the new-fallen snow, and suddenly, it's Christmastime. Justlikethat.
*
There's something about this season that throws into stark relief that gap between who I am and who I think I need to be.
I've seen one too many Thomas Kinkade paintings. One too many quilted Christmas placemats on Pinterest. I keep seeing this TJ Maxx commercial for "The Gifter," and she is sleek with tall books and unwrinkled dresses, and she glides through stores like she's riding on a cloud. And every time I see it, I know what they're trying to sell me, and I know that it doesn't really exist, but still, I buy into it just a little bit.
One friend buys her child very few gifts in a commitment to simplicity and downward mobility. I worry that I'm spoiling my kids by giving them too much. Another friend gives more than I do, and this too ignites my Mama Guilt. I worry that I haven't done enough, that somehow they'll be disappointed.
I try to sing Silent Night to Dane at bedtime, and he says, "No, Mom. The Christmas song. Frosty the Snowman!" and I think I have not been hitting the Jesus themes hard enough. But then, I want Frosty for him too. Rudolph and Santa's big-bearded smile and the whimsical fun of all of it.
The Christmas season comes, and I'm a little hunched under all these ideas that I have. They've digitally morphed somehow into one striking composite: the perfect Christmas. I know perfectionism to be an impossibility, a phantom, a myth…but still, I can't stop waking up in the morning thinking, Today's the day I'll get it exactly right.
*
And I think about that word prepare. I think about my heart, weighed down as it is with so many things. To make ready it means. Or to put in a proper frame of mind.
Look outside: the snow has fallen and the world is lit and the bells are ringing outside of stores. The ads come and come and come in the newspaper and you have to decide now. Who will you be? What will you choose?
This year, I will watch as many sappy Christmas movies as possible and give myself two points for every former child-star from my youth that appears in a starring role. I'll drink hot chocolate every night, screw the calories. I'll choose only simple Christmas crafts to do; nothing that requires a "tutorial."
This year, I will not compare our hastily-taken backyard family photo to the sleek, professional Christmas cards of long-distance friends and family. I will look instead at those faces and pray good things. Then I will look at my own boys' sweet faces – neither of them looking at the camera  in this shot, the little one with his hand raised, about to smack his big brother. I will choose to be thankful for this family as it is, not as I wish it would be.
I will measure myself not by the downstairs office, where I just started a giant storage room re-org and where it looks like something out of Hoarders. (A photo – in case you think I'm exaggerating.)

I'll stay in the living room instead. I'll sit by the lit-up Christmas tree – the real one that we bought from Lowe's last week. I won't feel a bit bad that we didn't go to a Christmas tree farm and get that shot of everyone walking hand-in-hand down a snow-laden path.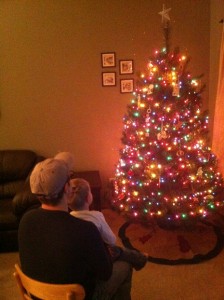 I'll love this tree – the one strung with colored lights and old ornaments. It was $19.99, and it will be sharp and half-dead by the second week of December.
But Dane pulls up the little green chair in front of it and says, "Will you sit with me and look at the lights?" And I will sit there as long as he wants, even if it means we're having frozen pizza for supper again.
I'll give out of joy and love instead of out of stress over the "perfect present." I'll read the Advent books without pressuring myself to experience the Christmas story with some kind of new epiphany. I'll stop trying to put the Christ back into Christmas and look for the ways that he's already there.
I'll let Dane and Liam help make cookies, even though it takes four times longer that way and we always drop at least one cup of flour on the floor. I'll sing and laugh and ban myself from Pinterest.
When it all comes down to it, I think I've had too many years in a row of trying to conjure up the perfect Christmas. This year, I'll settle for merry. I'll settle for good, for less-than-picture perfect. I'll settle for not-quite-how-it-was-supposed to be.
I'll choose the manger instead of the inn. The baby instead of the king.
I'll settle, settle, settle into the couch and give myself permission to be still.