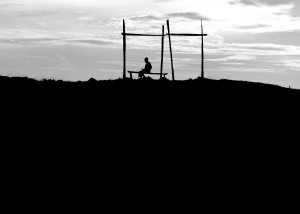 The day the Teen Mania Summer Mission Trip guide came in the mail, the boy told me to kneel on the floor.
Draw a circle around yourself, he said. Pray and pray, and don't move from that circle until God gives you an answer.
He was 18 to my 14, a senior to my freshman. He was on-fire for God, extreme where I was timid.
I was a little bit in love with him.
So I knelt on the rough carpet of my basement bedroom that afternoon. I spread the glossy brochure in front of me and I poured over every country description, every page. I read the statistics and looked at the map and waited for God to give me a heart for one particular place.
My knees grew prickly and uncomfortable beneath me and my feet started to tingle, and still, I waited.
I thought it would come like quiet certainty, like a secret whispered into my ear. I imagined that it would be a flash of lightning, and the knowing would feel as bright and electric in my bones as if I'd been struck. If I stayed there long enough, the boy had said, God would eventually have to give me an answer.
I waited. I waited. I waited.
I don't know how long I stayed there; my back was turned to the clock so I wouldn't obsess. But I know that at some point, prayer and practicality got mixed up in my brain. In one broad stroke, I dismissed all of the countries which required month-long commitments. (My parents were a little unsure about this whole thing anyway, and I knew they'd never agree to let me go away for that long.)
All that remained, then, was one measly page. Three countries that had two-week mission trips. My eyes darted between the three options: Haiti. The Dominican Republic. Trinidad and Tobago. I sat and I prayed. I said Show me your will, and my knees burned and my feet went numb.
And then finally, as a last resort, I closed my eyes and moved my finger in a circle around the page until I felt like I should stop.
I chose the Dominican Republic that afternoon not because I heard the voice of God but because that's where my finger was pointing when I opened my eyes. I wasn't guided to it so much; I just landed there. I prayed, and I prayed, and then I petered out, and this is where I landed.
*
This fall was heavy with decisions for me. Without going into the specifics, I can tell you that the decisions felt crucial to the trajectory of my life. (Truth be told, they probably weren't. These things are almost never as important as we think they are.)
There were all these paths, all these ways I could go. I was presented with them one after another, told, "Spend some time praying about it." And I felt entirely debilitated.
I spent a lot of time this fall sitting in chairs, staring out the window, believing  somewhere deep inside that if I stayed still long enough, God would speak the answer. That it would be quiet but unmistakable.
I had this nagging feeling that if I didn't hear it, it was because I had failed in some way. That if I didn't get an Answer, it would be because of my own impatience, my inability to listen. Because my heart wasn't soft or my eyes weren't open or my faith was too small, way too small, smaller than even a mustard seed.
Here it the truth: sometimes you kneel until your legs are totally numb, and you never hear an answer.
Faith is a little bit like an empty room. Sometimes you have to just walk toward the unknown, even though you can't see anything there. You try a door and find it open or find it locked. You pray. You breathe. You keep moving.
And in the end, God speaks or he doesn't, and it doesn't really change anything. Faith is less about hearing than it is about doing.
If you wait until you're sure, until you hear it clear in your mind, you might never move. You might stay balled up on your carpet forever, afraid.
If I learned anything this fall as I sat and waited, as I prayed and nervously eyed that empty room, it's this: where I end up is not really my concern. My job is to get up. To walk forward into the emptiness with my heart wide open.
The work of faith is to trust the voice that I can't always hear, the God that I can't always see. To believe that he is there anyway, his hand invisible on the small of my back, leading me on.