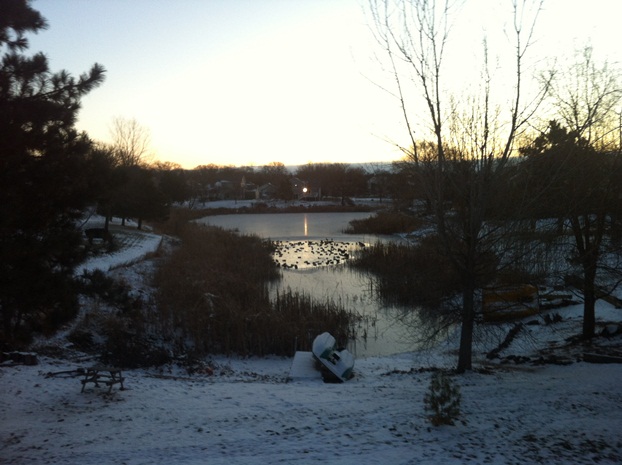 One of my internet kindred spirits, Leigh Kramer, does this great thing at the end of every month where she posts all the stuff she's been into. It's how I discovered we watched all the same guilty-pleasure shows and love the same music and that she's got impeccable taste when it comes to book recommendations.
And you'd think that stuff doesn't really matter when we're talking about deep stuff like God and faith and love and Depression, but it kind of does. These little things, they're the building blocks for the big things, I think.
So when I saw that she's starting a What I'm Into Monthly Linkup, I decided I'm in.
I don't do too many linkups around here. I like to keep things simple. But sometimes, I get a little tired of writing so deep into my heart. So today, I'm going to tell you about my November. Maybe we'll find out that we have more in common than just our harrowing spiritual journeys.
(Note: Leigh usually includes here a linkup of her favorite blog posts around the internet for the month, but I couldn't get my act together to do that this time around. Maybe in December.)
Things I'm Reading
My brilliant, young-adult-writer friend got me hooked on John Green this summer when she lent me The Fault in Our Stars on tape for my 5-zillionth trip to Chicago.
Since then, I've been on John Green binge. I read An Abundance of Katherines, which I liked, Paper Towns, which I really liked and now I'm halfway through Looking for Alaska, which has been a little harder for me to get into for some reason.
I've been working through a few nonfiction books too. Madeline L'Engle's second book of The Crowsswicks Journals series, Kathleen Norris's Acedia & Me, and Scott Russell Sanders' beautiful memoir A Private History of Awe. 
(Leigh introduced a great strategy for reading multiple books at once a few weeks ago, and I think I'm going to have to try it. I'm having trouble getting books finished lately.)
I'll probably put it all on the side-burner though this Christmas and focus on Advent reading.
Mandy over at Messy Canvas put out a cool Advent e-book that uses a-word-a-day to focus on the season. It's the perfect amount of structure for me: it gives me a jumping off place but doesn't tell me what to do. I may or may not have started it early. (It's available here for only $5.)
I also picked up John Blase's Advent book, Touching Wonder, which I'm really excited about.
Music That's Moving Me
Someone somewhere on the internet posted a link to this youtube video of Sara Watkins' song "Take Up Your Spade," and I downloaded it immediately and played it all day on repeat. It's become sort of my anthem for the month. Also on my November Mix: The Lumineers, "Stubborn Love," All Sons and Daughters "Rising Sun" and Sleeping at Last "Noble Aim."
Speaking of Sleeping at Last, they've got a great, free Christmas album right now on Noisetrade that you should go download immediately. I also downloaded Over the Rhine's Snow Angel album there, which I haven't had a chance to listen to yet, but I hear is outstanding.
What I'm Watching
True confessions: I'm afraid you'll respect me just a little less when you hear what an indiscriminate TV watcher I am. I firmly believe that each person is allotted a few guilty pleasure shows…but I'm pretty sure I've exceeded my quota.
My husband and I have been watching Revolution all season, and the jury's still out for me on that. I find the main character vaguely unlikeable, and it makes me stress a little about the end of the world. I'd much rather watch Parenthood, which makes me cry, without fail, every.single.episode.
Among the shows that I watch alone on hulu.com while folding the laundry or doing dishes: Revenge, Nashville, Vampire Diaries, Grey's Anatomy, New Girl, Happy Endings, and one other CW show that I'm too embarrassed about to mention here.
This Happened in Our Kitchen
I knew that I'd made a mistake by getting my husband the book Born to Run when he told me one day that he wanted to try eating like an ultra-marathoner for the month of November (until Thanksgiving). Which meant that he wanted to eat beans and rice and quinoa and vegetables and salad and chia seeds and legumes. He wanted to juice beets and kale in our $2 garage sale 1980s juicer.
If you know anything about me, you know that in spite of my glowy organic dreams, I am a Kraft Macaroni and Cheese person. A Diet Coke and chocolate person. A pizza and pasta girl down to my cholesterol-filled heart.
But because I love him (and because I thought it might be nice to drop a few pounds), we tried it. Here are the best and worst from the two weeks we managed to eat like ultra-marathoners, before we gave up and went back to our regularly scheduled frozen pizzas.
Favorite Three:
The beet juice (juiced with apples, carrots and a little ginger) wasn't actually that bad. It was my first juiced veggie drink ever, and I think I did pretty valiantly.
I tried this broccoli by the Amateur Gourmet and really liked it. Yum.
Really liked this zucchini herb casserole. We used way less cheese and added more veggies, but all in all, it was one of my faves.
Least Favorite Three: 
We tried my friend Micha's favorite green monster blender drink, but I think I did something wrong. There were a lot of tiny itty bitty pieces of kale, and the texture just about did me in. What am I doing wrong?! (Fill me in, you green-drink makers. I know you're out there.)
Crock Pot Beans and Rice. I'm not going to even link to the recipe here, but I think it's probably just generally a mistake to do rice in the crock pot.
Two things I learned about quinoa: it's pronounced "keen-waa" and from now on, I'm officially calling it "keen-BLAHH." Not for me. But if you like quinoa, here's the recipe I tried. At least it looks pretty…
Top Five Moments of the Month
In preparation for the dental office party she's organizing, my mother-in-law sent Andrew and I to the Mall of America to try out the photo scavenger hunt she created. It was a blast. This may or may not be us dressed as rappers.

On November 10th, I had the honor of signing on with Rachelle Gardner as my new agent and then went underground with some major book edits. You can read my post about it here.
My parents came through town on their way to South Dakota this month (my mom, a couple of days early to watch the kids while I worked on my book.) Watching my kids play with their grandparents always makes my heart happy.
We hosted a small Thanksgiving, and it was a blast. Here's a picture of my table. Eat your heart out Pinterest.
Putting up the Christmas tree with the kids was awesome. Liam still doesn't get it, but Dane was so much fun this year, putting his ornaments in just the right place. Looking forward to the Christmas season with this guy.
On the blog
What about you? What are you into this month?
(Linking up with HopefulLeigh for her What I'm Into synchroblog.)