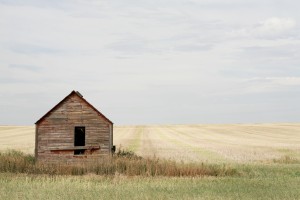 It's a 45 minute drive to my in-laws' farm, and once you turn off of 169, it's not long before it's sprawling fields and red barns and sleek, chestnut horses.
I drove there on Saturday, and I kept noticing the contrast: gold-brown corn stalks against the endless gray sky. The tree branches are thinning, leaves disappearing into dust. It's like the color is draining from the whole wide world.
I have been feeling a little emptied out lately, a little down. It's somewhere between depressed and Depression, this gray unnamable feeling, and I keep thinking that if I could just put the right word on it, then maybe I could get a handle on things: Melancholy? Discouragement? Exhaustion? Acedia? I try them all out but none seem to fit exactly.
Behind me, in the car, my boys watched Finding Nemo on the little TVs strapped to the backs of the headrests. Liam started saying "I love you" this week, and I want to keep it, just the sound of it. Just the adorable, spontaneous newness of it.
On the other hand, Dane has discovered the word stupid and the fantastic, cathartic punch of it when he's angry. I keep catching him muttering it under his breath. Stupid, stupid, stupid. "Let's try to think of another word," I tell him. "How about, 'Oh rats?'"
"No mom," he says. "I don't want to say that."
When I say no to something, he's started shouting back, "Stupid Mom!" I march him over to the stairs for a time out. "We do not call people stupid," I say with clenched teeth, and I don't know how to teach him that words are powerful, wild things. That they can make and unmake, hurt and heal, create and destroy. So I stick him there and set the timer for two long minutes while he flails and cries.
On the way to the farm, thankfully, Dane stayed involved in the movie, slack jawed and wide eyed as Nemo got captured, again, by that diver. We passed lakes, gray and smooth as stone, and I tried to think of the exact right word for the landscape of my heart: Downhearted. Low. Dispirited. Lost.
*
In high school we used to say, Count it alllllll joy in this annoying sing-songy voice.  It was that first fragment of a Bible verse (what else): "Count it all joy when you encounter various trials, knowing that the testing of your faith produces endurance."
So we said it over and over again to one another, to ourselves. Said it while running 15-minutes-straight around the indoor track during P.E. Said it early in the morning when we showed up for Bible study and when we walked out after school, weighed down with textbooks and expectations.
I remember being entirely sincere in all of this. I remember being able to take something sharp in my hand and turn it enough to see it glimmer.
But somewhere down the line, I lost my talent for it. The crow rises up from  the sharp-cut field, and instead of seeing beauty, I see darkness.
*
To combat the blues, I stopped by Target last week and picked up a brown bottle of 300 little Vitamin D supplements. Some chocolate. A young adult book that looked quirky and fun. I bought some new music on iTunes and burned a mix CD for the car.
It is a totally American response to discouragement: let's put a little bit of stuff on it and see if it goes away.
The CD that I compiled includes a blend of folk and acoustic and a cautious bit of worship music from a band whose lyrics somehow always find their way to my stone-gray heart.
We're blessed we're loved/Our hearts and souls/We now rejoice, rejoice. They sing it again and again, and I keep replaying the song because I am struck by the word, rejoice. Not a noun, something to be attained – joy – but an intransitive verb. Rejoice. Something you do. An action. A response. A choice. A movement.
And maybe the exact right word is not the one that names my own obscure emptiness but the one that combats it. Rejoice.
After all, we're learning at our house that words have the power to make. To unmake. And maybe the thing that cures you is not so much naming your feeling but naming the truth.
The minivan cuts through the stark landscape and the chorus keeps repeating, bright against the bleakness. I sing along, right out loud, this thing that I don't feel. I'm putting it right out there, this little tiny spark of faith.
Maybe one day, when I'm least expecting it, the spark will just catch. And the entire world will explode into light.