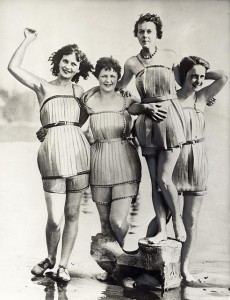 Are you sick of me yet?
Because I'm kind of sick of me.
It's apparently the week of guest posts, and so I'm going to show up in your email box or feeder just one more time to point you to my latest one.
(Thanks for bearing with me; next week should be a little bit quieter here.)
Today I'm over at The Church of No People for Matt's series on gender roles and faith.
My contribution has to do with being a woman at a Christian college and that moment when you start seeing it. Here's the first bit.
It's Christian college, so naturally your "hall theme" is something like In the Son – pun intended – and the wall is taped over with yellow and orange construction paper rays and pink beach umbrellas and sunglasses.
At your orientation meeting, your introduction to life at this college includes a long section on modesty and exactly what you can and cannot wear. It's nothing you haven't heard all of your life. In your shared closet, you have modest sweaters and one piece bathing suits and dresses that go at least to your fingertips.
But the whole thing has a new air about it now, and the hall is cloudy with the smell of gardenia body lotion and competition. There are many more women than men walking this campus, and there is this unspoken expectation that whatever else you leave here with in four years, you should at least have managed to get yourself an MRS degree.