Art does not reproduce the visible; rather, it makes visible. – Paul Klee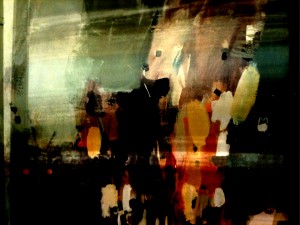 The sermon that does me in is a 28-minute treatment of the question: Why would a loving God allow people to experience pain and suffering?
It's the question that C.S. Lewis called "The Problem of Pain," a knot Christians have been tugging at for centuries.
It's a hundred different books written over a thousand years.
It hurts like a purpling bruise when you poke at it.
But the pastor goes warp-speed down the super-highway of logic and reasoning, pointing out the window a couple of times as we fly past an applicable sermon illustration. By the end, I feel whip-lashed and frustrated.
I know what he's trying to do, of course. He wants to make the Gospel accessible to the seeking. He wants to address the unspoken questions, the one maybe keeping someone from taking that first, wobbly step of faith. He has a whole series devoted to these questions and a few strategically placed outreach events. And I know.
But what I keep thinking is that this is not a question to be solved in a 28-minute sermon. It should be an art installation. A book of poems. A sonata.
There is a place, of course, for logic and reasoning and well-spoken sermons in the world of faith. But it's not at the head of the evangelical table, where we've put it. The expository has its limits, and pain is a jagged line separating the mind from the throbbing, half-broke heart.
If there is a table, it is round. We absolutely need the words. We need Scripture explained point by important point.
But we also need art, that cloudy, undefinable thing that cuts like a laser into our souls. We need more than just worship songs, we need music, beautiful and complex and haunting and loud. We need more than how-to books on Christian living. We need poetry and fiction, the stories and songs that move through our dry hearts like rain.
*
Every year, on Good Friday, we make the forty minute trek to the big church in Maple Grove because they honor that weighty day with art.
I grew up in the evangelical world, saw Jesus crucified in my Christian children's books and in cartoon renderings on TV shows like Super Book and Flying House. I have grown a little bit immune to the Good Friday Sermon, to the rhetoric of the crucifixion.
But at the big church, there is art everywhere. A painter in the front. A sculptor in the back. Scraps of paper and the smell of vinegar and video clips strung together like the most delicate collage work.
It is tangible and different and it moves through me in a different way, finds the soft places in my hard heart. Makes it all the way in.
And what I want to say to my pastor, to all pastors, is this: Ask your artists.
They are there, sitting among you, silenced by a culture and a church that values only efficiency and entertainment. Pose the question to them. Why would a loving God allow people to experience pain and suffering?
Give them a canvas or a pen or a violin bow. Give them six weeks. And then fill the sanctuary with paintings and photography and the sound of all that original music. Put the poems in a book. Sew the pages together by hand. Give the children water colors and washable paint and paper ripped from a giant roll and ask them the question too. See what they come up with.
Be brave enough to ask the hard questions differently. To turn that sermon series into a celebration of color and sound, light and silence, music and grace.
Don't be surprised if the answers sound a little less like sound bites and fool-proof arguments. A little more like so much heart-stopping beauty.
—
I am thankful for the people that I've stumbled into lately that value art and creativity and are working to restore it to the Church. One of those organizations is Antler, "a spiritual formation organization, pioneering a space for creative practices of writing to be an integral part of sacred life, worship implementation, and growth in religious communities."
Through Antler, I've become connected with a group of writers who are thinking deeply about faith and art, and I am deeply grateful for their insight and bravery. I had the honor of being interviewed on the Antler blog, and the post went up last week.
If you're interested at all in the writing process, hop over and take a look. And then take a few minutes to check out some of the other wonderful goings-on there.