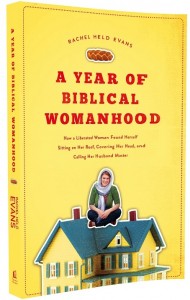 If you're going to talk evangelical, you should know that in addition to rickety clichés, there are a lot of big, loaded words.
They are fault lines that split down the middle of this whole thing and separate people into neat categories. (Arminian. Calvinist. Pre-millenialist. Post-millenialist. Egalitarian. Complementarian.)
The words are as heavy and theologically riddled as they sound. At their essence, they attempt to describe a particular way of understanding the words of the Bible. But we slap them onto each other and on ourselves like so many name-brand labels.
We define and dismiss – them versus us and us verses them – and the Truth we stand on is so fractured with deep divides these days that you can barely get your footing enough to walk.
*
The first time I met Rachel Held Evans in person, I was struck by how little she is. Her writing voice is eight feet tall, fiercely intelligent…but in real life, she's not much taller than I am. (For the record, I'm 5'3" and, I suspect, shrinking.)
At the conference, she stepped forward to introduce herself and then gave me a quick, gentle hug when I told her who I was. She was wearing a cute jacket and jeans and (maybe I imagined it) was possibly a little bit nervous about her upcoming talk.
And what she talked about was the journey. She talked about what it felt like to try to do it all literally. About sleeping in a tent and sitting on a roof and baking the challah. She talked about failing and finding. About her wonderful husband Dan.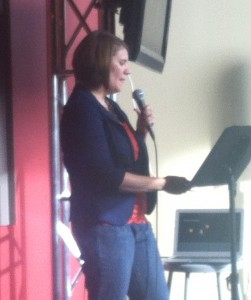 She read from her book, a beautiful passage about trying to come to terms with the darkness of the Bible.
In the book, she talks about the warrior Jephthah, whose story is told in Judges 11. Jephthah promised God that if he helped him to win a battle, he would sacrifice whatever came out of the house to meet him upon his return.
That something turned out to be his daughter, a girl unnamed in the pages of Scripture.
"Unlike the familiar story of Isaac, this one ends without divine intervention. Jephtha fulfilled his promise and killed his daughter in God's name. No ram was heard bleating from the thicket. No protest was issued from the clouds. No tomb was erected to the place where she lay" (63).
There is no good way to rationalize this, to understand it. And so instead, Rachel chooses a posture of open-handed remembrance. She writes about holding a small ceremony with candles and poetry and art. She writes about darkness in a way that doesn't detract from Light but gives it definition and weight.
And listening to her speak about that in an upstairs foyer at the Story conference, I realized that this book is not about labels or division. It wasn't really ever about complementarianism or egalitarianism or fault lines in the earth.
She wrote it because she aches for the forgotten women. The lost ones. The silenced ones.
The heart-cry I hear from the pages is not Equality! Feminism! Rights! But rather love.
*
I could tell you all to buy this book. I could tell you about my favorite part, in which Rachel decides to take back Proverbs 31 for women.(You can see my particular baggage with that passage here and here.)
I could tell you about the humor and the insight and the grace in the book. The Baby Think It Over electronic doll and the intimate way Rachel lets readers in to her fears and hesitations about motherhood. I could quote some truly beautiful and poignant one-liners.
But what I really want to tell you about is Rachel. I want to tell you how kind she is. I want to tell you how this book is full to the brim and spilling over onto her blog, where she is doing beautiful things. She is giving voice to the voiceless, promoting peace by hosting interviews with those who understand the Bible differently than she does. She calls out injustice where she sees it. She calls for unity.
She is speaking loud into the culture wars and across the fault lines, and sometimes it feels intense. You might not always agree; you might have chosen to say it differently.
But if you listen, really listen, you can hear under all of it the beating of a broken heart. A heart for women. For a faith that doesn't always make sense. For a church that so often feels inaccessible. Most of all, for God.
And we all need to get better at it, this speaking out not for a certain way of understanding Scripture, but for each other. Our differences are not the point. The point is where we're the same. The point is that we belong to each other, belong to Christ, and when one of us suffers, we all do.
And what I'm trying to say is that there are all of these divides and lines and different ways of understanding the same ambiguous biblical passages. I know it's complicated. I know that it's important, but also? It's a shoddy excuse for being unkind and for refusing to listen.
Because if you listen, you will begin to hear the marked silence of so many people who feel voiceless. You will hear the grace in Rachel's words. You'll hear Proverbs 31 not so much as a to-do list, but as a poem.
You'll begin to understand that soundtrack to A Year of Biblical Womanhood, to the Christian life in general, is love.