To Cause a Brother to Stumble: To do deliberately do something that causes another to falter in their faith.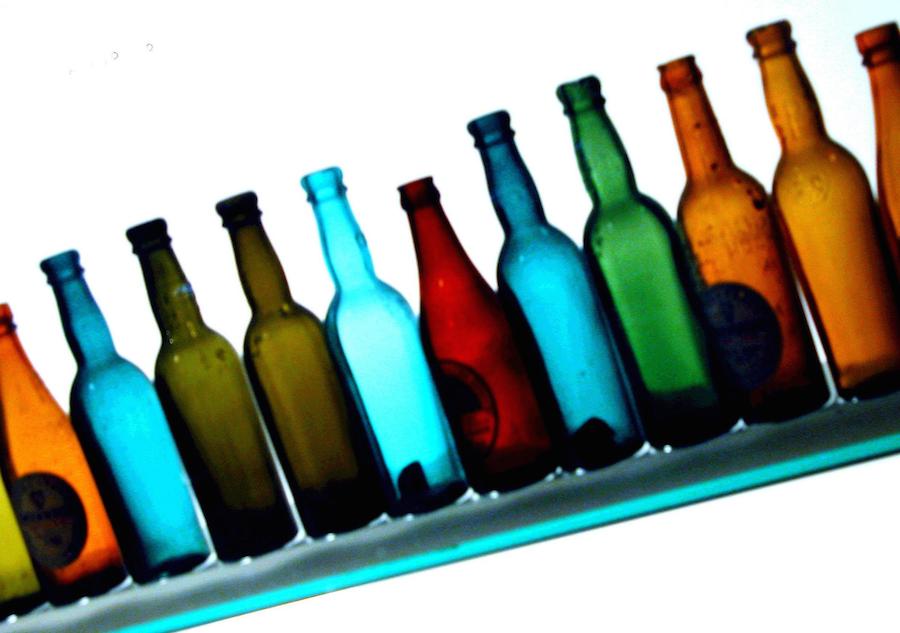 At Trader Todd's, there are plastic fish and tribal masks mounted on the walls, and the karaoke stage is never empty the night we go to celebrate my friend's coming wedding.
There is a girl in a green dress, who is sloppy drunk. She keeps clamoring on stage with strangers, wedging her way into groups that are not her own.
At one point, the bouncer picks her up like a child and carries her to the door, but she keeps sneaking back toward to the front, throwing thin arms around us all, indomitable in her drunkness.
She tries to flirt with the DJ, and he ignores her, and I want to put her in her PJs and give her chewable children's asprin, because – look at her – she's really just a little girl. She really just needs someone to tuck her in and say, Beloved and Peace and grace, grace, grace, grace.
But also at Trader Todd's, there is that girl with Down Syndrome, celebrating 21 in a black, polka-dot top and skinny jeans. Her mom and aunt take turns squeezing in at our table to take video as she sings with a passel of friends and a big brother: "War (What Is It Good For)" loud and raucous, without a trace of irony, just joy. Just celebration. And I get a little teary just watching them.
*
On Facebook, I suggest a glass of victory-lap wine for a friend who has successfully wrangled all of her children into bed. Minutes later, I receive a somewhat angry message from her mother, a woman who I do not know, whose struggle I was not aware of.
"Since you clearly have no experience with alcoholism, let me enlighten you," she says. "It is never ok to tell someone they deserve alcohol as some kind of reward."
And of course, she's right. I don't understand. For me, one drink is exactly that: one drink. For my friend's mother, it is a dark doorway into places she wishes she'd never been, places she's afraid she'll end up again. Places she fears, most of all, for her daughter.
Even during the year of my drinking, I was always aware that it was a choice I was making. A deliberate kind of self-destruction. I liked the way that alcohol etherized me against the sadness, the way it softened the sharp edges, bleached out the harshness of all the world.
For me, the abuse of self and substance was a symptom of something else. The Depression, mainly. The doubt and the pain and the large-looming loneliness that I couldn't seem to get around. As I began to heal from those things, my relationship with alcohol changed.
In the healing days, I continued to go out with close friends, but I was drinking not to disappear, but to reassemble. I took out my questions and doubts and laid them on the bar tables one by one. I sorted.
I ordered the regular margarita instead of the one the size of my head. I talked and talked and drank, and sometimes I went overboard, woke to that telltale head-pounding…but at the end of those evenings, I mostly felt like some infection had been cleaned out a little bit more, and that I had moved one cautious step closer to God.
And at Trader Todd's there is a drunk, sad girl in a green dress, begging to be loved, and there is a beautiful 21-year old girl celebrating the fact that she is, and both of these scenarios are the truth about alcohol.
*
These days, I mostly drink wine. Mike's Hard Lemonade in the summer (because I never quite got used to the taste of beer). Occasionally I have a margarita with friends, sour and salty, the restaurant glass cold in my hands.
Some of my best spiritual conversations have happened here. At a bar table or huddled in a restaurant booth holding glasses of Pinot, asking, wondering. I am aware of how the taste and the ambience seem to make space for the things we cannot seem to say to each other in church or even in small group or even, sometimes, over coffee.
And when someone suggests that there is something inherently wrong in this, I balk. And I distrust them a little.
But, also, God, alcoholism. That dark, hidden place, that concrete cell. That drinking alone on the kitchen floor in pajamas. That life-ruining addiction. It is real and it must be desperately lonely, and to deny it is arrogant and unkind and the opposite of love.
Here is the tension: for me, alcohol has been redeemed, has brought me, in its way, into a new understanding of grace. But for others, it has not been redeemed, cannot be in this life because there is some switch in the brain that got stuck in the on position…and I can't pretend to understand why.
I don't know the answer. All I know is that we are all stumbling in our way. That love is, at its heart, a kind of seeing. It means getting up close to people, and sometimes that means a glass of wine, and sometimes it's a Diet Coke instead. Sometimes it's a margarita and the space to rant, and sometimes it's just not. I want that mature, wise kind of love that can tell the difference.
In the end, it doesn't really matter what we're drinking. What matters is the Living Water sitting there, ice cold, waiting for us to take it.