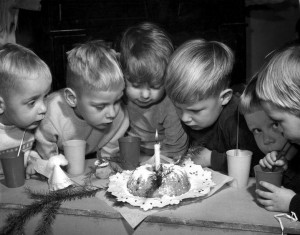 A year ago yesterday, I wrote my first blog post and sent it winging into the world.
I'm not going to get mushy about it today. I already said it, really, on my 6 Month Blogaversary. I remember feeling amazed.
I feel that same way today, that same disbelief. That same weighty gratitude. For this. For you. I've been searching all this time for "my people," and here you are…and for that I am teary-eyed grateful.
Anyway, I had this idea that I would go back and find all the funny terms that people typed into Google to get to my blog. And there is some of that. For the person who Googled, "Should I give my social security number to AWANA," I would say, Mmmm – no. For the one who searched on "How to talk your way out of baptism," I sincerely hope you got that sorted out.
Someone Googled "Christian alternative to Ace of Base," and I just don't even know what to say to that. People keep coming to this site looking for icebreakers to Beth Moore studies, and I can tell you right now, I have zero ideas for you. Except possibly wine.
But what struck me as I went back through the pages was the terms that kept cropping up. Almost every day, there is a variation of the phrase "how do I feel the presence of God?" or "I don't feel God's presence." There is the one who typed "I'm single at a Christian college," and the one who typed "When you're in a bad spiritual season for too long."
And this feels so weighty to me. I am aware of the gap most of us live in. That one between the faith we are supposed to have and the things that we actually feel. I know well the loneliness of living life in that space between, of being so desperate for the presence of God that you actually ask Google, hoping for a blueprint or a list. Just needing some way in to the feeling that you are Loved.
Of course, I don't have a list. There are no tips or tricks that I know of to get you there. To get myself there. Just this endless waking and struggling and working. Just all of us together, being honest, telling our stories. What I want to say is that there are more of us here in this gap than you'd think. That you are, decidedly and absolutely, not alone. We are your people.
*
In honor of one year, I thought I'd do a couple of lists. Your favorite posts and mine, because that's one of those weird things about blogging: the ones that stirred my own soul in the writing aren't necessarily the ones that stir yours. It's good that way.
Your 5 Favorite Posts
15 Signs You Were Raised in the Christian Subculture: My most popular post of all time (picked up by ChurchLeaders.com), which goes to show you that we love our nostalgia. And that a lot of us had duct tape Bibles and DC Talk CDs and post-Christian-Concert Compassion kids that our parents had to financially support for us.
"I'm Feeling Led…" and Other Crappy Excuses: "It is the perfect excuse. It is passive. It absolves us of the responsibility of our decisions, because they are not, after all, our decisions. They are God's decisions."
More Than You Can Handle: "It is the period meant to end the run-on sentence of another person's pain. It's the thing we say to each other when we don't know what to say."
Anywhere, Anything: On Worship and Hyperbole: "The problem with hyperbole, with lofty promises, is that life is not lived in the grand gesture."
Spiritual Journey: The Mad Season:  "It's hard to say which came first for me, the Depression or the anger, but the people of God felt decidedly absent from both."
*
My favorites
The posts that have a special place in my heart are the ones where something changed for me in the writing. Here are five of them.
Church Hunting (3): The Places We Land: I did a little 3-part series on Church Hunting/Shopping earlier in the year. The whole thing feels a little complex and painful to me. It's a question I'm always feeling, an ache that won't go away. But writing this post gave me a glimpse into the beauty of it and made me grateful for this imperfect place where we've landed.
It's Not Religion; It's Relationship: The day after I wrote this, my sweet neighbor took me with her to the Ash Wednesday service at her Catholic Church where I fumbled through the kneeling and crossing and couldn't stop looking out the big glass windows into the forest. It was the first time I've felt the weight of ash on my forehead, and it felt powerful to me. And whatever word you choose, religion. Relationship…it's all just a kind of reaching toward Someone. It all matters.
Proverbs 31 (Reimagined): I was among the evangelical girls bludgeoned with this chapter in my youth, measured up against it and found lacking. To reimagine it was unbelievably healing for me. (This post went on to be republished in the MOPS (Mothers of Preschoolers) national magazine.)
Worldy: I've always regretted how my faith walled me off from my peers in high school. How I let it wall me off. I wish I'd known that it wasn't so black and white, that I didn't have to segregate myself to love Jesus. Going to my 10 year high school reunion felt like a kind of redemption for me.
For My "Accountability Partner," On Her Wedding: Every now and then, I mention my two best friends from high school on this blog. In those heady Jesus-Freak days, they were wearing WWJD bracelets right along with me. In the uncertain college days, they were hurt in their own specific ways by Christians, and the three of us spiraled together. For one year, we met at least once a month in the Wisconsin Dells, where we drank giant margaritas and figured it out together. This post was my way of capturing all the unspoken things that I felt during Kim's wedding, of trying to say, "Your friendship matters. It got me here."
*
If you're on Twitter, I'd love to connect with you, though, be warned, I tweet a lot about my kids. Or follow me on Facebook. (I usually only post there to let you know when a new post is up.)
Thank you again for being here.