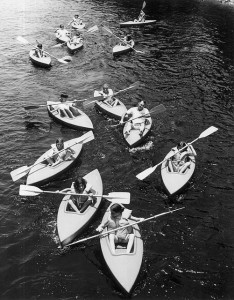 At twelve-almost-thirteen, summer Bible camp was at least as much about boys as it was about Jesus. (Probably more, if we're being honest.)
That week, I chose/was chosen (briefly) by a boy named Pete. He had chains dangling from his baggy jeans and a neat buzz cut, and when our cabin groups were anywhere within the same vicinity, we exchanged long, blushy glances.
At night, whenwe gathered in that old, musty meeting hall, I always knew where he was sitting. We'd glance back and forth at one another through the raucous, wild singing and the skits.
By the time the speaker came forward, Bible in hand, my sun-drenched, waterlogged brain had settled well into a daydream about my romantic future with Baggy-Jeans-Pete.
We were pre-teens, barely teens, junior-highers, and that seasoned church speaker must have known that we were barely there. He must have known also that we were all desperate to be a little bit extreme.
He did what he could to make us want to be extreme for Jesus.
To do that, he told a story. The story was, apparently, based in fact, and featured a place that I cannot remember, where Christianity was illegal. There were soldiers, and they stood outside the doors of a church after service one day. They gave each person a choice: spit on a picture of Jesus, or die, shot straight on the spot.
The speaker must have said something like "There is a cost to following the Lord." He must have made it applicable. All I remember is that I was fearful and guilt-struck by my own squandered freedom. And also, I remember the way it made my heart beat faster.
He kept talking, and I folded it into my daydream. I imagined that if it happened right then, that night, Baggy-Pants-Pete would force his way through the crowds to me and we would kiss between the white wooden bleachers before going to meet our brave martyrdom, hand in hand. We would do it together. We would do it for Jesus.
This is what hazardous faith looks like at summer camp at twelve-almost-thirteen. It's all a little mixed up in romance.
*
These days, I am less extreme. Still crazy for the boys – but mostly just the small, wild ones flinging trucks around my living room, and their handsome daddy (who turned out to be so much hotter than Baggy-Pants-Pete).
Every now and then, I hear some preacher throw out some martyr's story, anecdotal in its smallness, shrunk down into a sermon illustration. The take-away is usually some wildly off-kilter analogy along the lines of If those martyrs can do THAT then certainly we can do…[insert Americanized version of Christian bravery, e.g. inviting a friend to church].
I get a little cringe-y when this sort of thing happens. To me, it cheapens the sacrifice made by those who gave their one beautiful life in its sudden entirety. But it also cheapens the weight of the average, unimpressive life lived imperfectly but beautifully for God.
There is cost here too. For me, it is often in the believing. Just the believing.
This whole Jesus thing is so wildly upside down. It is illogical, a scribbled, spiral thing.
It suggests that given the choice between big, sleek, and desirable or small and barely holding together, the right choice will almost always be small.
It suggests that you swallow back that totally justifiable wave of anger, that you choose, instead, love. Instead of defending yourself, you are asked to take an unkindness straight to the chest, and it's not a bullet exactly, but still, it matters.
You cling to promises that are, quite often, wholly invisible, totally unfelt. You follow a Whisper that you can barely hear, and you trust that something is happening, even if it is too far beneath the surface for you to see one lousy ripple.
There is cost to yes when everything in you is saying, hell, no, and some will be asked to give it all at once, but for most of us it will be each day, a little bit more than we have. A little more energy, a little more love, a little more grace and forgiveness and honesty.
When I say "cost", I mean that place where I have not given it all…not by a long shot, and still I am empty. I mean that place where I find that, still, He is enough.
Today's post is part of a synchroblog connected with the release of Ed Cyzewski and Derek Cooper's new book Hazardous: Committing to the Cost of Following Jesus. Learn more here.