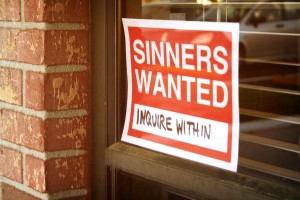 The church gym smelled like sweat and pizza and the sharp vinyl of a giant, inflatable obstacle course.
Sumo Suits were new-ish then, all the rage, and we lined up to take our turn bumbling toward a similarly outfitted opponent.
(Remember laughing your suddenly fat BFF, at yourself, the awkward heaviness of all that plastic draped over your body?)
The place pulsed with Christian rock and the buzz of air pumping into inflatables and laughter, and what else could you really ask for? For weeks, there had been fliers, reminders. Bring your friend, bring your friends, bring your friends! And so I did, a whole vanload of high school freshman that I knew from orchestra and from class and from lunch at the cafeteria table.
When we sat down at the end of the night, a mess of sweaty bodies folded onto the floor at the back of the gym, my heart flopped wild in my chest. A couple of seniors got up to give their three-minute-testimonies, and I kept glancing at the profiles of my friends to see if they were moved by these words. By these fun-size bits of Gospel Truth.
I understood that this night with its extreme fun and its 35 greasy pizzas was about something bigger. It was about bringing in those who were outside. It was about showing them that Jesus and fun were not mutually exclusive but instead part of the same great package. And they could have it all, have it right now, this minute – absolutely free.
I remember the ride home in our minivan, listening to conversation, praying silently in my heart. I remember feeling proud that I went to such a fun church; I remember feeling wildly nervous, desperate for this to make sense to them, for them to say to me, "Actually, I'd really like to invite Jesus into my heart, like that guy talked about. Can you help me do that?"
In four years of youth group outreaches, not one of them ever did.
*
When they introduce the upcoming outreach at our church they use words like "non-threatening" and "fun." There's a slide on the screens with zany fonts and lots of colors; they mention something about giving away free TVs.
There is some statistic thrown out there about people and church; about how a very high percentage would go if they were invited. They say, "We are having an outreach!" They say, "Invite, invite, invite!" And I sit very still in my chair, knowing in my heart that I will not.
And I remember it, that desire to bring people in, to make my evangelical world accessible. I remember how much it helped to be able to offer inflatables and free pizza and sumo suits instead of just a straight-shot of Jesus Christ to the arm.
But these days, the whole thing feels a little dishonest to me. Like a sales ploy, like a bait-and-switch. You came for free food, but we have something even better to offer: eternal life!
The longer I live this life of faith, the less it resembles a pizza party or an inflatable obstacle course. It is sometimes dark, sometimes empty, sometimes trudging, your feet heavy on the road. Sometimes it feels like he isn't here. Sometimes you have to believe anyway.
I believe that this Jesus thing is the truest thing in the world. That grace saved my life, and that when I'm sitting, looking out the window in the quiet mornings, the peace I feel is Him. I want my friends to know it, the deep-down truth of it, the life-giving stillness of it.
And I don't think they can find all of that at an outreach event.
So, if we're being honest, no – I will probably not invite my friends to that thing at the church with all of its hype and freebies. It's just not my thing anymore.
Instead, I'll invite them into my home, with its giant pile of shoes in the entryway and that fruit snack that Liam dropped out of his mouth the other day still stuck to the floor. There is a Bible and a prayer book on my kitchen table, a verse propped up on the kitchen window over a sink overflowing with dishes.
I'll say, "Take off your shoes…or leave them on if you want, cause the floor is really crusty." I'll let them all the way in.
I'll invite them into my own small, contradictory life. They will know what I believe. They will see the ways that I live it and the ways that I fail to live it. I will invite them into my knowing and my unknowing, my peace and my fear. I will choose love because I have been chosen by Love. I will choose to tell the big Truth and all the little truths of my life at the same time.
I cannot, probably, offer free TVs, but I can offer a frozen pizza. Some guilt-free babysitting, some fresh-baked cookies. A listening ear.
I won't do the outreach, but I'll try my best to reach – just reach – every day, toward others.
I'll reach as far as my arms will go. I'll grab them by the hand in the small ways that I can. I'll hold on for dear life.