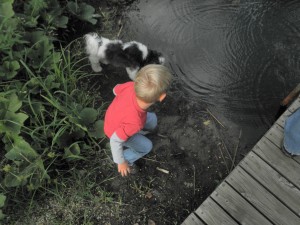 The Bible that Dane likes best is a toddler edition that I bought during the Borders liquidation sale last year.
I wanted them to have one, my growing boys. I wanted them to learn to love these stories and the God that weaves them together.
It's not a particularly great children's Bible, but it seemed like the best option there on those scant shelves: fun with bright pictures and short sentences.
Later, I came across the Jesus Storybook Bible and loved it immediately for its words and its beauty. For how it tells the story in a way even my own scarred heart can hear. I bought one copy for myself and three for the gift closet, because I can't think of any better present for a brand new baby and her tired, fearful new mom.
But Dane doesn't want that one.
When he says, "I need my Bible Book," it's that toddler one he's talking about, with its stripped down stories and round-nosed characters. I pull out the other one, say, "How about this one, buddy," and he says, matter-of-factly, "No. I don't like that one, Mom."
*
This boy was my epiphany, my awakening. When I learned I was pregnant, I'd been in therapy for over a year, trying to work through my Mad Season. I'd been surrendering, but also hiding behind a wall of cynicism and anger.
But then, there he was, on the ultrasound monitor. A profile, a person. Ten fingers. Ten toes. A hand spread out toward me, reaching.
I knew nothing about mothering except that he was so luminous, so fragile. Suddenly, the darkness that I carried felt heavy and precarious. The cynicism dangerously sharp.
I've never gotten much farther on my theories and practices of mothering than what I decided in that moment: I do not want to raise my children in the long shadow of my own bitterness. I want to choose Light.
*
The thing about Dane's 3-year-old Disequilibrium is the wild unpredictability of it. In one moment, I think my heart could burst with love and pride. He is bent over the pond, looking at frogs. He is sharing with his brother, talking baby talk at Liam's sweet, one-year-old face.
Then, the very next minute, he is running full-tilt into the parking lot at Festival Foods. He is screaming at me that he will not take a nap, will not, will not, will not, and I am calm, less calm, screaming back. Twice this week, my husband has had to send me on emergency afternoon outings so I don't accidentally kill somebody.
I reserved a book on Grace-Based Parenting from the library, and started reading it during the Olympic commercials. I am equal parts encouraged and defeated by the words, by the stories, by the archetypes the author presents.
He lists the categories of fear-based parents and then offers a luminescent picture of parenting out of grace. And I think, Buddy, you have forgotten what it was like at Age 3. It is not one or the other – grace or fear. It is both, back and forth, every moment.
In one moment, you remember how loved you are. You feel the warmth of the Light that you live in, and grace feels obvious and easy. But then someone dumps out the toddler potty chair, and there's pee all over the floor, and someone is crying and someone else is yelling and that someone is probably you.
I live most days in the in between. I believe in God's goodness, his beauty, the wild power of his love for my children. His great, soft hand hovering over their lives.
And also, I am desperately afraid that I will do it wrong: teach them the Bible wrong, introduce them to a too-small God, set them up for failure. I'm afraid that the uncertain, hypocritical way I live my faith will give them cause to run away.
*
When Dane brings me the Bible Book I am not in the mood to read to him. Liam is so far beyond the crabby threshold that he keeps falling onto the living room, and I just want them both to get sucked into SuperWhy on PBS so that I can drink one freaking cup of coffee all the way down without reheating it.
But we open it anyway, and he starts telling me, "God made the birds…and God made the trees…"
"Yes," I murmur. "Yes, he did."
"Look!" He says, "It's that really bad snake!"
We read about the Lies. We read about disobeying. We turn the page to find Adam and Eve naked and hidden behind a bush.
"Oh no," he says, looking at the picture of Adam and Eve. "They got stuck!"
And it occurs to me that this is the perfect word for it. In this stripped down Bible story with its simplified words, his eternal heart has found the most profound truth. We will both have to learn it again and again all our lives. We are always getting stuck; God is always reaching down and pulling us out.
In one moment, I am walking strong in grace moments, and then I am stuck deep down in in the fear  of it all. And either way, God is here. I am doing it right and wrong, and it's a huge mess. And still, his love glows like is lamplight along the pathway. Leading us ever on.